SEC Media Days: The South Carolina Gamecocks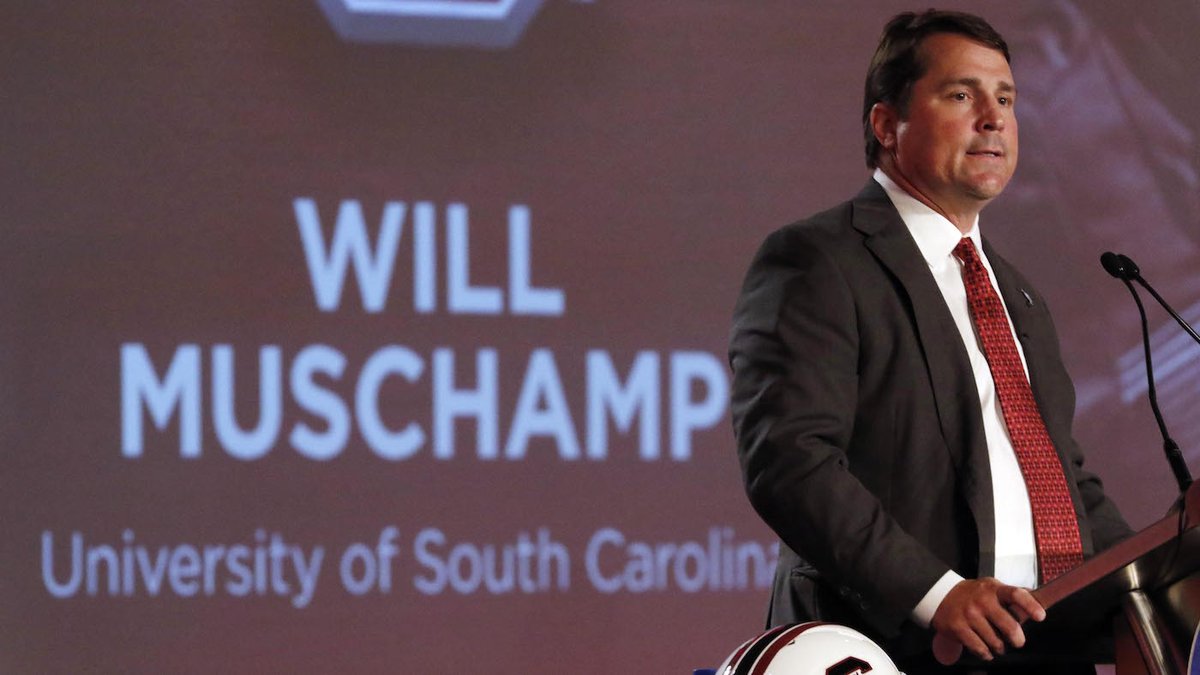 Kentucky currently owns a two game winning streak against South Carolina. I suspect this number will grow to three. Steve Spurrier and all his greatness left a half-full personnel shelf for new Gamecock Commander Will Muschamp. Of all last year's coaching hires, this one baffled me the most. On the SEC Media podium, Muschamp came across as extremely personable and likeable. After an un-Gator like record of 28-21 that led to his Gainesville departure, Muschamp spent an ineffective semester as the Auburn defensive coordinator. War Eagle finished his lone season on the Plains by finishing 13th in SEC Total Defense while allowing 405.2 yards and 26 points per game.
On this site last year, I said that Kentucky had surpassed South Carolina. On this site this year, I say that Kentucky has surpassed South Carolina.
Interpreting Coach Speak
Will Muschamp was likeable on the podium. I didn't want that to happen. The Gamecock head coach often referred to his days at Florida by discussing the Gator's NFL first round draft picks. Messaging was obvious and directed towards recruits. He thanked Steve Spurrier. Smart play, a relationship with the Legend can only enhance the South Carolina brand.
Oddly he spoke of not wanting to leave Auburn and admitted that late season defensive changes should have been made earlier. Humility was present, a lesson learned from his Florida ousting.  Basically asked about Florida failures and he simply referred to lack of offense and how that will not be a mistake he makes at South Carolina.
Expectations are low in Columbia. Losing star LB Skai Moore for the season depleted an already lowly talented roster.
By The Numbers
2015 Record: 3-9
-- Starters Returning Offense: 4
2015 Statistics: 11th in SEC Total Offense by averaging 362 yards and 21.9 points per game.
-- Starters Returning Defense: 5
2015 Statistics: Ranked 14th in SEC Total Defense by allowing 429.8 yards and 27.5 points per game.
-- Opponent Prior to Kentucky: East Carolina
-- Past Two Games: 2014: Kentucky 45-South Carolina 38. 2015: Kentucky 26-South Carolina 22.
Three Best Players
-- C Alan Knott has 17 career starts and is a fixture on the Carolina interior offensive line. Won Joe Morrison Offensive Player of the Spring.
-- Career numbers include 131 carries for 556 yards and 2 touchdowns. Davis averages 4.2 yards per carry.
-- DE Marquavius Lewis collected 45 total tackles, 4.5 tackles for loss, and 3 QB sacks.
How UK Beats Carolina
Simple, execution in all three phases of the game. Kentucky's personnel are better than that of Carolina. Therefore, a loss here would be considered an upset. Way too early to make solid prediction and admitting I have to wait to see Stoops' product against Southern Miss, but Kentucky should win this game.