SEC Nation picks Kentucky, Paul Finebaum goes with South Carolina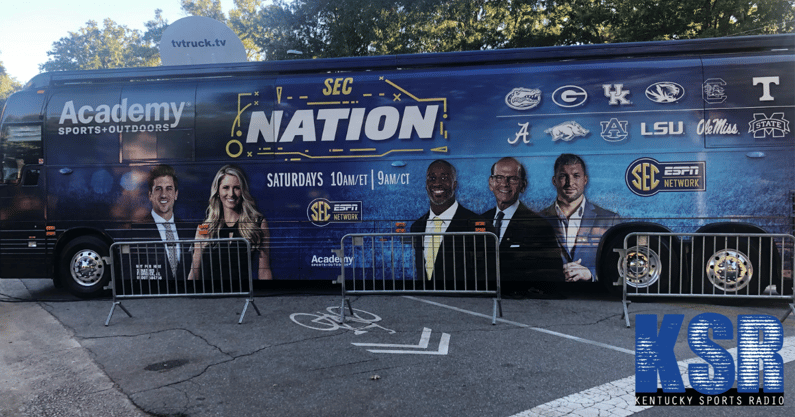 The SEC Nation crew likes the Kentucky Wildcats today. Well, almost all of them, at least.
Selected as the featured game of the week by SEC Network, the SEC Nation crew featuring Paul Finebaum, Tim Tebow, Jordan Rodgers, Roman Harper and Laura Rutledge set up shop this morning in Columbia to preview tonight's matchup between Kentucky and South Carolina.
When it came time for game predictions to close out the show, the core group of panelists – Harper, Tebow, and Rodgers – all picked the Wildcats.
"I'm staying with Kentucky," said Harper. "I believe in Will Levis and this offense, Chris Rodriguez running the ball. The defense is going to make enough plays. I'm sorry, I love the fans here. They've been awesome, but I'm going with Kentucky. "
"I agree with you about the fans. Being able to be here in this environment, play here, I love what they're doing," Tebow added. "I like Coach Beamer is doing and the culture he's building. I like a lot of the recruits that will be here, too.
"The problem is those recruits won't be playing today. Kentucky is going to win."
"I'm also picking Kentucky," Rodgers said to close out the panel. "I've been on Kentucky, this offense, it's so hard to scheme against Liam Coen. He's one of the best. I think Kentucky wins this one, baby."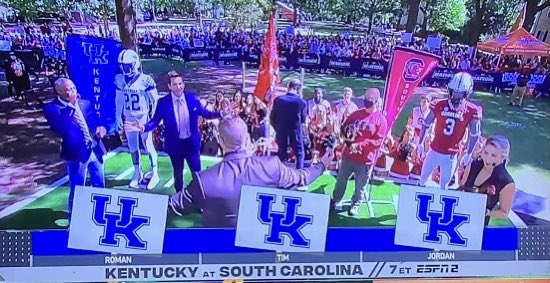 Three for three, clean sweep in favor of the Wildcats, right? Almost.
When it came time for Finebaum to reveal "Paul's Pick" of the weekend, the popular SEC Network host went against the grain and picked the Gamecocks to upset the Wildcats at home.
"I want to be popular, but I want to be real," Finebaum said. "You know what I think? I've been here for 24 hours. I'm on the Shane Train!"
South Carolina helmet and all, Finebaum is a Gamecock for the day.
Which side will be right? We'll find out tonight when Kentucky vs. South Carolina kicks off on ESPN2 tonight at 7 p.m. ET.