SEC Network's Peter Burns says Kentucky football is a top-10 job in America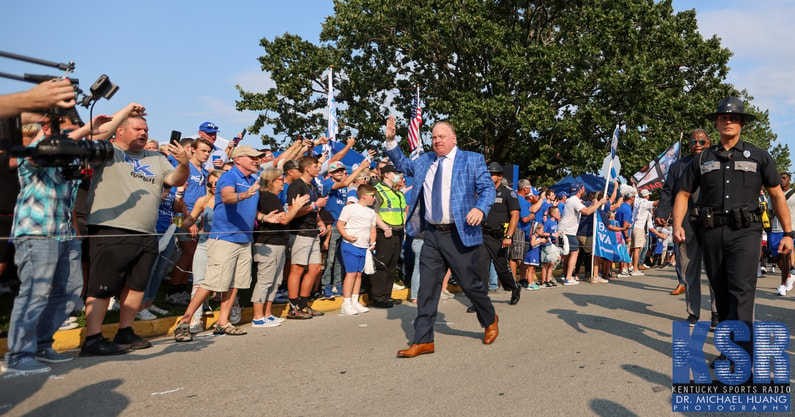 It's clear the Kentucky football program is in good hands under head coach Mark Stoops. He's helped the program reach unprecedented, consistent success in wins, bowls, recruiting, and draft picks.
But what if I told you that Stoops is equally in good hands with the Kentucky football program in terms of job quality and security?
In a ranking of the best jobs in college football right now, SEC Network's Peter Burns listed Kentucky as a top-10 job in America and top-five in the SEC.
Here was Burns' official rundown on Twitter with the rationale included for the top five, followed by his honorable mentions:
Alabama – Everything aligned
Clemson- No ACC competition
Georgia – Facilities/Fans/Talent
Texas A&M – Money and hungry fans
Oklahoma- Nobody pushing them
Honorable mentions: LSU, Ohio State, Northwestern, Oregon, Kentucky
When asked separately about his decision to include Kentucky, Burns praised the program from top to bottom.
"Good facilities, (athletic director) that gets it, great fans, solid recruiting pipelines, in the SEC, amazing city, putting more and more players in NFL, fanbase doesn't have unrealistic expectations," he wrote on Twitter.
"What else do you need to have a good, solid program?"
Shortly after posting the rankings, the SEC Network studio host joined Kentucky Sports Radio to dive deeper into his decision to include the Wildcats.
"You've got to have a great fanbase, which obviously Big Blue Nation is," Burns said. "You've got to have good facilities, which – I was at SEC Network when we toured them, got a great look into it – they're as good as anybody's that's going right now. You have to have an AD with a plan, patience, and believes in the football product. You've got that in Mitch Barnhart. You've got to have a great city, which Lexington is. … You have to have a fanbase that's hungry, but with fair expectations and celebrates good times. And you've got a hell of a coach in Mark Stoops. What else do you need to have a good, solid program?
"I guarantee you there are a lot of people that think they have a good program, but they don't. Not at all."
"Guess what? Stoops has done it."
Burns discussed the narrative with other middle-of-the-road programs that claim they can't recruit due to location or current status. In his eyes, Stoops broke down that barrier and made those other schools' arguments invalid.
"You can say that about other programs, 'They can't get recruits because of where they are.' Well, guess what? Stoops has done it. When you first walk into Kentucky's facility or the facility of any good football program, you're going to see how many players are in the NFL. I don't care how big or small the (recruiting) pipeline is, they're gonna know how many players are playing on Sunday.
"When I see Stoops at the draft and guys like Wan'Dale Robinson saying, 'Bro, I can play anywhere because I'm good, but I love this, what's brewing down here.' That mentality, that's why guys are going there. I had Will Levis on my show yesterday. This big guy reminds me of this Joe Burrow swagger, like 'I could go to places, and this was the place I wanted to go.' He wants to be an NFL quarterback, and that's saying something (that he chose to go to Kentucky)."
"It's a great gig."
Burns says he sees the respect growing throughout the SEC and across the country in what Stoops is building in Lexington. And it's not just due to on-field production, it's also the unique relationship and trust Stoops shares with Mitch Barnhart.
"Where they have an appreciation is not only how Stoops has built this team around his own mentality, that blue-collar mentality, but there is a lot — Nick Saban isn't one of them because of what he has with Greg Burns — but so many (coaches) are jealous of the relationship Mark has with Mitch Barnhart," Burns said. "'Hey, you know what? I trust you. What do you need? I'm here to help you provide and get that.' That's the biggest disconnect. Why has Texas been so bad for so long? Southern Cal? There is a disconnect, and that's not what you see in Lexington. It's a great gig."
"Why can't Kentucky be that third team?"
Beyond total health of the program in the long term, Burns also has high expectations for the team this season.
Really, really high expectations, actually.
"Third-best team in the SEC, and that's saying something because they've got the two best teams in college football in Georgia and Alabama. That's the ceiling for this team," Burns said. "Do I think they're with Alabama? No one is with Alabama, they're that good. Georgia just has a different level. When you put that many guys in the NFL and it's just five-star after five-star, the Jimmies and Joes are there.
"Texas A&M? They struggle. They don't have the offensive line Kentucky has. Florida? I have some concerns with what they've got cooking. Why can't Kentucky be that third team?"
And if Kentucky manages to catch Georgia on an off night, or the Bulldogs sleepwalk elsewhere at some point this season, you can really start to dream big with the Wildcats.
"You catch Georgia at the right time," Burns said. "Remember a couple years ago when Georgia had a great team and went into Williams-Brice Stadium at South Carolina – which was not great – and fell asleep at the wheel? Three interceptions later, they end up upsetting Georgia.
"That's a hell of a place to be right now, and it's because Stoops can grow. Adding Levis, adding Wan'Dale, adding Liam, that's what you need to adapt in these times."
A top-10 job in America with the potential to finish third in the SEC this season? Not too shabby, Coach Stoops.