SEC on the verge of temporarily sticking with 8-game schedule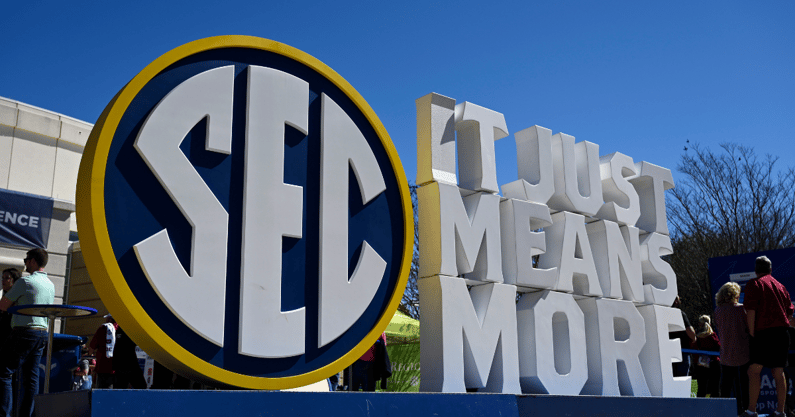 The SEC Spring Meetings kicked off Monday night with remarks from Commissioner Greg Sankey as Texas and Oklahoma banners flew for the first time alongside their new foes in Sandestin, Florida. When will they play them and how often is the primary topic of discussion.
Neither of the new schools will join the league until just ahead of the 2024 football season. Neither school will actively vote on matters during this week's meetings, but they will be able to listen and share their concerns. Deciding a new schedule format was the primary topic of conversation a year ago. They ended up kicking the can down the road. History is probably going to repeat itself.
Despite public pressure to move to nine conference games, Ross Dellenger from Sports Illustrated reports SEC officials are prepared to keep the 8-game conference schedule model for at least the first season of the 16-team league in 2024.
Why wait? The SEC wants more money from ESPN to add the additional game of inventory that could be worth $5 million for each school. ESPN is unwilling to renegotiate while in the midst of layoffs that will last throughout the summer.
Another reason behind the delay: It doesn't matter initially. While you're worried who will be Kentucky's permanent opponent in the 1-7-7 format, the "permanent opponent" is irrelevant during the first two years of this proposed rotation. The SEC can retain both primary rivalry games (Iron Bowl) and secondary rivalry games (Alabama vs. Tennessee), while waiting to see how much money ESPN will hand over. League officials also want to see how the CFB Playoff Selection Committee will evaluate two and three-loss teams from these mega-conferences.
Kentucky has been a long proponent of maintaining the eight-game SEC schedule. President Eli Capilouto shared why with Sports Illustrated.
"It is very fair to say that it is not just about the money," says Kentucky president Eli Capilouto. "As we focus more on student-athlete well-being, one has to understand the implications of this in light of new (CFP) formats and length of the season. What does it all mean in a bigger context is what we should consider. What does it mean for bowl participation and length of season? All those things come first."

Eli Capilouto, to Sports Illustrated
Permanent Rivalries in 8-Game Conference Schedule Format
If league officials choose to keep the SEC schedule at 8-games, these are the likely permanent rivals, according to SI. However, it's worth reiterating this will most likely only be a temporary solution.
Florida-Georgia
South Carolina-Kentucky
Alabama-Auburn
Mississippi State-Ole Miss
LSU-Texas A&M
Tennessee-Vanderbilt
Oklahoma-Texas
Arkansas-Missouri
Before you get hung up on that "permanent rivalry" with South Carolina, think about this. This fall Kentucky will play Georgia and Alabama. If the league stays with eight SEC games per year, the one team you're stuck with matters significantly less if a pair of CFB Playoff teams are among the other seven on your schedule.
Greg Sankey's Remarks from SEC Spring Meetings
During his opening remarks to members of the media ahead of tomorrow's meetings, Greg Sankey said he's ready for the league to reach a conclusion on the matter. He insisted that money will not serve as the primary reason behind the league's decision-making, while seemingly advocating for a 9-game SEC schedule.
"This is a league at the forefront of college athletics," Sankey said, according to ESPN. "Now, whether change happens immediately is part of a careful consideration and a deep consideration. You can make arguments around both [scheduling models], but I'm watching a different reality — a baseball league that may be more challenging than our football. The content of our games and the opportunities created is not minimized by playing each other with greater frequency. We maximize that because of the strength of schedule. Football is the same.
"Is the bowl-eligibility issue absolute? We've done predictive analytics. It's actually a marginal change. Now, maybe practically on the frontline it feels like a significant change, but when we've run the numbers, it's not as if we have massive bowl and ineligibility appearing from a nine-game schedule."
Discuss This Article
Comments have moved.
Join the conversation and talk about this article and all things Kentucky Sports in the new KSR Message Board.
KSBoard