SEC Roundup: It's rivalry week in the South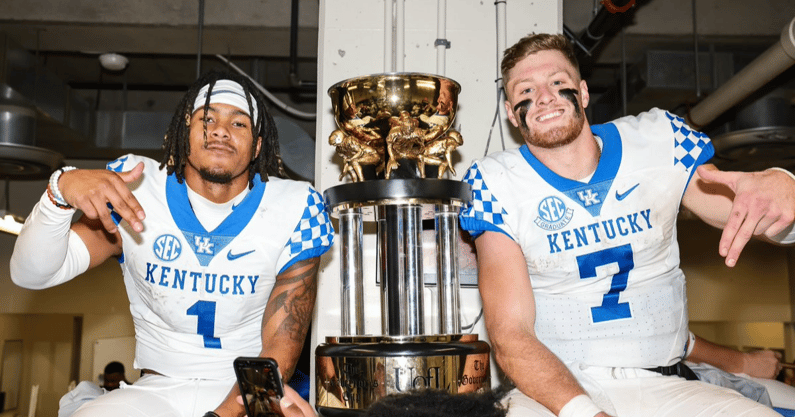 Aside from Bowl season, rivalry week to finish out the regular season may be a lot of people's favorite week. Let's see what content and memories it gave us this time around.
No. 15 Texas A&M at LSU
You absolutely had to know that something stupid was going to go down for Coach O's last game as head coach. The memories are endless from 2019 and the fall from graces might've even been more shocking, but LSU pulled out some real magic to win 27-24 over the 15th ranked Aggies.
The Tigers have struggled to even stay competitive in games this season; I guess this is the most Hollywood ending that they could've come up with.
Texas A&M also really blew their chance this year. This had the perfect opportunity to take Alabama down and reach the top of the SEC West for the first time ever. They beat Alabama, then proceeded to lose a few more pivotal games that saw them go from playoff hopefuls to watching which mid-tier bowl game they're going to.
As for what Ed Orgeron is going to do after coaching? Oh, just what any normal dude would do.
No. 3 Alabama at Auburn
Some have legitimate claims that they belong in the country's greatest rivalry. Ohio St. vs. Michigan, Texas vs. OU, occasionally even USC vs. UCLA if programs out on the West Coast ever get their act together again. I don't think any of them consistently produce wilder content and moments than the Iron Bowl.
It rarely ever matters how these programs are doing during the regular season. Auburn relishes the idea that they have an annual chance to knock Alabama potentially out of the playoffs. And it sure looked like that was going to happen Saturday afternoon. Auburn held the Crimson Tide scoreless through three quarters and it looked easy. The Tigers absolutely dominated the line all night and made Bryce Young look average.
That is until Alabama did Alabama things and came down to score a last-minute touchdown to tie the game and send it into overtime. Regardless of what you think of College Football's overtime rules, it is action-packed and fairly equal for both sides. Auburn really came close to playing spoiler once again, but I guess 2021 wasn't for them in the Iron Bowl.
No. 9 Ole Miss at Mississippi State
From the Iron Bowl we head over to the Egg Bowl, which seems fitting given how each program has operated the past couple of decades. This year's installment ended in another victory for Ole Miss, 31-21 over the Bulldogs.
The game was never really close. Future first quarterback taken in the 2022 NFL Draft Matt Corral had the Rebels up as much as 24-6 before stepping off the gas slightly towards the end. For a program that didn't get as much of the national spotlight as much as they really should have this season, Ole Miss produced a solid season and will end up in the top-10 at the end of the year.
It's time to prepare for what seems to be an NY6 Bowl Game for Ole Miss. And then it turns to Lane Kiffin to see if he jettisons for another program for roughly the 25th time in his career.
Florida State at Florida
This is really a depressing one, huh? It's fun to clown on Florida teams because they still believe that it's the early 2000's, but at some point, one of these teams have to be good, right? Florida took down FSU 24-21 in what was a relatively entertaining game containing two currently abysmal programs.
It's just strange to see this game be dwindled down to a battle for bowl eligibility instead of which bowl they're going to. I'm not complaining by any means, just pointing out that it doesn't feel normal. Who knows, these programs could flip it around in a year and have us all banging our heads against a wall. For now, let's all just enjoy seeing these programs battle it out for the crown of mediocrity.
Oh, by the way, this is football. Don't let it not be football.
No. 23 Clemson at South Carolina
In the words of the late, great Dennis Green, "They are who we thought they were. And we let them off the hook."
This really was South Carolina's chance. By no means are they having a great season, sitting at 6-6 now after the 30-0 blowout they received at the hands of Clemson. But less important than how the Gamecocks have fared this season, Clemson is just down bad.
Dabo and the rest of his team are really struggling this year, as they finish the season with a 9-3 record I might add. For everything that went wrong for Clemson this year, this was their last chance to trip up and fail. But not even Dabo would allow this type of embarrassment.
They will almost surely turn it around next season as Dabo goes on his media revenge tour, but South Carolina had the chance to thrust one final dagger into Clemson fan's torturous season, but failed miserably.
Vanderbilt at Tennessee
It's hard for any team to call Vanderbilt a rival given their recent stretch of performance on the football field, but alas we are here. Just like the rest, Vanderbilt got absolutely steamrolled 45-21 by a new-look Volunteer team.
The game was over before it ever even started. Tennessee combined for nearly 300 yards rushing in what was an absolute embarrassment for the conference. At least the Commodores are holding it down in baseball.
Missouri at No. 25 Arkansas
As everyone predicted in the preseason, Arkansas would bounce back to have their first eight-win season in a decade and finish third in the SEC West. Regardless, this was an incredibly successful season for the Razorbacks who topped off the campaign with a 34-17 win over a struggling Missouri program.
Treylon Burks is going to be awesome in the NFL very, very soon. The junior receiver had seven catches for 129 yards and a long touchdown to cap off a stellar regular season that saw him go over 1,100 yards on the season and grab 11 touchdowns. It may not end in a significant bowl game, but this was surely a fun season to be a Razorback fan.
No. 1 Georgia at Georgia Tech
Nothing to see here, business as usual. Move on, please.
This was honestly a JV game for Georgia as they prepare to take on Alabama in Atlanta for the SEC Championship. The Georgia defense threw out another shutout, demoralizing Georgia Tech all day, 45-0.
I don't even know what else to say, it was ugly. Take a look.
Kentucky at Louisville
Do you think Vegas watched a single football game this year? It was genuinely unfathomable that Louisville was a three-point favorite coming into this contest. It was malfeasance, It was Patrick Star handing out free bags of money in the Pretty Patty episode of Spongebob. It's exactly what everyone in BBN wanted people to think before the 'Cats went and dropped 50 on Louisville to clinch their third straight Governor's Cup.
We all found out that we have the perfect quarterback for the rivalry too. Levis heard all this talk about dual-threat option Malik Cunningham and decided to take it to the next level. Levis' four touchdowns on the ground were an exclamation point on a successful first run as a Wildcat.
It's forever L's down.