SEC Roundup: Week 7 brings turnovers, touchdowns and...trash?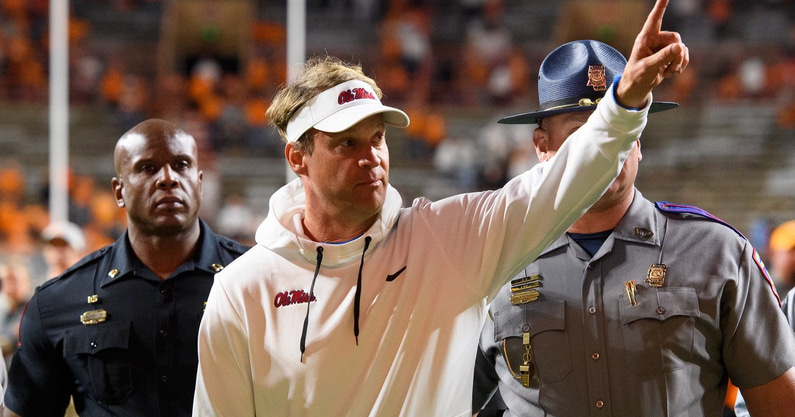 Waking up the Sunday after a loss is not near as fun as a win, huh BBN? Anyhow, there was a lot more drama going down in the SEC on Saturday while Kentucky was battling in Athens.
Let's talk about it.
Auburn at No. 17 Arkansas
The Auburn Tigers are now 5-2 after an impressive statement win over Arkansas yesterday afternoon in Fayetteville. The Tigers scored 14 points in just over three minutes and fought off an attempted comeback, ending with a 38-23 win.
Arkansas led going into halftime, but things changed when Auburn's Derrick Hall sacked and stripped Razorback QB KJ Jefferson in his own end zone. Hall's Tiger teammate Marcus Harris fell on the ball to give Auburn a 21-17 lead early in the third. A 71-yard touchdown pass from Auburn quarterback Bo Nix on the next drive extended the lead and gave the Tigers some breathing room.
Nix proved to be crucial to the Tigers. He was 21 of 26 for 292 yards and two touchdowns in the air and one on the ground. Prior to the game, he was 12th in SEC quarterback rankings with less than 200 yards a game.
No. 20 Florida at LSU
Coach O and the LSU Tigers are back on track (at least until the season is over…) after an embarrassing showing in Lexington last weekend. Yesterday, they snagged an impressive 49-42 win over the No. 20 Florida Gators in Baton Rouge.
LSU running back Tyrion Davis-Price rushed for a school-record 287 yards and three touchdowns. The Tiger defense got it done too. Despite missing several players due to injury, they came up with four interceptions.
Florida's quarterback situation proved to be an issue again yesterday. Emory Jones got the start, but struggled throughout the first half. After he threw his second interception early in the third quarter, Florida head coach Dan Mullen replaced him with freshman Anthony Richardson. Richardson threw two picks of his own.
After the game, Mullen said "we're going to look at that, obviously" when asked about the quarterback situation. He added that he saw good things from them both, but they both made mistakes as well.
No. 21 Texas A&M at Missouri
Texas A&M coach Jimbo Fisher urged his team all week to stay focused after they upset No. 1 Alabama last Saturday–and they understood the assignment. They are now 5-2 on the season after cruising to a 35-14 win over Mizzou yesterday.
The Aggies took full advantage of the struggling Tiger defense, which is ranked last in the nation against the run. A&M racked up 283 rushing yards. More than half of those were from Isaiah Spiller, who ran for 168 on 20 carries.
The Tigers are now 0-3 in the SEC this year. Following the loss, Missouri head coach Eli Drinkwitz emphasized the need for improvement on defense and turnovers. Mizzou turned the ball over twice, leading to 14 points for the Aggies.
Vanderbilt at South Carolina
South Carolina narrowly escaped Vanderbilt last night at home to win their first SEC game in over a year.
Carolina quarterback and former graduate assistant Zeb Noland entered the game on the Gamecocks' final drive of the game. He led a 75-yard touchdown drive in the final minutes to give his team a 21-20 win. Noland replaced starter Luke Doty, who was feeling some soreness in his foot according to head coach Shane Beamer.
Despite being without starting quarterback Ken Seals, the Commodores looked competitive. Sophomore Mike Wright completed 11 of 21 passes and racked up 206 yards in the effort. He got 41 on the ground as well, but most of the rest of the offense couldn't find that same success.
No. 5 Alabama at Mississippi State
I sure would hate to play an angry Nick Saban the game after a 'Bama loss. Last night, the Mississippi State Bulldogs faced that exact fate–and it wasn't pretty. The No. 5 Crimson Tide rolled over the Bulldogs 49-9 in Starkville.
Alabama quarterback Bryce Young was 20 of 28 for 348 yards and four touchdowns. Senior running back Brian Robinson Jr. racked up 73 yards and two touchdowns of his own.
The Crimson Tide defense was good as well. They allowed Mississippi State to find the red zone only two times–and they didn't score on either. The Bulldogs finished with -1 rushing yards, though they did have 299 in the air. Quarterback Will Rogers was sacked seven times, four times by Alabama captain Will Anderson.
Rogers also threw three interceptions. Two of them were snagged by defensive back Jordan Battle, who ran one back for a touchdown.
No. 13 Ole Miss at Tennessee
Ole Miss head coach Lane Kiffin made his return to Neyland Stadium for the first time as a head coach since he himself held the position in Knoxville in 2009. Vol fans were less than happy to see him, and even more unhappy after Ole Miss narrowly escaped with a 31-26 SEC win.
The drama started with just over a minute left when Ole Miss stopped the Vols just a yard short of a first down on a fourth-and-24 pass. After review the spot was confirmed, and Vols fans did not approve. The UT faithful started hurling objects onto the field–everything from water bottles to pizza boxes to a…mustard bottle? Kiffin was almost hit with a golf ball in the commotion.
After a 20-minute delay to clear the student section and the field, Tennessee's Velus Jones returned a punt to the Ole Miss 47. After Vol quarterback Hendon Hooker was injured, backup Joe Milton came off the bench to try and win the game. He got his team to the 21, but couldn't connect. He ran 13 yards on the final play but was pushed out at the 8-yard line as the clock ran out.
After the game, SEC Commissioner Greg Sankey expressed his concerns with the incident. Tennessee Chancellor Donde Plowman tweeted this in regards to the fan behavior:
No. 11 Kentucky at No. 1 Georgia
I had almost forgotten what waking up the Sunday after a loss feels like, and I don't like it. Regardless, the Wildcats are now 6-1 on the season after falling 30-13 in Athens last night to No. 1 Georgia.
The 'Cats really didn't look bad, though. Quarterback Will Levis was 32 of 42 for 192 yards, two touchdowns and no interceptions. Unfortunately, the run game just couldn't get things going as well. They racked up just 51 yards. To be fair, Georgia's defense is incredible. And I'm not one for moral victories, but we did better than most. We were the first team to score two touchdowns on the Bulldogs all season.
Georgia quarterback Stetson Bennett threw for 250 yards and three touchdowns. Two of those TD passes went to freshman tight end Brock Bowers, who led his team with 101 receiving yards.
The 'Cats had chances, but made several mistakes with dropped balls and missed takeaways. Regardless, the 'Cats fought hard and they did it against the very clear best team in the nation. If you had told me I would be writing that line a few months ago, I would have been a little skeptical.
Following a BYE week, the 'Cats will travel to Mississippi State to face the Bulldogs next on October 30.