SEC Roundup: Week 8 was a snoozefest without the 'Cats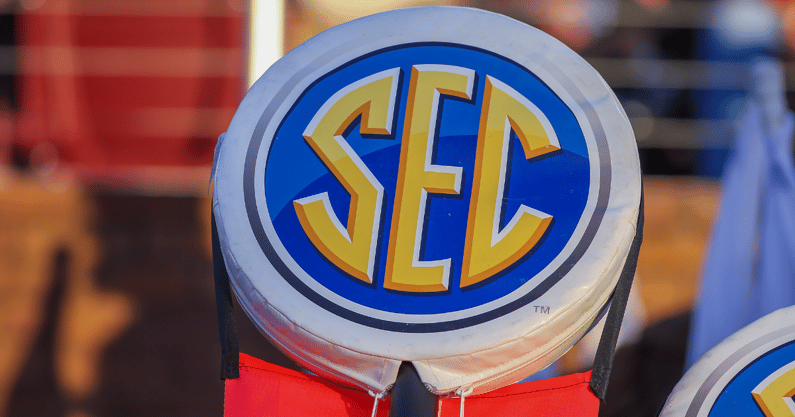 Something about waking up on a Sunday and not having a 'Cats game to talk about feels wrong, right BBN? Regardless, let's see who did play across the SEC over the weekend. night
Arkansas Pine-Bluff at Arkansas
Not much to see here. Arkansas easily handled their in-state counterpart with a 45-3 win at home. All of the Razorbacks' 45 points were scored in the first half.
Razorback quarterback KJ Jefferson completed 10 of 17 passes in the effort, accumulating 194 yards and four touchdowns. Two of those four throwing touchdowns landed in the hands of Treylon Burks. The junior Arkansas native has been crucial for his team this season – and Saturday was no different. He had 145 total yards and three touchdowns, propelling him to over 2,000 receiving yards in his career in Little Rock. He is only the ninth player in school history to accomplish that feat.
Razorback starters played only the first half before head coach Sam Pittman gave some of his bench a chance. Backup QB Malik Hornsby entered in the second half. Not that it much mattered, but Hornsby couldn't find the groove that Jefferson did. The Razorbacks picked up only 78 yards in five possessions after the half.
LSU at No. 12 Ole Miss
The LSU Tigers are now an even 4-4 on the season after a loss at Ole Miss last night. The Rebels were led by quarterback Matt Corral, who went 18 of 23 for 185 yards and a touchdown. He got one on the ground as well, helping push his team to a 31-17 win over the Tigers in Oxford. Though the Tigers struck first to take a 7-0 lead, Corral led four consecutive scoring drives.
After rushing for 321 yards in their win at Florida last weekend, the Tigers could only muster 77 in last night's effort. Starting Tiger quarterback Max Johnson threw for just 146 yards in his three quarters of playing time – along with three turnovers. Freshman backup QB Garrett Nussmeier entered in the fourth, making his SEC debut. He led several solid drives, ending the game with 103 yards and a touchdown.
Just last week, the Tigers chose to part ways with head coach Ed Orgeron. Orgeron, 60, will finish the remainder of the season with LSU. He will also coach a bowl game if the Tigers make one, though the chances are not great as they have Alabama, Texas A&M and a hot Arkansas team left on their schedule.
The 'Rebs managed to get a nice dig in at Tennessee, too.
Mississippi State at Vanderbilt
After getting punched in the face by a vengeful 'Bama last weekend, the Mississippi State Bulldogs bounced back nicely with a dominant 45-6 win over Vandy last night in Nashville. It was the 17th consecutive SEC loss for the Commodores.
The Bulldogs were led by a career-high four touchdowns from quarterback Will Rogers. Two of them went to wide receiver Makai Polk. Rogers leads the SEC in passing yards and showed why yesterday. He racked up 386 in the Mississippi State win.
Per usual, the Vandy offense struggled. Quarterback Mike Wright started for the second week in a row in place of the injured Ken Seals. Wright did manage to drop a 61-yard completion to Devin Boddie in the second quarter to get the 'Dores in the red zone. Shockingly, they couldn't push a touchdown through and settled for a field goal from Joseph Bulovas.
The Bulldogs will welcome our Kentucky Wildcats to Starkville next weekend in what should be a good matchup. Read here to find out what the 'Cats must do to prepare.
Tennessee at No. 4 Alabama
The No. 4 Crimson Tide rolled over the Tennessee Volunteers last night with an impressive 52-24 win in Tuscaloosa. 'Bama quarterback Bryce Young passed for 371 yards and two touchdowns, plus an additional two more scores on the ground.
Though you wouldn't know it if you just saw the final score, the Vols hung around for a while. They were down just 21-14 at the half and hit a field goal to start the third quarter to get it within four. It wouldn't last long, though. 'Bama scored 21 points in the first six minutes of the fourth quarter to put away their rivals for good.
The Vols racked up 12 penalties for a total of 98 yards in the match. To make it worse, they only had 64 rushing yards total. That's a tough combo to stare down when you're trying to beat 'Bama in T-Town.
South Carolina at No. 17 Texas A&M
Texas A&M looks good. Last night, they demolished South Carolina for a 44-14 win in College Station. Aggie wide receiver Ainias Smith started things off with a 95-yard punt return for a touchdown.
Quarterback Zach Calzada kept things going with another TD in the quarter. He would finish 12 of 24 with 187 yards, two touchdowns and one interception. Calzada, along with the powerful rushing Aggie rushing duo of Isaiah Spiller and Devone Achane helped A&M build a 31-0 lead before halftime.
South Carolina couldn't quite find that same offensive groove. Former graduate assistant and current Gamecock quarterback Zeb Noland managed just 30 passing yards before being replaced by backup Jason Brown early in the fourth quarter. Brown led his team to two touchdowns after entering the game.