SEC Rundown: Big tests await in Week 4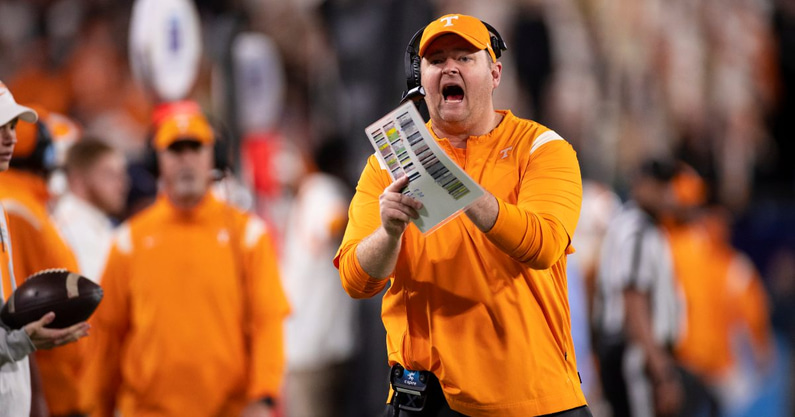 The heat starts to get turned up in college football as September comes to a close. Cooler temperatures and Halloween costumes are on the horizon as contenders and pretenders begin to separate themselves in the SEC.
After an entertaining Week 3, there are some legitimate big boy tests set on the slate this Saturday with three big conference games on the schedule. Let's take a look at where everything stands in the Southeastern Conference heading into a big weekend.
Texas A&M's offense stinks right now
Jimbo Fisher's program bounced back in a good way last week holding on to a one-possession win at Kyle Field over a ranked Miami team, but LSU transfer quarterback Max Johnson did not fix the offensive woes in College Station as the Aggie got off just 52 snaps.
Texas A&M's offense enters the end of September ranking No. 103 in success rate (36.2%), No. 91 in points per drive (2.02), and No. 104 in 3rd/4th down conversion rate (34.5%). The Aggies have been woefully inefficient and aren't connecting on enough big plays. That is a concern.
Fisher must get something cooked up quickly. Facing an Arkansas defense that has given up a lot of yards and points through three games, the Aggies must put some points on the scoreboard on Saturday to settle everyone down.
Another bad offensive performance could bring a ton of criticism with road trips to Mississippi State (Oct. 1) and Alabama (Oct. 8) on the horizon.
It's time for Tennessee deliver
Many things went right for Tennessee head coach Josh Heupel in his debut season. His version of the Art Briles spread was an immediate hit on Rocky Top as Virginia Tech transfer Hendon Hooker turned into one of the best quarterbacks in college football. The Vols put up 39.3 points per game on 6.5 yards per play on their way to some big blowout wins thanks to some crazy offensive tempo. However, Tennessee ended the year with a 7-6 record with three one-possession losses.
There was a lot of offseason hype for this program and most of that is still there after Vols squeaked by Pittsburgh on the road in Week 2. Now this program must get the Florida monkey off of their back.
The Gators have won 16 of 17 in this series and most of those victories have been by double-digits. This series has turned into one of the most one-sided rivalries in the SEC. With upcoming games against LSU on the road (Oct. 8) and Alabama at home (Oct. 15), Saturday's contest on CBS is near a must-win early for Heupel.
A loss could cause a tailspin and officially take the Vols out of the SEC East race in September. A win could be the start of the program's first double-digit win season since 2007. Tennessee needs to handle its business as a double-digit favorite on Saturday.
We will have stakes on Rocky Top.
Bryan Harsin's tenure could end on Saturday
Last week's matchup with Penn State on the Plains could not have gone worse for Bryan Harsin. Auburn looked outclassed for most of the afternoon as thing collapsed in a big game. The future is looking bleak for the former Boise State head coach.
Now the Tigers must get off the mat for an 11:00 a.m. local kickoff against Missouri. With a home contest against LSU (Oct. 1) and road trips to Georgia (Oct. 8) and Ole Miss (Oct. 15) around the corner, it would be wise for Harsin to get a win on Saturday.
If Missouri can pull off a road upset as a touchdown dog, Auburn might have to pull the plug on Harsin before the schedule starts toughening up. Eliah Drinkwitz has a great opportunity to get a much-needed upset win this week.
SEC notebook
— Lane Kiffin is building one of the best rushing offenses in college football at Ole Miss. Through three games, the Rebels are averaging 271.7 yards per game and 5.7 yards per rush on the ground. Both TCU transfer Zach Evans (317 yards, 6.5 per rush) and true freshman Quinshon Judkins (289 yards, 6.7 per rush) are on a 1,000-yard pace. The Rebels currently rank No. 2 in the Power Five in run play percentage (68.4%) as this offense is taking a lot of pressure off a young quarterback.
— Things are not going well at South Carolina. The Gamecocks currently rank No. 111 in offensive success rate (35.1%) and No. 103 in defensive success rate (45.0%). That is a recipe for disaster. Offensive coordinator Marcus Satterfield is facing a lot of heat, but Clayton White's defense simply had no answers against Arkansas and Georgia. With back-to-back home games against Charlotte and South Carolina State, Shane Beamer's program must get things ironed out quickly before heading to Kentucky on Oct. 8.
— True freshman AJ Swann got the surprise start for Vanderbilt last week, and the top-500 recruit delivered on the road in a 38-28 win over Northern Illinois. The rookie is averaging 9.8 yards per attempt with six touchdowns and zero interceptions on 46 throws. Clark Lea's program now has something real to build around. The emergence of Swann could become quite the revelation for the Commodores.