SEC Saturday Recap: Big comebacks and beatdowns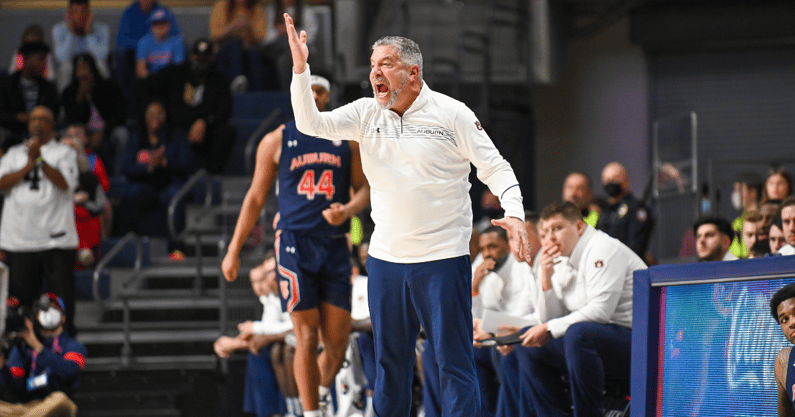 Another wild weekend of SEC basketball is in the books – and this one is sure to shake up some standings. Let's see what went down.
No. 4 Auburn at Ole Miss
Bruce Pearl's Tigers are hot. Since losing an early-season overtime thriller to UConn, Auburn has won 13 straight games, propelling them into the top 5. Last night, they snuck past Ole Miss with an 80-71 win in Oxford. Since No. 1 Baylor and No. 3 UCLA both lost this weekend, the Tigers will most likely move up even further.
It wasn't the prettiest win, though. The Tigers trailed by as many as 14 in the first half before going on an impressive 24-9 run over nine minutes late in the second to take the lead. Walker Kessler scored 20 points and snagged 20 rebounds. Jabari Smith's 15, along with 14 from both K.D. Johnson and Wendell Green Jr., pushed the Tigers to the finish line.
Kessler, a UNC transfer, added seven blocks and four steals to the effort. After the game, he received very high praise from both his teammates and head coach Bruce Pearl. "Kessler was dominant. We don't win without him," Pearl said after the game. Sophomore K.D. Johnson added that he believes Kessler is the best big in the conference.
Despite the loss, though, Ole Miss looked pretty promising. Tye Fagan led with 17 points. Nysier Brooks and Matthew Murrell added 14 and 13, respectively, helping give the Rebels a 44-38 lead at the half. The team as a whole shot 44% from the field and 36% from the 3-point line.
Arkansas at No. 12 LSU
While the Auburn Tigers were storming back for a win, the Tigers from Baton Rouge were floundering. They dropped their second game of the season last night after a 65-58 loss to Arkansas at home.
Arkansas trailed by eight points with nine minutes left in the game but mounted a furious comeback to take the lead. The Razorbacks ended the game with a 17-2 run, pushing them to the win. The Tigers were flustered by an increase in aggression from the Arkansas defense, causing them to commit several crucial turnovers in the final minutes of the game.
Senior guard JD Notae led the Razorbacks with 19 points. Big man Jaylin Williams added 11, including a 3-pointer to give his team the lead with just over a minute to play. He drew a charge on the next play, getting the Razorbacks the ball back. Williams also snagged 13 rebounds in the effort.
Eric Gaines led LSU with 14 points, six rebounds, four assists and four blocks. He is the only starter who scored in double digits, though. The rest of the Tigers' offensive success came from the bench, with 13 points from both Alex Fudge and Tari Eason.
No. 24 Alabama at Mississippi State
This Alabama team is unpredictable. The beginning of the season looked great, with big wins over No. 3 Gonzaga and No. 14 Houston. Things have gotten a little rough in SEC play, though. Last night, Bama fell to unranked Mississippi State 78-76 in Starkville, giving them their third straight loss.
Iverson Molinar led the Bulldogs in the victory. He posted 24 points, along with six rebounds, four assists and two steals. Garrison Brooks and Shakeel Moore added 16 and 15, respectively, to the effort. Brooks grabbed 10 rebounds too, giving him a double-double. Molinar has averaged 26 points in his last two games.
Jaden Shackelford led Alabama with 17 points. Keon Ellis and Darius Miles each had 14 of their own. Miles and Ellis hit back-to-back 3-pointers in the final two minutes, cutting the MSU lead to two. Shakeel Moore hit two free throws to extend the Bulldog lead before Ellis was fouled shooting a three, sending him to the line. Ellis took the final shot of the game, but couldn't convert.
No. 22 Tennessee at No. 18 Kentucky
I don't know about y'all, but I am still pumped up about this one. I can think of very few better ways to honor the late great Joe B. Hall than whooping some Tennessee tail in Rupp Arena, and that's exactly what the Wildcats did yesterday afternoon.
Kentucky absolutely dominated the Vols 107-79 at home. TyTy Washington Jr. led the way with a career-high 28 points. Savhir Wheeler, who has been sidelined with a neck injury since the loss to LSU last week, added 21. Kellan Grady and Davion Mintz put up 16 and 10. Oscar Tshiebwe had a relatively "quiet" day, ending with nine points and 12 rebounds.
The 'Cats shot a season-high 68% from the field and 61% from the 3-point line. They were 22 of 28 by halftime (78.6%), tying a program record that was set in 1981.
Despite the blowout, Tennessee didn't really play a bad game. The Vols were led by senior Santiago Vescovi, who ended with 20 points. Freshman Kennedy Chandler added 17. Jordan James and Brandon Huntley-Hatfield each had 11 apiece. Volunteer big man John Fulkerson ended with a whopping zero points and zero rebounds of his own. It was the super senior's final game in Rupp Arena (supposedly, anyway).
I won't go into too much more detail, because I know we all watched it (maybe more than once), but you can read about Adam Luckett's big takeaways from the beatdown here.