Alabama is betting favorite to win 2023 SEC Tournament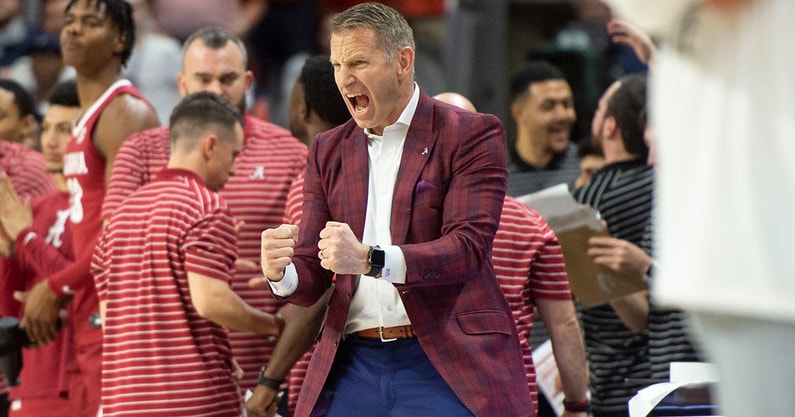 For the second time in three seasons, Nate Oats and Alabama have brought home an outright SEC regular season title. Now they'll be looking to add the SEC Tournament hardware to the trophy case in Tuscaloosa.
The Crimson Tide wrapped up a regular season title on Wednesday at Coleman Coliseum with a come from behind victory over heated rival Auburn to improve to 16-1 in conference play. Bama fell to Texas A&M on the road in the season finale, but the Tide will head to Nashville as the favorite to cut down the nets.
Online sportsbook Draft Kings has released odds for the 2023 SEC Tournament. Let's take a look.
Alabama (+170)
Tennessee (+280)
Kentucky (+450)
Texas A&M (+500)
Auburn (+1200)
Arkansas (+1200)
Missouri (+2500)
Vanderbilt (+3500)
Mississippi State (+4500)
Florida (+10000)
Georgia (+500000)
Ole Miss (+50000)
South Carolina (+80000)
LSU (+100000)
We all know the Tide will be the team to beat in Nashville. Despite drawing the No. 5 seed which will require four wins in four days, Tennessee is the second favorite at just under 3/1. That is likely due to the computer metrics as the Vols are No. 3 in the NET rankings and No. 5 at KenPom. Kentucky is next at just under 5/1. At $100 bet would net you a $450 payout if the Cats won three games at Bridgestone Arena.
There are also odds available for the rest of the conference tournaments. March Madness has arrived as we are officially one week away from Selection Sunday.
SEC Tournament history in 14-team era
There have been 10 SEC Tournaments played since the conference added Missouri and Texas A&M to get to 14 teams. Since then we've seen multiple seeds (1, 2, 3, 4, and 5) win the tournament with seven separate programs claiming the hardware. Only Kentucky (4) has won multiple titles during this era.
Let's take a look at the championship game results.
2012: No. 3 Vanderbilt 71, No. 1 Kentucky 64
2013: No. 3 Ole Miss 66, No. 1 Florida 63
2014: No. 1 Florida 61, No. 2 Kentucky 60
2015: No. 1 Kentucky 78, No. 2 Arkansas 63
2016: No. 2 Kentucky 82, No. 1 Texas A&M 77 (OT)
2017: No. 1 Kentucky 82, No. 3 Arkansas 65
2018: No. 4 Kentucky 77, No. 2 Tennessee 72
2019: No. 5 Auburn 84, No. 3 Tennessee 64
2021: No. 1 Alabama 80, No. 3 LSU 79
2022: No. 2 Tennessee 65, No. 8 Texas A&M 50
The No. 1 seed has a 40 percent hit rate on titles, but the No. 2 and No. 3 seeds are right behind them. Kentucky could be a live dog in Nashville this week.
Discuss This Article
Comments have moved.
Join the conversation and talk about this article and all things Kentucky Sports in the new KSR Message Board.
KSBoard