Senior Spotlight: Colin Goodfellow is Dropping Bombs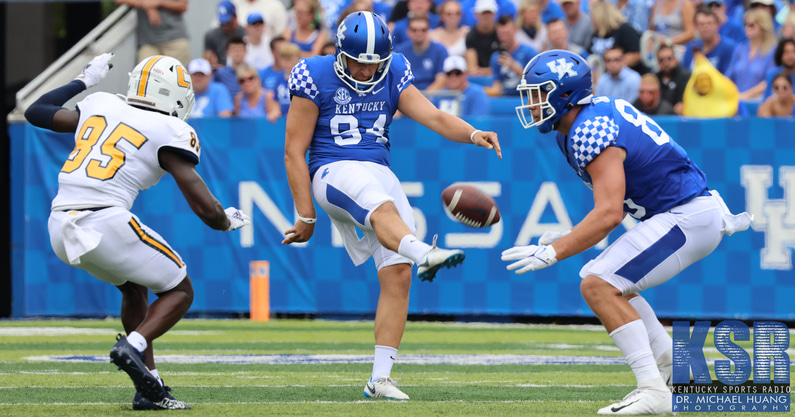 No Max Duffy? No problem, thanks to Colin Goodfellow.
Kentucky had a big hole to fill entering the 2021 football season. Duffy's Australian style worked to perfection over three seasons in Lexington. He set the UK record for career punting average (45.96) and became the first Wildcat to win the Ray Guy Award, given each year to college football's top punter.
Kentucky initially expected to solve its punter problem with another Australian, Wilson Berry. The younger brother of NFL star Jordan Berry and a friend of Duffy's, it appeared a match made un heaven. That all changed when Berry suffered a preseason back injury. After fighting through the nagging injury with subpar punts for two weeks, Kentucky turned to Goodfellow and never looked back.
A walk-on from Cleveland, Goodfellow went to high school with Darian Kinnard at football powerhouse St. Ignatius. He filled in for Duffy a couple of times in 2020, then brought out the boomstick against Chattanooga.
In his first game as the primary punter, Goodfellow launched a ball 59 yards and averaged 50.5 yards per kick. He's kicked nine punts of 50 yards or more, including two 70-yarders. He has also placed 11 balls inside opponents' 20-yard line. Goodfellow averages 47.4 yards per punt, on pace to finish with the second best punting season in school history.
"He's hitting some punts. He is booming some and we have seen that in practice the past couple of years, so it's really nice to see that," Mark Stoops said Monday. "It shows some good depth, and it gave us a different style to become more in the pocket, so it's been good."
Kentucky's special teams have not always been great in 2021 (especially the blocking on field goals). When faced with a significant problem in the punting department, Goodfellow saved the day. His impact on the Wildcats' success in 2021 cannot be overlooked.
Senior Spotlight: Luke Fortner, Marquan McCall