Sergio's Saturday Morning Wakeup
[caption id="" align="alignnone" width="1200"]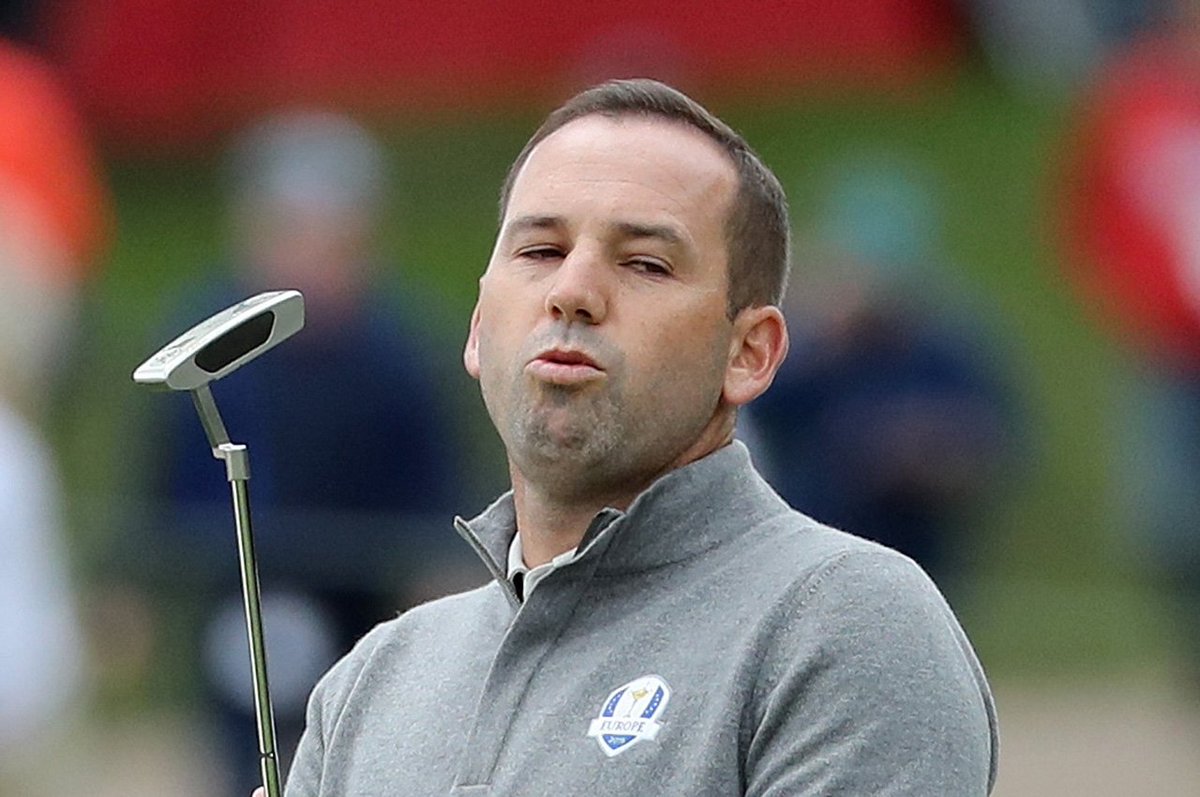 @GolfWeekMag
[/caption] There are many reasons why golf is a wonderful sport.  The Ryder Cup reminds me of my favorite part of the sport: hating those pretentious European pieces of.... Golf is great because hate is acceptable.  Even though you clap for everyone, the cheers are much louder when the foreigners miss.  The hate grows even more for different players.  Lee Westwood was the primary target at Valhalla, my father can't stop muttering "pinhead" whenever Justin Rose is on the screen, but my muse is the smug Spanish son of a gun, Sergio Garcia. The beautiful part about the hate is that I don't know exactly where it comes from, but it doesn't matter.  I'm allowed to hate him, and hate him I shall.  Whether it's how many times he has to tap the ground with the head of his club before a swing or the smug look he makes to the crowd after the putt, my greatest joy from the game of golf comes from watching his misery.  I will never forget this beautiful moment. https://www.youtube.com/watch?v=Ia1QbVxsfLg The Americans lead 5-3 after the first day.  A look at this morning's pairings.
Is Bama in Trouble?
It's been a tumultuous week around the Alabama football program.  Second string quarterback Blake Barnett is transferring, All-American linebacker Tim Williams was arrested and their leading rusher, Damien Harris, is questionable.
The Cats are 35-point underdogs, but anything is possible, right?
The BBM Campout has Come to a Close
As usual, the weather provided little reprieve for the brave campers, but last night they finally received the coveted tickets to see the 2016-17 Kentucky basketball team for the first time.  For all those who camped, I hope you stayed dry, and I hope you enjoyed the KSR snapchat filter.  Thinking bout the upcoming basketball season is exciting, but try to contain the craziness until the Madness begins in less than two weeks.
Nick Richards is on His Official Visit
Calipari is only aggressively recruiting two posts in the 2017 class: Mohamed Bamba and Nick Richards.  This weekend Cal will roll out the red carpet to keep the No. 2 center in Lexington. Extremely athletic for his size, Richards attends the same New Jersey school as Michael Kidd-Gilchrist.  Richards is also considering Indiana, Syracuse, UConn and Arizona -- where he'll take an official visit next week -- but 
Evan Daniels told Ben Roberts
 earlier this week ,Richards is the 2017 recruit most likely to commit to Kentucky. https://www.youtube.com/watch?v=ziQnfRQ_Wok
The Wildcat Tipoff Luncheon is Monday
Tickets are still available for the 2016 Wildcat Tipoff Luncheon.  After Matt and Ryan's remote, you can watch the two interview Coach Cal and Matthew Mitchell during a delightful lunch at the Galt House.  After attending this year's football kickoff luncheon, I can guarantee you it will be a great time.  Get your
tickets here
.
A Belated Happy Podcast Day
Yesterday was one of the many national holidays that I'm pretty sure are only fabricated by social media.  Regardless, you should still celebrate National Podcast Day by listening to two of the best podcasts on the planet. The KSR Football Podcast was probably the funniest one we've ever done, and that's not a Rick Pitino hyperbole.  The Depth Chart Podcast featured Andy Murray and Freddie's Alabama friend, Ed Sledge.  There's more knowledge in that podcast than anything KSR has ever done.  After listening, this is a message I received from one friend:
"I feel like anyone that's team Darryl (like I was) needs to listen to this new depth chart pod....it'll flip em real quick."
Listen and subscribe here
.
High School Scores
Trinity 35, St. X 13
Ashland Blazer 55, Boyd County 7
Cooper 28, Dixie Heights 13
Collins 38, Franklin County 31
DeSales 41, North Hardin 14
Pulaski County 40, Henry Clay 21
In the Mood for Baseball?
The Kentucky baseball team is in the middle of fall ball.  Each day this weekend they're holding scrimmages open to the public at The Cliff.  You can catch the Bat Cats at 12:05 p.m. today and 11:00 a.m. tomorrow.
College Football Scoreboard and Schedule