BREAKING: Shaedon Sharpe is eligible for the 2022 NBA Draft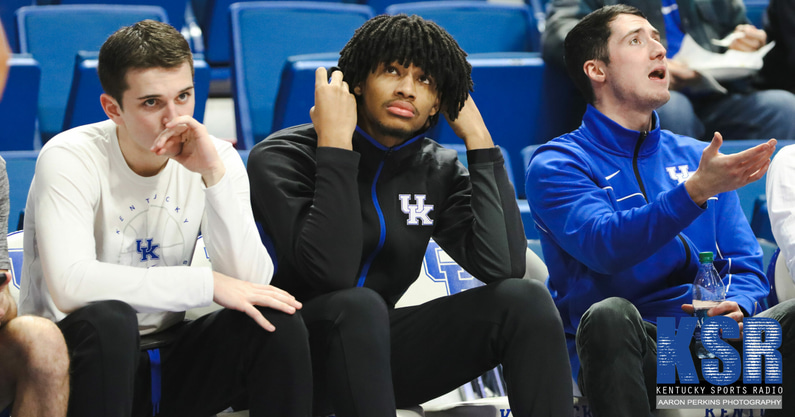 Kentucky freshman guard Shaedon Sharpe will be eligible for the upcoming 2022 NBA Draft, meeting the league's age and academic requirements.
ESPN's Jonathan Givony broke the news Thursday that Sharpe will be able to apply for the draft as an early-entry candidate after it was ruled he had sufficient credits to graduate prior to the start of the NBA season in October. The 6-foot-6 guard is set to turn 19 in May, meeting the league's age requirement, as well.
The league requires players to be one NBA season removed from high school graduation and at least 19 years old the year of the draft.
Sharpe, the No. 1 recruit in the final On3 Player Rankings, committed to Kentucky back in September and announced he would join the program as a mid-year enrollee in November. He ultimately enrolled and made it on campus in January. The five-star guard is practicing with the team and is eligible to play immediately.
John Calipari has been adamant about Sharpe not playing until he was ready, adding that he's still getting used to the pace and intensity of college basketball. Should he get to that point this season, there's a chance he sees the floor.
"I don't know. If he's not ready to play, I would not put him out there," Calipari said last week. "I would say, come on, this kid just came here. How do you make us, you know? You can't do that to the kid — unless he's ready. If he's ready, I say let's go.
"…. He — pace of game [he's] like a normal freshman. The speed, the intensity, the spirit of it, talking more, he's way behind in those areas, but his skill set and what he does and is comfortable when you put him in different situations, he's good there. But it's the most important stuff, the speed of the game. The aggressiveness of the game. How hard you have to play and talk. You can't take possessions off, you just can't. So, he's learning all that and we'll learn it on the run."
Kentucky has 13 more regular-season games this year, followed by the SEC and NCAA tournaments. Over two months of basketball left to be played.
Will we see Sharpe take the floor in that final stretch?