Shaedon Sharpe named one of ESPN's NBA Combine Winners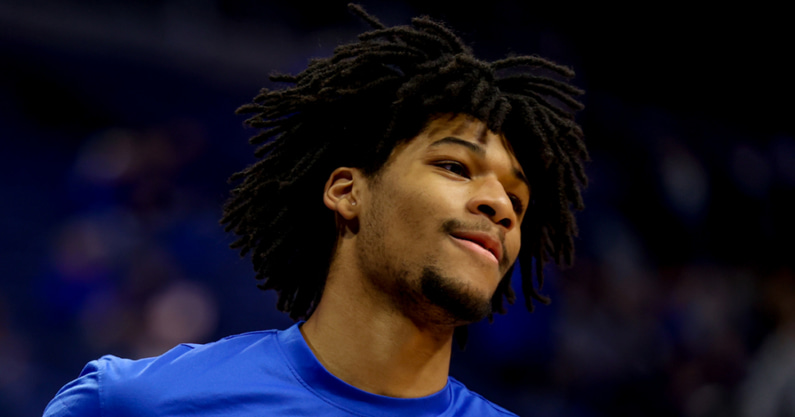 Shaedon Sharpe and the other underclassmen in the NBA Draft have one week to remove their names from NBA Draft consideration if they intend to return to school. On June 1, the NCAA closes its doors to anyone still testing the waters in the pre-draft process.
In the meantime, Sharpe is interviewing and working out for potential employers in the National Basketball Association and today he received more praise in the media as the debate around the unproven prospect's true potential continues.
No surprise to anyone who's followed Sharpe's situation, it is ESPN that thinks highly of Sharpe's draft stock as the World Wide Leader named him one of its winners in a new piece, Winners and Losers of the NBA Combine. The story is behind a paywall for ESPN+ subscribers, but here's a snippet on the one-time Kentucky practice player.
"Sharpe's pro day drew a huge audience of decision-makers from virtually every team to watch a player very few NBA executives had seen live," writes Jonthan Givony, Sharpe's unofficial hype man. "Sharpe started the workout with a bang, demonstrating his impressive vertical explosiveness and near 7-foot wingspan with a series of highlight-reel-caliber finishes, before proceeding to knock down a variety of difficult pull-up jumpers and step-backs from all over the floor.
"The feedback from the workout was varied. Several teams in the top 10 said they were blown away by Sharpe's overall talent level, while others said they were hoping to see other parts of his game, namely his first step and spot-up shooting ability, as they still don't know enough about him to make an accurate evaluation for how his career might look. Teams in Sharpe's range will get a closer look at him in the coming weeks in private workouts, which should provide more clarity on exactly how ready he is to help a NBA team and where he can expect to hear his name called on draft night."
Sharpe is currently the top shooting guard and seventh-best prospect overall on ESPN's board for the NBA's 2022 draft class.