Shaedon Sharpe moves up to No. 1 in 247Sports' updated rankings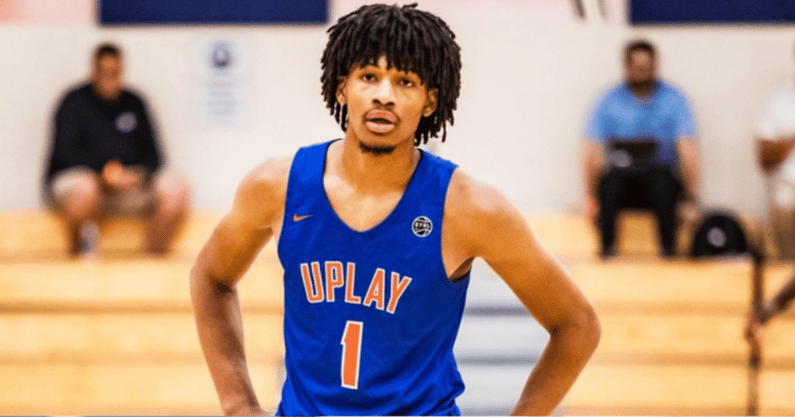 Kentucky basketball commit Shaedon Sharpe is now the consensus No. 1 overall prospect in the class of 2022.
On3, Rivals and ESPN were the first outlets to move Sharpe up to No. 1, and now, 247Sports has done the same. In the outlet's updated rankings released today, the UK guard commit took the top spot, followed by Dereck Lively II at No. 2, Keyonte George at No. 3, Dariq Whitehead at No. 4 and Chris Livingston at No. 5 to round out the top five.
From there, Amari Bailey came in at No. 6, followed by Cason Wallace at No. 7, Nick Smith at No. 8, Yohan Traore at No. 9 and Adem Bona at No. 10.
UK's other top commitment, Skyy Clark, comes in at No. 18 overall in the newest rankings.
With Sharpe's move to No. 1, he now becomes the highest-rated UK commitment in the history of the 247Sports Composite Rankings, topping Nerlens Noel and Anthony Davis.
In terms of recruiting, Kentucky is listed as the overwhelming favorite in the outlet's Crystal Ball predictions for Lively (100%), Livingston (100%), Wallace (100%) and Bona (100%).
Check out 247's updated top 25, with UK's recruiting targets and commitments listed in bold:
Shaedon Sharpe (commit)
Dereck Lively II
Keyonte George
Dariq Whitehead
Chris Livingston
Amari Bailey
Cason Wallace
Nick Smith
Yohan Traore
Adem Bona
Mark Mitchell
Kyle Filipowski
Jarace Walker
Dior Johnson
Kel'el Ware
Brandon Miller
Vince Iwuchukwu
Skyy Clark (commit)
Anthony Black
Julian Phillips
Cam Whitmore
Arterio Morris
Jaden Bradley
Jalen Hood-Schifino
MJ Rice
Could Kentucky land five top-20 prospects in the class? The expectation is that Livingston joins the class Wednesday evening, followed by Wallace in the not-so-distant future. Then, the staff will have to figure out what to do in the frontcourt, likely having to decide between Lively and Bona for the primary center position.
Or could they find a way to sign all six, giving the program five players in the top 10 and six in the top 20? We'll see in the coming months.
For the complete 247Sports player rakings, click here.