Shaedon Sharpe selected No. 7 overall by the Portland Trail Blazers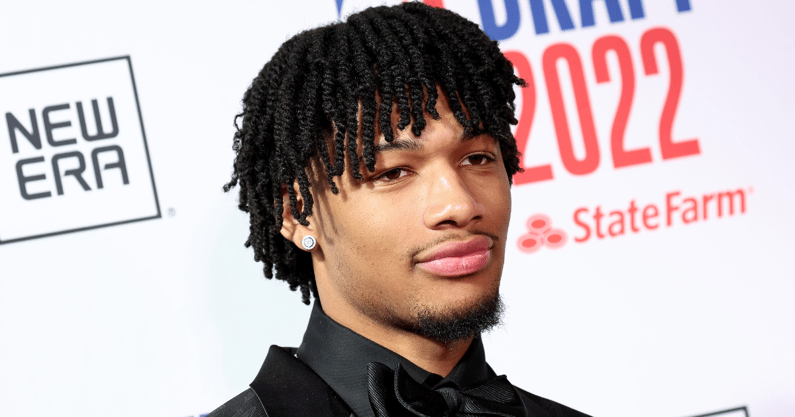 Shaedon Sharpe is headed to Portland. With the No. 7 pick in the 2022 NBA Draft, the Trail Blazers selected the 6-foot-5 guard out of Kentucky to make him the first former Wildcat off the board.
Sharpe committed to Kentucky back in September and signed with the program in November. He then enrolled early, joining the program in January before sitting out the entire 2021-22 season. After initially testing the draft waters, Sharpe later decided to forgo his college eligibility and officially declare for the draft.
"Like I said before, everything happens for a reason," Sharpe said during the pre-draft process. "So I really don't regret (not) playing. I'm working out for NBA teams now. So I guess I did something right."
The former five-star guard signee made it clear it was his decision and his decision alone to sit out during his short stint in Lexington.
"I did talk to Cal about it, my coach, trainer, even my parents. But, at the end of the day, it was my decision to not play," said Sharpe. "… So I was just in the gym every day, working out. Really, for me, whatever happened would happen, and I'd be ready for it."
What are his expectations at the next level? Sharpe sees himself becoming an all-time great in the NBA, with or without playing experience in college.
"I see myself being one of the greatest players to ever play the game of basketball," said Sharpe. "Playing at the highest level, just getting after it, competing. One of my goals coming in as a rookie is being Rookie of the Year. That's one of the goals. And then, All-Star. And later on, Hall of Fame."
Sharpe emerged as the No. 1 overall recruit in the class of 2022 after averaging 22.6 points per game on 48.0% shooting and 36.4% from three to go with 5.8 rebounds and 2.7 assists per contest in 12 games at the 2021 Nike Peach Jam. He led the prestigious event in scoring, finishing with 20 or more points eight times, 25 or more six times, and 30 or more points twice. He also finished in the top five in total 3-pointers made.
He played a handful of games his senior year — or his post-graduate year, as later reported — at Dream City Christian, the last time NBA scouts have seen the 6-foot-5 guard play in a competitive setting.
Now, Sharpe is taking his talents to Portland.