John Calipari gives an encouraging Shaedon Sharpe update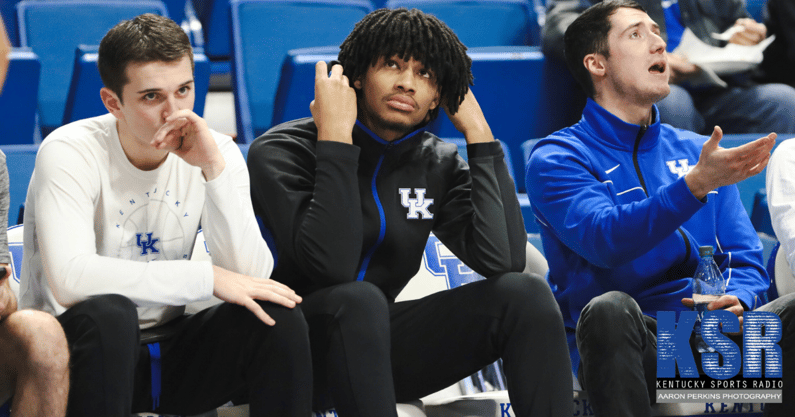 Shaedon Sharpe has been on Kentucky's campus for over a week, and as is the case in every media opportunity, John Calipari was asked about him this morning. Calipari said Sharpe is now practicing with the team. Should a scenario arise in which Kentucky only has seven scholarship players available due to COVID, one being Shaedon, Calipari didn't completely rule out playing him.
"I don't know. If he's not ready to play, I would not put him out there. I would say, come on, this kid just came here. How do you make us, you know? You can't do that to the kid — unless he's ready. If he's ready, I say let's go. But he practiced yesterday. He's going to practice today. We're doing stuff with him."
Even though Sharpe was the No. 1 recruit in his class, the learning curve of joining the team midseason is sharp, especially in a league like the SEC. After watching him in practice, Calipari says Sharpe is good when it comes to his skill set, but is — understandably — still catching up in other areas.
"He — pace of game [he's] like a normal freshman. The speed, the intensity, the spirit of it, talking more, he's way behind in those areas, but his skill set and what he does and is comfortable when you put him in different situations, he's good there. But it's the most important stuff, the speed of the game. The aggressiveness of the game. How hard you have to play and talk. You can't take possessions off. You just can't. So, he's learning all that and we'll learn it on the run."
Like he did on his radio show earlier this week, Calipari enticed fans to arrive early for the Tennessee game to see Sharpe in warm-ups.
"Let me say this to our fans: get there early so we don't have all the complaints. And we'll make sure Shaedon is on the court working out and you can say, 'I saw Shaedon.' It'll be like that book Where's Waldo?. You can say, where's Shaedon? I saw him. He was on the court, I was down there watching him warm up."
And you'll see a little something like this.