Sherlock Holmes is Ready for Louisville on Saturday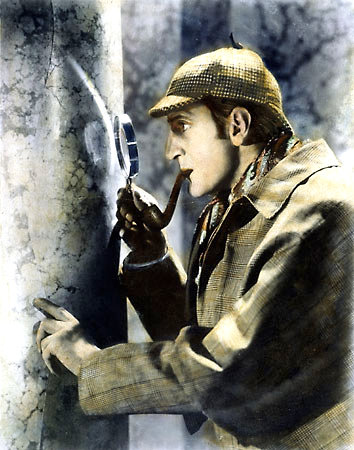 We all expected this day to be pretty quiet. It is New Years Day, there is a lot of football on television and very few people are working. Sounds like a perfect presciption for a day of rest. And then all heck breaks loose. Before we get to all that, in our continued quest to find out "What movie will the players see before a big game", a KSR spy tells me that
the UK team went together and saw "Sherlock Holmes" last night in Lexington.
Now I admit that I havent seen the new version of Holmes and I find myself to be a bit skeptical. For me, Sherlock Holmes should be in a long trenchcoat, smoking a pipe and carrying a magnifying glass. This movie seems to have a shirtless Robert Downey Jr bare knuckle brawling in a pub. Whatever...what is more important is does it help us win? If the sight of a mystery-solving Brit makes Pat, Boogie, Wall and company win, then I will go see it as well. But as a couple of Twitter commenters sent me today, the lesson is that beating Louisville is "elementary my dear Watson." To the news...
(1)
: I could start by telling you how Calipari repeated (again) that he wants us to be on his best behavior, blah, blah, blah but I dont really care. What I do care about is that
Patrick Patterson says he cant wait for the atmosphere in Rupp.
He said he has told his teammates to expect Rupp to be wild and he cant wait to hear the chants that will come from the students. I guess you can chalk that up to being the exact opposite approach to Calipari. Patterson also suggested that he believes this is a game that the players have focused more on because of the national stage and they are ready to perform. The UK fanbase certainly hopes so.
(2)
: The only real pre-game news today came out of Louisville, where
Peyton Siva is listed as doubtful tomorrow
because of a stomach flu. First of all, lets be realistic in saying that Siva has been a virtual no show all year for the Cards. All summer we heard Card fans crow about Siva was as good as Wall, and we all knew they were false. Now they know it as well. However his sickness could still harm UL as it leaves them thin in the backcourt, something that isnt good considering UK's strength at those positions. Once again, it looks like the Cards' only shot is shooting threes, which means Edgar Sosa has to play big....and as Jeff Goodman suggested earlier, we are all sad to see Siva come down with a case of the "John Wall Flu."
(3)
: Today is also a big day for
UK recruits and there is a lot of movement in that arena
on the day. Originally Josh Selby was supposed to attend the game in Lexington, but he has rescheduled due to a scheduling difficulty with his mother, and he will be coming to Senior Day in March. Kentucky will however be getting two visits from some top players in future years.
2011 C Amir Williams
will be at the game (as first reported by Dustin Rumbaugh) as will
2012 Top 5 player JP Tokoto
(as reported by the #3 KSR Person of the Decade). While no 2010 player will be there, both of those guys are building blocks for the future, which beginning in 2011 will showcase a recruiting juggernaut in Lexington.
(4)
: Also on Friday,
four Tennessee basketball players were arrested in Knoxville
on drug and weapons charges. I cant explain it better than the police, so here is their statement:
On January 01, 2010, at about 1127 hrs., Officer Sakovich stopped a car for speeding on I-129 at Kingston Pk. The officer smelled a strong odor of marijuana coming from the car as he spoke with the driver. The officer requested back up and a K-9 officer. Officer Chadwell walked his dog around the vehicle where it alerted. The driver and 3 passengers were taken out of the vehicle so officers could search the vehicle.
Items and their locations found inside the vehicle:
A. handgun under driver seat , accessible by either the driver or left rear seat passenger. B. handgun, with altered serial #, under passenger seat, accessible by either the front seat passenger or right rear seat passenger C. baggy of schedule VI drugs D. open container of alcohol It could not be determined if the driver and passengers were under the influence of marijuana or not although the strong odor indicated that marijuana had been recently smoked in the car. Because of this, physical arrests were made instead of misdemeanor citations for the misdemeanor charges. Possession of a firearm with an altered serial # is a felony charge. All four individuals were physically arrested.
Suspects and charges:
Cameron Alexander Tatum (driver) dob 07/88 (a) unlawful poss. of firearm (b) open container of alcohol
David Tyler Smith (front seat passenger) dob 09/86 (a) unlawful poss. of firearm (b) poss. of firearm with altered serial #
Melvin Lamont Goins II ( left rear seat passenger ) dob 12/87 (a) unlawful poss. of firearm (b) poss. of schedule VI
Brian M. Williams ( right rear seat passenger ) dob 08/87 (a)unlawful poss. of firearm (b) poss. of firearm with altered serial # (c) poss. of schedule VI
This is the kind of thing that can be a
program crippler for a basketball team.
Bruce Pearl has had it rolling a bit in Knoxville but now he has Calipari in Lexington and Josh Pastner taking his guys at Memphis. Now add this and you have to wonder what is next. Pearl has suspended all four players indefinitely. Want an idea how big this game is today?
UK has received over 300 media requests for the game and has 244 credential media to cover the affair.
That is the most in recent memory and will provide quite a nutty scene for all of us to observe tomorrow. We will have more all day....one job today...BEAT LOUISVILLE And oh yes, we have a special guest for the Louisville game as
GREGG DOYEL will join our LIVE BLOG at 3 pm
. He will commentate with us during the game and it should be a lot of fun. Great day coming....