Short and Insufficient Profile: Craig McIntosh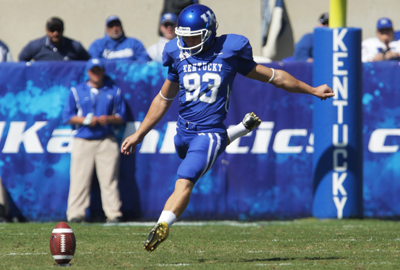 During the slow and insipid summer of 2008, former KSR wordsmith Evan Hilbert profiled each and every member of the University of Kentucky football team. Though his knowledge was sparse and his research was far from thorough, Evan's short and insufficient player profiles were an integral part of Kentucky's success that season. UK finished with seven wins, including the opener at Louisville and a 25-19 victory in the Liberty Bowl. Kentucky hasn't won a bowl game since. Let's bring back that magic...
--------------------------
#93 CRAIG MCINTOSH
Vitals
Height: 6'0'' Weight: 200 lbs. Class: Senior Experience: 3L Position: Kicker Hometown: Lexington, KY High School: Lexington Christian
Awards/Recognitions
National Kickoff Specialist of the Week (vs. Vandy, 2009) SEC Academic Honor Roll 2010 SEC Academic Honor Roll 2011
Nickname We Gave Him
Craig Automatictosh
Something You Didn't Know About Him
He enrolled at Kentucky as a member of the ROTC program and did not play football as a freshman. He tried out for the team in August of his second year on campus, the equivalent of being a redshirt freshman.
Something We Made Up About Him
He once hit the left upright on a 79-yard field goal in high school. With the wind in his face.
Items of Legitimate Interest
McIntosh played in all 12 games last season and led the team in scoring with 56 points. He converted 12-of-14 field goals and 21-of-22 extra points; made seven-consecutive field goals, the third-longest streak in school history; and had a career-best three field goals vs. Mississippi State. His season long was 48 yards in the win over Ole Miss. He's entering his third season as the starting placekicker.
Unfair NFL Comparison
Adam Vinatieri, New England Patriots (2001-2004)
Outlook for 2012
100% accuracy