Sights and Sounds from Kentucky WBB's 2022 Media Day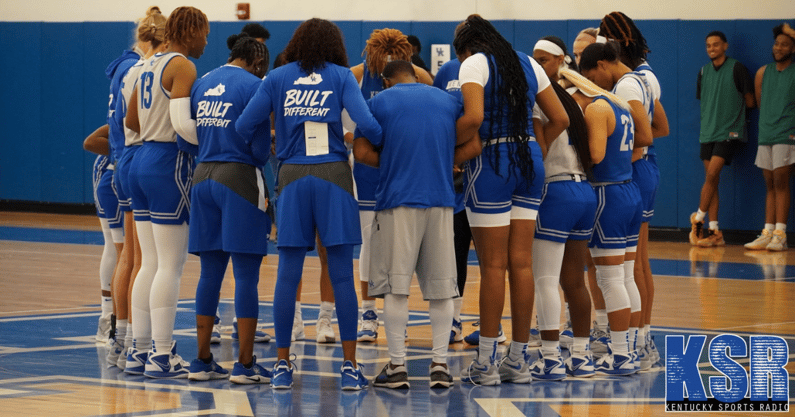 Wednesday afternoon marked the unofficial beginning of the 2022-23 Kentucky women's basketball season. A large gathering of reporters from across the state converged on Memorial Coliseum to participate in the program's annual Media Day, where head coach Kyra Elzy and several Wildcats talked about the offseason and what to expect moving forward.
Coach Elzy got the action rolling as she enters her third year in charge of Kentucky. The Bluegrass native spoke at length about the inner workings of the program and how conditioning and hard work are prioritized above all else. Elzy is dealing with plenty of roster turnover with 10 new faces (six rookies and four transfers) plus the loss of Rhyne Howard to the WNBA, where she quickly won Rookie of the Year. But Elzy's current collection of players has her smiling from ear to ear through the first couple of weeks of practice.
Hear everything Elzy had to say below. All Media Day interviews can be found on the KSR YouTube page.
Head coach Kyra Elzy
Once Elzy wrapped up her interview, Media Day moved into the Joe Craft Center where roughly half of the team was made available for interviews. We heard from a trio of returning players in Blair Green, Robyn Benton, and Jada Walker, along with two of the incoming rookies, Cassidy Rowe and Kennedy Cambridge. A couple of the transfers, Maddie Scherr (Oregon) and Eniya Russell (South Carolina), also spoke with the press.
All seven Wildcats shared different perspectives of the team up to this point in the season and how they arrived in Lexington in the first place. But there was one common theme among them all when asked about their assessment of the team so far: you will run, and you will run hard.
Hear everything the players had to say below. We'll have plenty of content from Media Day coming to the site over the coming days, so stay tuned.
Kentucky player interviews
Blair Green (Grad Sr.)
Robyn Benton (Grad Sr.)
Jada Walker (So.)
Maddie Scherr (Jr.)
Eniya Russell (Jr.)
Cassidy Rowe (Fr.)
Kennedy Cambridge (Fr.)
Media Day photo gallery