Six Kentucky football players involved in fraternity fight return to practice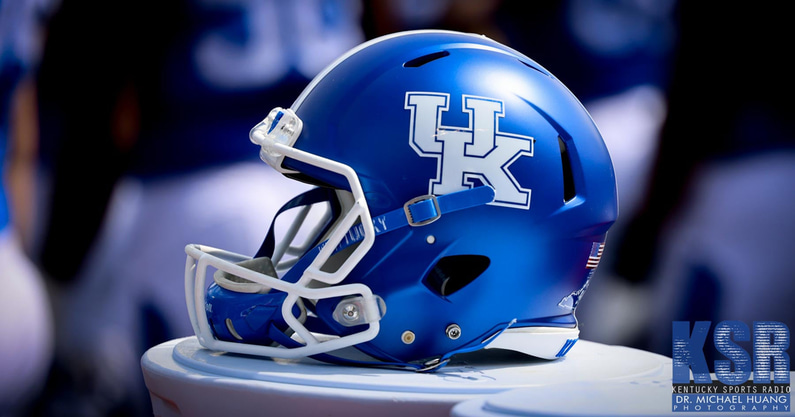 The six Kentucky football players facing first-degree burglary charges stemming from an incident at an off-campus fraternity party in March have been cleared to return to practice.
LEX18's Anna Maria Tarullo broke the news that Vito Tisdale, JuTahn McClain, Andru Phillips, Earnest Sanders, Joel Williams and RJ Adams are all back with the team.
The news comes after UK head coach Mark Stoops hinted at good news on the horizon during his call-in radio show Monday evening.
"I got some good news on my phone," he said. "I'm just going to leave it at that. How's that? Let me confirm that."
The incident occurred in March, though charges weren't filed until August 19, even after the UK Office of Student Conduct cleared all six players from any wrongdoing in June. All six were charged with first-degree burglary charges, with Tisdale also charged with wanton endangerment for allegedly brandishing a firearm.
The six players plead not guilty to the burglary charges and waived their right to a preliminary hearing in Fayette District Court. The case was then sent to a grand jury.
Earlier this month, WKYT obtained documents from UK through an open-records request, including a letter from one of the players to the UK Office of Student Conduct. The player, whose name is redacted, claims he and his teammate feared for their lives after encountering racial slurs at the party.
"I completely and undoubtedly deny any allegations that I threatened, harmed or caused any harm to anyone at this party that night," a football player whose name was redacted wrote in a letter dated April 20 and sent to UK's student responsibility coordinator. "I was the victim of a 'hate crime' that I will be following up and filing charges with the city of Lexington soon."

In the letter, the person describes a young lady screaming "get these fu[redacted] N[redacted] out of here," with more than a dozen other guys coming up to them, pushing them and calling them "black a[redacted] N[redacted]", "P[redacted] a[redacted] N[redacted]" and more.

"This was a very traumatic experience for me, something I never had to endure in my lifetime," the letter reads. "All I could think about is my life and getting out of that house."

WKYT
The investigation report from the UK Office of Student Conduct includes more accounts from the players, who claim they had been to the off-campus house before and stopped by while "party-hopping." In the charging documents, Lexington Police said three players were asked to leave a party, then returned with three others to force their way into the private home.
UK placed Alpha Sigma Phi, the fraternity that hosted the party, on probation in April. Students who purportedly attended the party spoke anonymously to WDRB, sharing their alleged details of the incident.
In its final report, the UK Office of Student Conduct Hearing Board agreed that the use of racial slurs played a "significant role" in the events at the party and caused the escalation of the fight. 
In a press conference on Aug. 30, Mark Stoops said that he "(had) to believe in this (legal) system" and "greatly appreciate(s)" the university's "thorough investigation" that resulted in the clearing of his six players.
"I appreciate the university and the way they went through a thorough investigation and cleared our players and the way they went about it and gave them a fair process. I greatly appreciate them," he said. "If I had any evidence whatsoever that our players are doing something that needs to be addressed, we have no problem with addressing that and disciplining our players. We'll continue to evaluate that process and see how it plays out.
"We have been patient. Our players have been patient and you have to trust the system; that gets hard. Our players have been out a long time. They missed probably 13, 14 weeks (now 18 weeks) of time on the field right now with this situation. I have to believe in this system."