Six Wildcats Returned to Practice Last Week, Availability vs. Florida Uncertain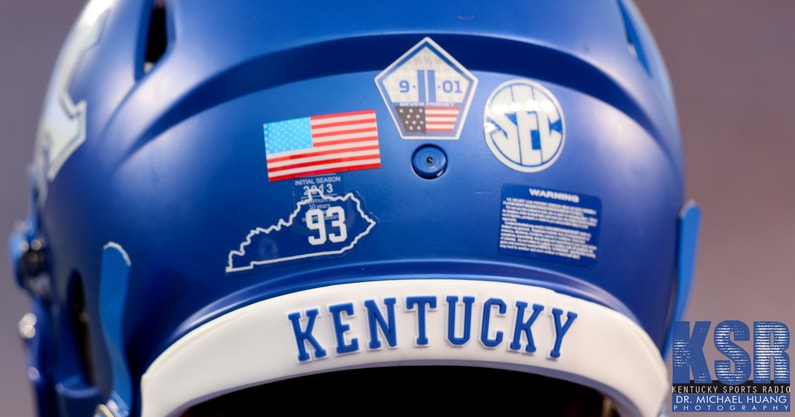 Six Kentucky football players officially received the green light to compete in SEC football games Tuesday. In anticipation of the grand jury's decision, all six returned to Kentucky football practice last week.
The six Wildcats were exonerated when a grand jury declined to indict them on charges of first degree burglary, stemming from an incident at a March fraternity party.
In his first statement since the news broke, Stoops shared that Vito Tisdale, Andru Phillips, JuTahn McClain, R.J. Adams, Earnest Saunders and Joel Williams actually returned to the practice field ahead of the South Carolina game.
"The last time I talked to you I mentioned that I would let the process play out. And that has played out and we're glad to welcome the players back to the team to be eligible to play this weekend," said Stoops.
"They did return to practice activity last Monday, so they've been at it over a week now. They were still not cleared to play last weekend, but we let them get back. A part of that was we knew they had a hearing coming up and we wanted to give them time to get back into shape, to get the acclimatization period under their belt. There's so many practices you gotta have in helmets, shoulder pads and so on. We got through that process and then through the legal steps. Thank you to the grand jury for doing the due diligence, doing the work. We appreciate that. Again, we're glad to have the players back."
Since the players were charged in August, Stoops has provided public, vocal support. He remained confident they would not be found guilty of any wrongdoing.
"I just believed in the players," Stoops said. "We're always going to try to do what's right and what's best. We're going to go with the facts. I appreciate the university, Dr. Capilouto, Mitch Barnhart. We stuck by our players. We believed in them and we believed at the end of this process they would be exonerated, and they were."
Six Wildcats' Impact on the Field
The six Kentucky football players are eligible to play against Florida, but they may not be available to enter the action Saturday night.
They were withheld from team activities for 13 weeks in the spring while the student conduct committee reviewed the case. They were formally charged two weeks prior to kickoff, keeping them off a football field for almost five more weeks to start the season. The six Wildcats must play quite a bit of catch up before they can compete in the SEC at full speed.
"We're excited to get them back, but watching them, they definitely need a lot of reps. They were back last week. Knowing they were not going to play, the game speed, game reps, I don't know how fast that will happen," said Kentucky's head coach.
Once they are ready to play, Tisdale and Phillips can provide much-needed depth in the secondary. McClain was poised to make some noise out of the Wildcats' backfield in the summer. Their greatest impact will be felt on special teams, particularly screaming down the field on the kickoff team.
"These are six guys that were going to contribute in some way and certainly in the secondary we needed those guys. On special teams, there's four of them that are big factors on special teams, so it'll be good to have them back."
Lessons Learned
Stoops teaches his players how to react appropriately when handling adversity in football games. The same applies to the real world, particularly in this situation.
"There's a lot to learn. I think we all understand the basics of that and of what they need to be focused on. They are college students in the springtime. Things happen. But again, I appreciate the process playing out."
He added, "I feel bad for people that don't have representation, I tell you that. The wrongly accused, it's a scary world out there for them."