Regardless of what transpires over the second half of this college football season, the memory seeds have already been planted in our brain: UK's fleeting whiff of the top 10, App. St. o'er Michigan, Stanford/USC, futility in South Bend, and of course,
Lou Holtz
. Instead of shuffling board in Del Boca Vista, ol' Lou has been shuffling verbiage for ESPN, where his "let's put grandpa to bed"-type of antics have thrusted Lou into a verifiable Internet sensation...which is truly ironic since Lou probably still uses a rotary phone. Sure, it's easy to mock him, but that's already become the trite, cowardly way out. You have to dig deeper, emotionally and cognitively. Open your mind, your arms, and your mouth (insert mushrooms), then simply sit back as he seamlessly transitions from "the kids are with grandpa" to "THE KIDS ARE WITH GRANDPA?!"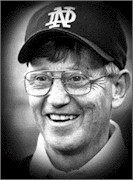 It's like I always usthed to sthay boys, "you can keep a dog from barking, but not a tree." Now go get em!
The vehicle for Lou's neo-celebrity comes in the form of good ol' locker room motivation. (In)famous for his pre-game pep (seriously, how did his players keep a straight face), Lou employs a sampling of his greatest hits for a different team each week from his ESPN roost, as teams and coaches from around the nation clamor to their televisions hoping to (not) see their school that particular evening selected for Lou's last minute motivation. Unfortunately,
Lou is batting like 1 for 7, leading many to label the segment "cursed."
So it should've been music to the ears of UK fans when
Holtz set his
spit
sight on LSU this week.
Thank you football gods, thank you Lou Holtz, and thank you FiberCon. Vegas has already changed this game to "push." You can describe Lou in a plethora of ways, but I'll leave it up to unrivaled wordsmith Orson Swindle at :
EveryDayShouldBeSaturday
We mock. We tease. Yet we do not want Lou Holtz to leave the studio, because his daily appearances border on the surreal, and the good people in Bristol know it. Vacillating between grandfatherly advices and sudden fist-pounding rages without warning, Holtz plays a contrarian plucked straight from the skull of a Simpsons' writer, a guffing wee demon with plasticine hair, Magoo spectacles, and a spectral charisma instantly undercut by something he just insisted was true, but is actually physically impossible. ("You better watch out for Elon, South Florida!" or "Woody Hayes greatest accomplishment was building the moon.")