Skyy Clark and DJ Wagner will go head-to-head Thursday night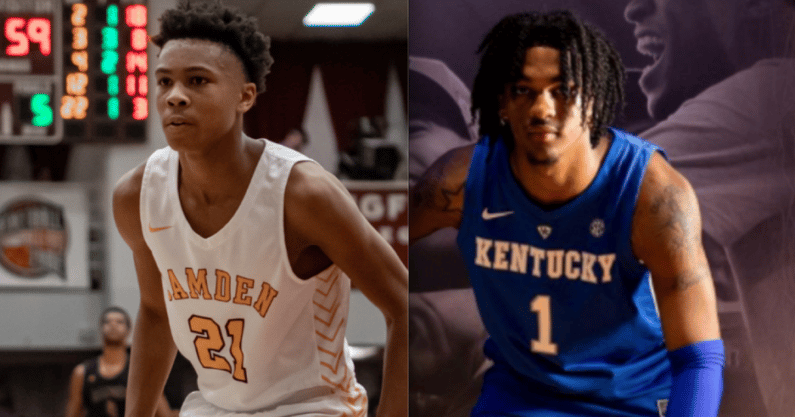 Montverde Academy (FL) and Camden High School (NJ) will face off later on Thursday night in an event that will be of high interest to the Big Blue Nation.
Kentucky class of 2022 commit, Skyy Clark, who is in his first season at Montverde (11-3), will go head-to-head against one of UK's top targets from the class of 2023, DJ Wagner, who plays for Camden (7-0). The game, which is part of the "Metro Classic", is scheduled for tipoff at 8:30 p.m. EST.
Unfortunately, it won't be nationally televised, but you can pay for a live stream through BallerTV.
Clark vs. Wagner preview
Skyy Clark, a five-star guard, recently began on-court play after a significant knee injury over the summer forced him to the sidelines for five-plus months. He decided to play his final high school season for a powerhouse and the defending national champions in Montverde Academy.
The future 'Cat made his return at the NIBC Basketball invitational last week, playing three games at point guard as Montverde went 2-1 over a three-day span. In 21 minutes per outing, Clark averaged 4.3 points, 6.0 assists, and 2.7 rebounds as he slowly works his way back from injury. Clark and Montverde are also set to participate in the HoopHall Classic this weekend in Springfield, MA, where KSR will have boots on the ground to cover it all.
As for DJ Wagner, he'll lead his undefeated Camden squad into a tough matchup against a Montverde team that features six Division I prospects. Camden will put a 44-game winning streak and a MaxPreps' No. 1 ranking on the line. Wagner, who is considered the top overall recruit from the class of 2023, is averaging over 20 points per game this season. Camden will also play in this weekend's HoopHall Classic.