Skyy Clark, DJ Wagner set to close out final day of HoopHall Classic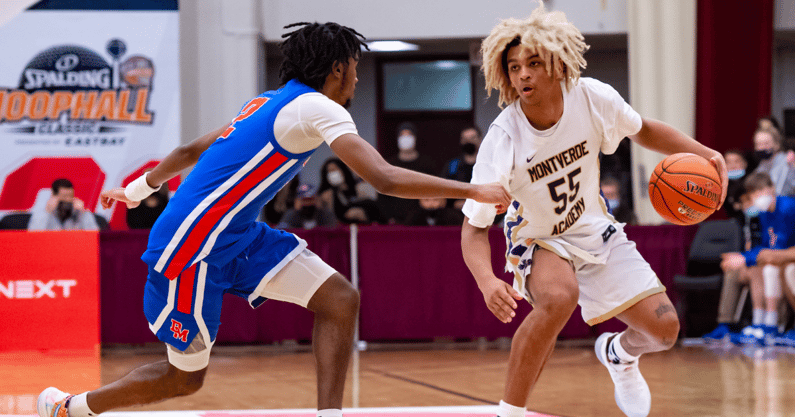 The final day of the annual HoopHall Classic is underway up here in Springfield, MA. Four of the five games scheduled for Monday will be available for your viewing pleasure too (if you have ESPNU, that is). In particular, two of those four national broadcasts will feature a couple of names familiar to the Big Blue Nation.
Montverde Academy's (FL) Skyy Clark and Camden High School's (NJ) D.J. Wagner will both play their second game of the HoopHall Classic later on MLK Day. Clark, a five-star Kentucky commit from the class of 2022, will lead his squad into a 3:00 p.m. EST matchup against IMG Academy (FL). Wagner, the No. 1 prospect out of 2023 and a high UK target, will take the floor right before at 1 p.m. EST against Milton High School (GA). Both games will be broadcast live on ESPNU.
Clark posted 11 points (4-8 FG, 3-4 3PT), three rebounds, two assists, one steal, and four turnovers on Saturday in a 21-point win over DeMatha Catholic. Wagner went for 12 points (5-20 FG, 2-9 3PT), four rebounds, four steals, and five turnovers in an 18-point loss to Calvary Christian. Clark continues to get his legs under him as he rehabs from a knee injury while Wagner will look to bounceback from an off-shooting night.
The matchup between Montverde and IMG will be loaded with talent. If you want a first-hand look at a dozen of college basketball's future stars (and probably NBA stars in a couple of instances), this is the game for you.
Montverde rolls out a starting lineup that boasts a commitment from Kentucky (Clark), Duke (Dariq Whitehead), Southern California (Vincent Iwuchukwu), Texas (Dillon Mitchell), and Indiana (Jalen Hood-Schifino). IMG's starters include commits from schools such as Baylor (Keyonte George), Alabama (Jaden Bradley), Houston (Jarace Walker), Michigan, (Jett Howard), and UConn (Alex Karaban). Nine of these prospects are considered five-star talents, the other being a high four-star. And this doesn't even count the four- and five-star underclassmen that come off the bench for both programs.
As for Wagner and Camden, it'll be interesting to see how he and his team come out and respond after a poor outing a couple of days ago. Milton will trot out two highly-rated recruits in Bruce Thornton (class of 2022, Ohio State commit) and Kanaan Carlyle (class of 2023, Stanford commit). Both Thornton and Carlyle play out of the backcourt and will matchup against Wagner.
It should be an exciting few hours of high school hoops. KSR will be providing coverage from both games.
HoopHall Monday schedule (ESPNU)
11:00 a.m. – Wilbraham and Monson Academy, MA vs. Life Christian Academy, FL
1:00 p.m. – Camden High School, NJ vs. Milton High School, GA
3:00 p.m. – IMG Academy, FL vs. Montverde Academy, FL
5:00 p.m. – Link Prep, MO vs. Prolific Prep, CA