Skyy Clark says Kentucky is "hoping to get two more" recruits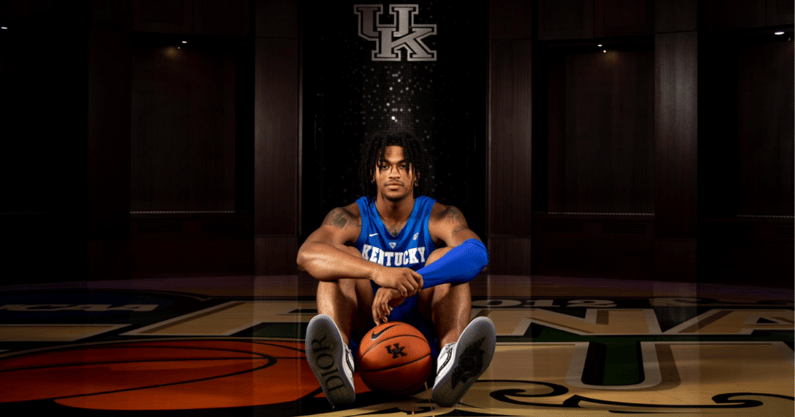 To close out the month of July, Kentucky basketball commit Skyy Clark promised two high-profile commitments sooner rather than later.
"We should have two guys coming soon, I'm hoping," Clark told Sports Illustrated's Jason Jordan at the time. "I'm saying two are coming in the next couple of days or weeks, and hopefully we'll get a third. That's what I'm hoping. Just be on the lookout. You heard it here first."
It took just a hair longer than expected, but the commitments came to open up the month of September. Shaedon Sharpe was the first to join the fold, followed by Chris Livingston shortly after.
Now, Clark is hoping for two more commitments on top of that to round out Kentucky's 2022 recruiting class.
"Well, I told you guys a couple months back that we were gonna get two more recruits soon at Kentucky and as you can see we got it done!" Clark said in a new Sports Illustrated blog post. "It's been an amazing last couple of weeks for us!
"We got who we wanted, and we're still hoping to get two more."
And yes, he's confident things will play out in Kentucky's favor.
"I'll just say me, Chris (Livingston) and Shaedon (Sharpe) are feeling pretty confident," Clark said.
Kentucky is in the process of recruiting five-star prospects Cason Wallace and Adem Bona, with both players set to announce their commitments in the coming weeks. Bona is set to decide following his official visit to UCLA (Oct. 22-24) while Wallace has a commitment date scheduled for Nov. 7.
At worst, Kentucky is seen as top-two finalists with both prospects, with the Wildcats fighting off UCLA for Bona and Tennessee for Wallace.
Outside of recruiting new additions, Clark says his relationship with the coaching staff and current commitments is growing by the day.
"I talk to the staff all the time; Coach Cal was just at my house a few weeks ago with Coach O and they're planning to come back in a couple weeks," Clark added. "… Me, Coach Chin, Shaedon and Chris have a cool group Chat going, so we stay connected!"
As for his personal growth, Clark says he's inching back to full strength after partially tearing his ACL back in July.
"My rehab has been going great; my guy Jason Torres helps me here at Montverde and then I go with my guy TJ at night," he said. "Around lunchtime I'm doing 12 miles on the bike, and I've lost 12 pounds already! I want to lose a little more, but I'm well on my way. I'm ahead of schedule!
"I'm not rushing anything, but I'm confident that I'll be back!"
Pushing for two more commitments and ahead of schedule on a return to the floor? Can't ask for much more than that out of Kentucky's first pledge in 2022.
Read Skyy's complete blog post here.