Skyy Clark targeting January return, "about 90 percent" back to full strength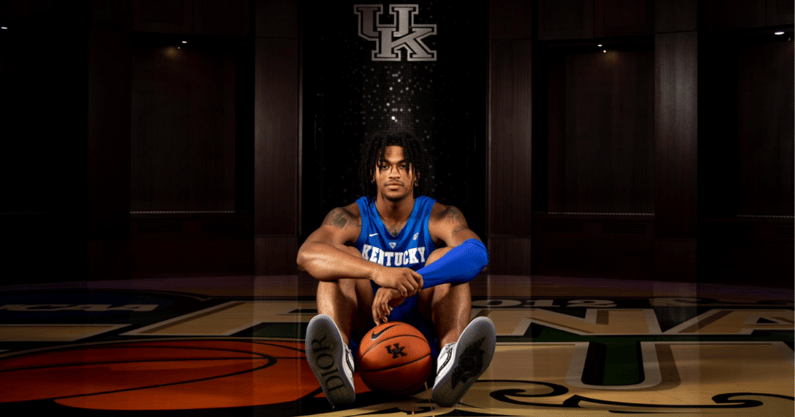 Impatiently waiting for his team's evening matchup at the Hoophall West High School Invitational in Scottsdale, AZ, Montverde Academy guard Skyy Clark looked for the closest basketball court he could find. Ball in hand, the future Kentucky Wildcat walked 25 minutes to an outdoor hoop to get a quick training session in just hours before his team's matchup vs. Duncanville High School on Thurday.
No, he wouldn't be playing in the game later that night. Not quite. His return to the floor, though, is right around the corner. And he can't take himself off the court until that day comes.
"He looks phenomenal on the court."
Undergoing surgery to repair a torn ACL in July, the Kentucky point guard signee has spent every waking moment since taking the steps necessary to return to action. It started with strengthening the leg, working on balance and walking. Then came the jogging and small jumps. Running came after, followed by dunking and full-speed situational drills. Now one-on-one play has resumed.
"He looks phenomenal on the court," the five-star guard's father, Kenny Clark, told KSR. "His movements are all back, his first step is explosive, he's twitchy, he got that back. … He's already doing one-on-ones, stuff like that. He's on the right track to make a full recovery — actually well ahead of schedule for a full recovery."
One month away
Originally given a six-month recovery timeline — an expedited one, as is — Clark is on pace to hit that target return date. As things stand, he's "probably about 90 percent right now, maybe 95," with practice just weeks away. And then from there, the 6-foot-3 guard will get full clearance from doctors, paving way for his return to game action.
The target date for said clearance? January 7th.
"The doctor says he can be back on the court with the team on January 7th," Clark said. "He can go back to practice in a couple weeks. We're going to take it slow and see how he progresses over these next few weeks, not gonna rush anything. If he was in shape, he could be out there right now. We wouldn't do that, but just to show how far ahead of schedule he is. … He's as excited as ever."
Clark continues to get MRIs and attend physical therapy, double and triple checking with medical professionals that things are being done the correct way. Every test and appointment, the Clark family is told the future Wildcat is right where he needs to be.
"Everything is looking great," Clark said.
"They want to see the old Skyy."
The Kentucky coaching staff continues to check in and receive updates on Clark's progress, pleased with the results that come with each text and phone call. As expected, they're excited to see him return to game action, but more importantly, that he's healthy and ready to go by the time he arrives on campus next summer.
Again, so far, so good.
"They really just care about him coming to UK healthy," Clark told KSR. "They'd like to see him get some games under his belt, but honestly, Coach Cal doesn't care. He just wants him to come to Kentucky healthy, that's all he wants to see. Coach Chin, those guys, they would like to see him gets some games up under his belt, just to get his feet back wet.
"They want to see the old Skyy, the guy they recruited. They'll be pleasantly surprised of how far ahead of things he is."
"He'll be a better version of his previous self."
As one could expect, the five-star guard is itching to play. Title dreams are within reach for Montverde Academy, and he wants to help make that happen to close out his senior year. At the end of the day, he wants to prove he's not only the player he was before injury, he's better.
A new and improved version of the top-ten prospect he was going into the summer.
"When he gets back, he just wants to prove he's better than the Skyy from before, and he's on track to do that," Clark told KSR. "He'll be a better version of his previous self. He wants to end his senior season with a bang, help Montverde accomplish that. He's got McDonald's All-American aspirations, Jordan Brand, Iverson Classic, all of that stuff.
"He wants to come back and show he'll be better than the old Skyy."
As a father, Clark is inspired by his son's growth through this process not only as a player, but as a person, as well.
"I'm extremely proud," he said. "He never let this injury define him or get him down. He tackled it head-on."
It was a process that showed the five-star guard's fight to overcome adversity and do so independently. His hand wasn't held throughout this process, he took it upon himself to fight his way back on the floor.
"As a father, to see that fight in his son, I know he can get through anything in life," Clark told KSR. "Especially for something like this to happen to you in an important part of your career, as a father, I couldn't be happier. What it did was — it made him grow and depend on himself a lot more. He had to start doing things on his own to get to the point where he is right now.
"I'm happy, man. I'm proud of him. He's a great kid."