Skyy Clark's father discusses "electric" Kentucky visit, recruiting and injury with KSR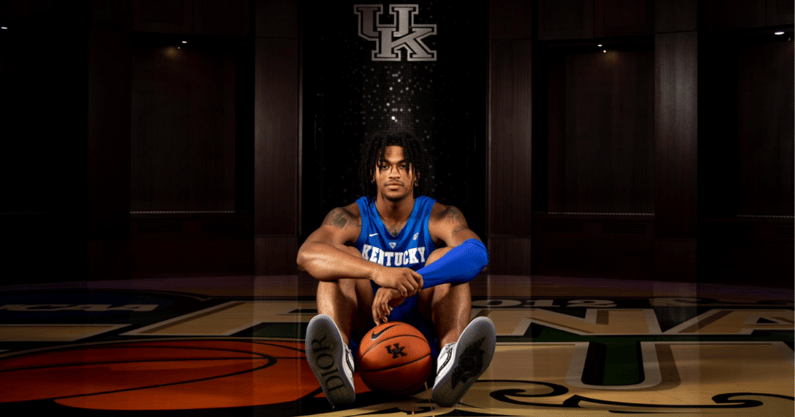 Five-star guard Skyy Clark was the first player to commit to Kentucky in the class of 2022, choosing the Wildcats over Memphis, North Carolina and UCLA back in October of 2020. Exactly one year later, the UK recruit returned to Lexington to check out his future home, taking an official visit for Big Blue Madness.
How did the trip go? If you ask the Kentucky pledge's father, Kenny Clark, things couldn't have gone any better.
"Big Blue Madness, it was electric in there," Clark told KSR following the visit. "I looked over at my wife and Skyy, and they were just — you can see how freaking excited they were. Skyy looked over and said, 'This is what it's all about.' The fans were electric in there. He loved everything about it."
It all started with UK head coach John Calipari picking the Clark family up at the airport late Thursday evening, meeting them at baggage claim.
"We landed at about 10, 10:30 at night, come around to baggage claim, and we see Coach Cal standing there amongst everyone else waiting on us," Clark said. "You could see everybody looking at him like, 'Wow, that's Coach Calipari,' you know? He didn't care. He was just focused on welcoming Skyy and us to Lexington, made it a really great weekend.
"It just reestablished how important Skyy is to them. He made us feel very welcomed and reassured us that we made the right decision a year ago."
From there, Calipari spent the entire weekend with the Clark family, along with the program's other very important visitors. Kentucky also hosted top-five 2023 prospects D.J. Wagner and Mackenzie Mgbako, along with in-state standout Reed Sheppard, among others.
"He had breakfast with us, as well as Mackenzie (Mgbako)'s family and the (D.J.) Wagner family the next morning," Clark said. "We went to practice, then we went to his house, back to practice, then had dinner Saturday night, everything. It was amazing. He spent, man, a strong portion of the visit with us and the rest of the recruits."
During Calipari's sit-down meeting with Clark, he said he was excited for the five-star guard to come in and be a leader, helping his teammates get better.
"His thing is, 'Come in and fight. Do what you do,'" Clark told KSR. "He said he knows Skyy can score, he knows Skyy can pass the ball, and he thinks he can be a pest on defense, as well. He says he has great size for his position. 'Just come in and be you,' that's what he's saying. He said, 'Skyy, you're a guy who can score it in bunches, you can shoot, just come in and be you. Make your teammates better.
"The most important thing is lead. As a point guard, you have to lead.' Those are some of the things. He doesn't guarantee anything, but what he does say is, 'Come in, fight, and be you. Everything will work itself out.'"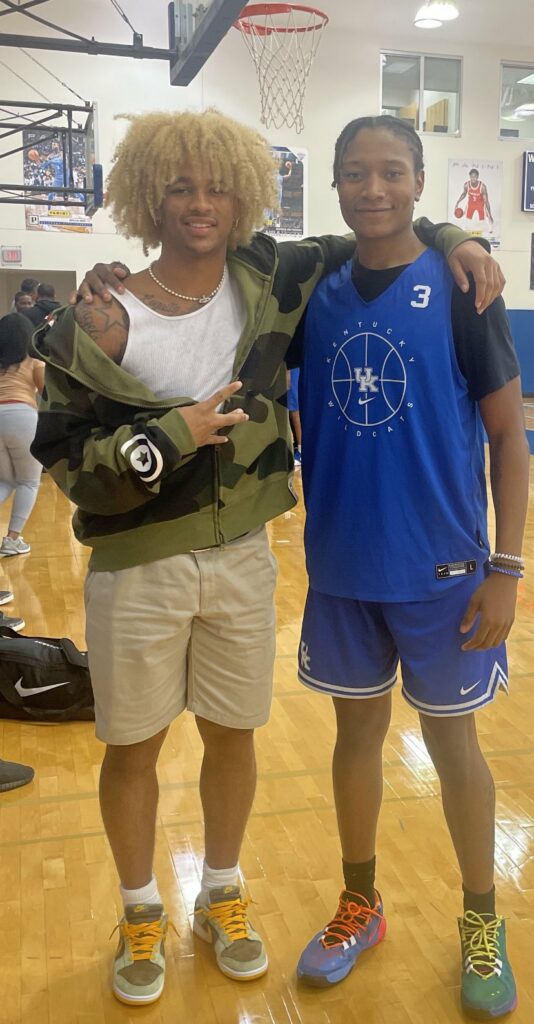 During practice, Clark noticed just how positive the team synergy was in a challenging, professional environment. It was something his son appreciated and welcomed with open arms.
"The first thing we noticed: Those kids are happy as hell, man," Clark said. "They are extremely happy to be there. Those practices were really hard, but I tell you what, those kids would run through a wall for Coach Cal. He has them that motivated. As hard as it was, all the kids were smiling and picking each other up, happy for each other. There was no animosity, nothing. That's one of the first things we saw."
As for the specifics of the system, the four-out, guard-oriented offense was intriguing for a talented guard like Clark, one he's excited to join next season.
"That four-out (offense) is really intriguing, especially when you're bringing in a class of people who can score the ball," the five-star guard's father told KSR. "It's going to be really great for shooters as well as big men. It plays right into what we like. Skyy can play in any offense, but this weekend really showed us Coach Cal knows what he's doing.
"He showed us that he wants my son there and he knows what he's going to get out of it. He's going to push him. That's all you can ask for."
What pieces will Clark be playing with? Top-five prospects Shaedon Sharpe and Chris Livingston are already committed, with UK pushing for two other standout recruits, as well.
"They're expecting to get Cason (Wallace) and they're very high on Adem Bona," Clark told KSR. "Obviously those two are really important to this whole process. They feel really good about where they're at with them."
Clark is close friends with Bona, a player he is recruiting with him to Lexington. Set to decide between Kentucky and UCLA in the coming weeks, the standout guard hopes his efforts are rewarded with a commitment.
"Skyy and Adem, they would love to play together," his father said. "This is the best way to do it. If y'all want to play together, let's make it happen. Adem has to go through the process and figure everything out. This is an important decision for his life.
"Skyy is going to stay on him and try to push him this way, the coaching staff is on him. Hopefully it works out for the best."
As for Clark personally, the UK commit is working his way back from a torn ACL, an injury he suffered back in July. When could we see him return to the floor? Clark's father tells KSR we're just a few months away.
"He should be back on the floor in January, that's what the doctor said," he said. "At the six-month mark, he's turning Skyy loose. He's doing so well in rehab, he's extremely far ahead. The physical therapist said he's on the Adrian Peterson timeframe where it was really accelerated because of the things he's doing.
"He's been on the court doing court work, he's running already. Next progression is training himself on how to really jump again, all of that stuff."
While Calipari is excited to see his future Wildcat return to action, he wants Clark to remain patient and make sure he's ready for his freshman season at Kentucky.
"Coach Cal's thing is, 'Don't rush it. Don't rush it, I don't care. I want you to come in and be healthy,'" Clark told KSR. "He's just so far ahead, man, I know we'll see him back better than ever. The doctor said he's never seen anything like Skyy's recovery, and he's done countless ACLs.
"He said, 'I've never seen anything like this.' They're amazed at how well he's healing."