South Carolina-Kentucky Injury Roundup: Gamecocks are banged up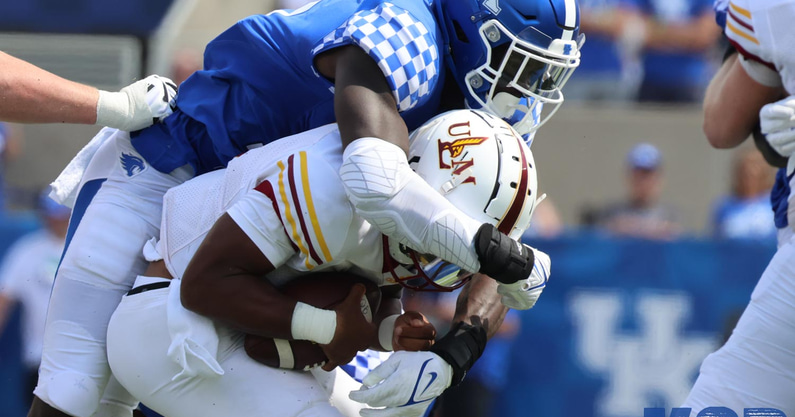 Kentucky travels to South Carolina for a Saturday night showdown at Williams-Brice Stadium. Kickoff is at 7 pm ET on ESPN2. The Kentucky injury report is rather short, while the Gamecocks will have a few players sidelined following a physical matchup with Georgia.
Kentucky Injury Report
Jordan Wright missed the Chattanooga game. Mark Stoops expects the outside linebacker to be back in action on Saturday. Wright has accumulated 13.5 tackles for loss, 7.5 sacks, 4 forced fumbles, 3 fumble recoveries, 7 pass deflections and an interception in his career. No Wildcat defenders create more havoc than Wright. His return is significant.
Wright's return should benefit J.J. Weaver. Returning from a season-ending ACL injury in 2020, Kentucky tried to ease him into action this fall. Those plans were scrapped once Wright went down. He played in 30 snaps against Missouri and all 72 against Chattanooga. Mark Stoops believes the fresher Weaver is, the more plays he can disrupt.
"His knee, it's not like you're putting him in jeopardy," said Stoops. "It's just getting his legs up under him so he can play as fast as we need him to play in critical moments, predictable pass and things that he's good at. We all know we need some pass rush. Well he's a guy that can do that if he's fresh and rested and coming in in certain situations."
Elsewhere on the Kentucky injury report, Wilson Berry was taken off the punt team against Chattanooga. The Aussie dealt with a nagging back injury throughout the preseason. In Berry's place Colin Goodfellow averaged 50.5 yards on four punts.
South Carolina Injury Report
Former grad assistant Zeb Noland was called in to start the first three games of the season. He got stepped on at Georgia, forcing Luke Doty into action. Doty, the starter in the spring, will get his first start against the Cats. Doty completed 13-of-26 passes for 153 yards, one touchdown and one interception against Georgia. Even though Doty will get the starter, Shane Beamer expects Noland to be available if necessary.
South Carolina will be without starting linebacker Sherrod Greene. He suffered a broken ankle at Georgia and underwent surgery early this week. Greene had seven tackles and a tackle for loss against East Carolina. Damani Staley replaced Greene, forcing Beamer to play walk-on Darryle Ware at Sam linebacker.
The Gamecocks will also be without wide receiver Xavier Legette. Legette did not travel to Georgia after he received significant scrapes and bruises in a car accident. The wide receiver has not caught a pass in 2021, but in his career has totaled 16 career receptions for 193 yards and a score.