South Warren Blitzes Woodford County in 5A Semifinals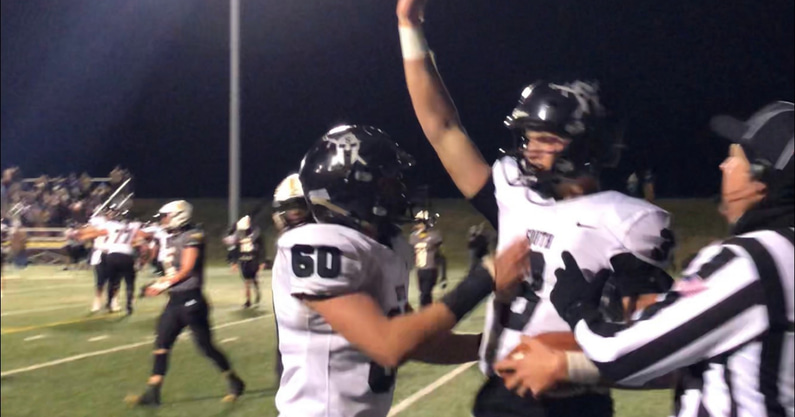 Versailles was packed and rocking for perhaps the biggest home game in program history when the Woodford County Yellowjackets received the opening kickoff.
They quickly trailed 9-0.
Without running an offensive play.
16 seconds into the game.
South Warren tackled Woodford County in the endzone on the opening kickoff to force a safety. After a failed onsides kick by Woodford, WKU commit (and Mr. Football candidate) Caden Veltkamp connected with a wide-open Keegan Milby to put South Warren up 9-0 just 16 seconds in.  Woodford didn't know what hit them.
A long Preston Stacy run set up a Yellowjacket field goal to cut the deficit to 9-3 but South Warren countered with a Kobe Martin rushing score to go up 16-3. They were just getting started.
After the Spartans forced a quick 3-and-out, Veltkamp connected with a wide-open Tyler Snell inside the red zone. He was behind the Woodford defense and would have scored had he not tripped. No worries, though, Veltkamp connect with Luke Burton on the next play to go up 23-3 less than nine minutes into the game. It was like Veltkamp was playing catch in the backyard with a friend.  
Fumbles continued to plague Woodford County, stopping any possible momentum. They fumbled a snap on 3rd down near midfield and were forced to punt. Martin cashed in with a 78-yard rushing TD and Burton added a 2-point conversion to extend South Warren's lead to 31-3 with 10:55 left in the second quarter.  
Bryce Patterson connected with Aden Nelson twice to get Woodford inside the red zone, but Burton made a big fourth-down stop for the Spartans. The Spartans forced another turnover on an interception by Arvin Bell.
The most impressive sequence happened next, with the Spartans seeking a running clock (triggered when a team builds a 36-point lead) late in the first half. A halfback pass from Burton to a wide-open (sensing a theme here…) Mason Willingham put the Spartans up 37-3, meaning a successful 2-point conversion would virtually end any chances at a Woodford County comeback. That's when the Spartans pulled out another razzle-dazzle play. 
This time it was Veltkamp CATCHING it for a successful try to trigger the running clock. Woodford fumbled the ensuing kickoff (again) and it was recovered by the Spartans for a touchdown.
Woodford County had a chance to score before the half but a fumbled snap–again–kept them from reaching the end zone.
The quick second half saw the Yellowjackets score 22 points on Patterson touchdown passes, but it was too little, too late. South Warren won 46-25.  Credit Woodford for fighting to the end. They ran into a buzz saw tonight and can be very proud of a final four run from a program that won zero games in 2017 and only two in 2018. This year they lost only once. The Yellow Jackets have been building ever since and return several key underclassmen next season, including Stacy, Nelson, Makhi Smith, and Tristan Cook.
The Spartans of South Warren came into the season highly regarded. They held a 2020 regular-season victory over last year's 5A champion Bowling Green. The Purples won the playoff matchup last season because of several Spartan turnovers, but South Warren brought almost all of their key players back from that team, including Veltkamp and UK target Christian Conyer, while Bowling Green graduated most of their main guys.
The Spartans, which has been ranked at the top of Class 5A KSR Rankings virtually all season, will square off against the Frederick Douglass Broncos on Saturday, December 4 at 4:00 P.M. at Kroger Field. Douglass has ranked 2nd in the class for the majority of the season. The Broncos, who defeated Owensboro 35-7 in its semifinal game, will be seeking their first state championship in the school's young history while South Warren is seeking their third state title. The Spartans won in 2015 and defeated Covington Catholic in 2018. Steve Spurrier's grandson, Gavin, was the quarterback of the 2018 title team. Douglass lost to Covington Catholic in their only finals appearance the next season. Douglass wide receiver Dane Key, a UK commit, is a Mr. Football candidate. The semifinals were not close, but the stage is set for a heavy-weight final.