South Warren Defeats Frederick Douglass 38-26 to win 5A State Championship – Recap Presented by Kroger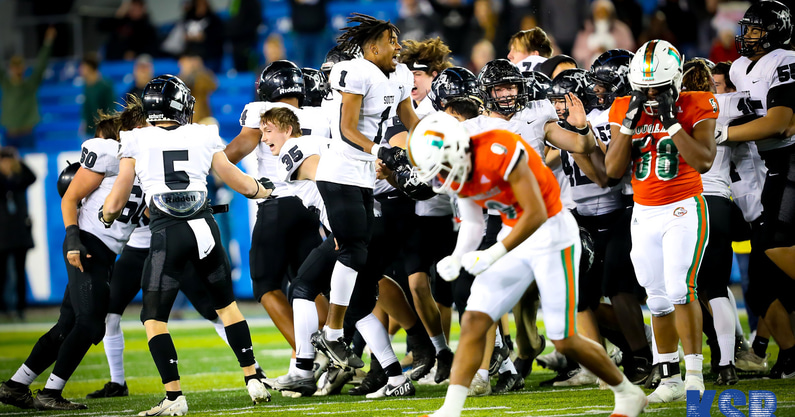 The South Warren Spartans defeated the Frederick Douglass Broncos 38-26 to win the 2021 UK Orthopedics 5A State Football Championship at Kroger Field.  
"When you get in games like this, there are plays that you draw up on the board and they look pretty and all that stuff but it never fails these games come down to guys making plays and our guys made plays in big situations when they had to," said Coach Brandon Smith.
They certainly did.
WKU commit Caden Veltkamp passed for 295 yards and three scores, including two TDs to Tyler Snell to propel the Spartans to victory.  Snell, who also led the Spartans in tackles, was named the player of the Game.  
Now that you know the player of the game let's discuss the play of the game.  It happened when South Warren turned a 3rd and 2 into a game sealing touchdown with 2:09 remaining.  Veltkamp fumbled the snap but had the presence of mind to quickly find wide open Snell for a 31-yard TD.  The 2-point conversion was good, extending the South Warren lead to 32-19.
"I was pretty excited," Veltkamp said.  "I knew it was a touchdown before we snapped the ball, so I was excited to the ball in my hands.  I picked it up, threw it to Snell.  Snell made a great play.  A great catch and that really sealed it"
The matchup featured two of the top teams in the state.  South Warren came in ranked 3rd in the state regardless of class, while Frederick Douglass came in ranked 7th in our rankings.  South Warren capped off an undefeated season against Kentucky teams, with their only loss coming to Hendersonville (TN) early in the season, while Frederick Douglass suffered only one loss, a 31-7 defeat in the regular season finale against 4A state champion Boyle County.   
South Warren (14-1) was coming off an impressive victory over previously undefeated Woodford County in the semifinals, where the Spartans forced a first half running clock and Douglass (13-2) was coming off an easy 35-7 victory over Owensboro.
On the opening drive, South Warren had a 35-yard pass from Veltkamp to Snell to the Bronco 22.  The drive stalled on a tipped 3rd down pass, leading to a short Eldar Dervisevic field goal.
Douglass answered with a methodical touchdown drive capped off by a 9-yard TJ Horton score.  Horton had a 22-yard run and Samuel Cornett hit Jakari Cowherd for a 24-yard pass to help set up the score.
Veltkamp connected with Luke Burton, who made the safety miss, for a 49-yard touchdown to put South Warren back on top.  The Spartans ran the same play last week against Woodford County with continued success.
The Spartans got constant pressure on Cornett during the next possession, eventually forcing an errant throw on 3rd and 11, forcing the Broncos to punt.
Douglass delivered a big hit and Isaiah Kenney recovered Spartan fumble to set the Broncos up at the South Warren 37, but the Broncos were forced to punt after some deep shots came up empty.  Kenney punted a beauty, though to the Spartan 4-yard line.
Veltkamp engineered a 96-yard scoring drive highlighted by a 56-yard pass to fellow WKU commit Arvin Bell.  After recovering two of their own fumbles, the Spartans converted a 3rd and 20 on a 26-yard screen pass to Kobe Martin.  That set up a 21-yard scoring pass as Veltkamp stood tall in the pocket and completed the pass to Tyler Snell who took a lick but held on.  
UK commit Dane Key countered with a 73-yard touchdown reception on a short pass from Cornett to cut the Spartan lead to 17-12.  The two-point conversion was no good.
Douglass forced a South Warren punt, but the Bronco drive stalled on an offensive pass interference call going into halftime.
Veltkamp finished the first half 13-for-17 for 241 yards and 2 scores.  The Spartans only had 4 yards on the ground in the half.  They held the Broncos to 143 first half yards, with more than half of them coming on the 73-yard scoring play to Key. The Spartans got the rushing game going in the second half though to the tune of 126 yards.
Ty Bryant returned the 2nd half kickoff to the Bronco 45 but the Spartan defense allowed no yards.  Kenney tried a fake punt on 4th and long, but the Spartans easily snuffed it out taking over at the Bronco 45.
The Spartans converted two fourth downs one coming via a controversial pass interference penalty.  The drive was capped off by a Burton 1-yard 4th and goal TD run.  That extended the Spartan lead to 24-12.
Another fake punt at their own 41 was stopped by the Spartans, but Douglass stopped a fake punt by South Warren to take back over at their own 35.  
After several defensive stands, Cornett passed to Cam Dunn for 47 yards.  That set up a short TD pass to Key to pull Douglass to within 24-19.
That's when Veltkamp and Snell converted the crucial 3rd and 2 to go up 32-19 with 2:09 remaining.  It capped off an 8 play 80-yard drive that featured an 18-yard Veltkamp to Bell pass.
Douglass quickly responded with a 53-yard pass to Key and a 27-yard scoring strike to Dunn.  But the onside quick was recovered by Drew Givens for South Warren.
Burton rushed for a touchdown on 4th and 1 with 20 seconds left to make the final margin 38-26.  The extra point was no good.
Douglass has ranked 2nd in the class for most of the season.  The Broncos, who defeated Owensboro 35-7, were seeking their first state championship in the school's young history.  The talented Broncos, who have produced a pipeline of division 1 athletes (including several on the current roster) have suffered several near misses in their quest for a title.  They lost to Covington Catholic 14-7 in their only other finals appearance back in 2019.  Michael Mayer, who now stars at Notre Dame, was too much for the Bronco defense that year.  
Last year the Broncos suffered a tough loss to Owensboro in the semifinals. After falling behind early, they battled back behind Key, but missed a short field goal in the final minute.  That Owensboro team, who was led by current Rutgers QB Gavin Wimsatt, went on to lose to Bowling Green 17-7 in the finals.
"Really proud of our team," Bronco Coach Nathan McPeek said.  "We had a great year.  Our kids did not give up in some moments in the game today.  They fought."  
The Spartans came into the season highly regarded.  They held a 2020 regular season victory over last year's 5A champion Bowling Green.  The Purples won the playoff matchup last season because of several Spartan turnovers, but South Warren brought almost all of their key players back from that team, while Bowling Green graduated most of their main guys including Veltkamp and UK target Christian Conyer.  The Spartans, who have been ranked at the top of the Class 5A KSR Rankings virtually all season are certainly deserving champions.  
South Warren, a relatively new school who only started playing varsity football in 2011, now has three state titles.  They won Class 4A in 2015 with a 36-6 victory over Johnson Central, and defeated Covington Catholic in 2018 to win Class 5A.  Steve Spurrier's grandson, Gavin, was the quarterback of the 2018 title team.  After taking a backseat to county rival Bowling Green (who won state titles in 2011, 2012, 2013, 2015, 2016, 2020) South Warren is now the 5A team to be reckoned with not only in the city of Bowling Green, but in the entire state.
"There is really good football out there (in Warren County)," Smith said.  "I think that district is the toughest district in the state.  I think that consistently the last four or five years you know two of the top teams in the entire state are in that district and it is a battle to get out of there."
Smith was head coach for all three Spartan titles, and also won two as the starting quarterback at Boyle County while playing for his father the legendary Chuck Smith, who joined the Spartan staff as an assistant this season.
"He still has the most energy on the field," Brandon said about his father.  "He has been a huge help.  I don't think we would have won it if he hadn't decided to help us out this year."
"We have all dreamed about this," Snell said.  "Our senior year coming out with a state title, and it happened."
---
A Message from Kroger: We're excited to tell you about something new from our friends at Kroger. Did you know Kroger is America's largest grocery chain that started over 135 years ago? They are doing something they've never done before: bringing fresh groceries right to you with a new service called Hometown Pickup. 
That's right, for those of you in Cynthiana, Midway, Eminence, Bedford, McKee, Dry Ridge, Carlisle, Eubank, Georgetown, Mt. Vernon, Jackson, Frenchburg, Irvine, Mt. Olivet, and Paris, Kentucky you can now order all your groceries online and pick them up at a central location in your hometown. No more long drives into the city to get fresh food for you and your family. Now THAT is truly Fresh for Everyone. Thanks, Kroger. 
Learn more and place your first order at Kroger.com/hometown.