Southern Miss Scouting Report
[caption id="attachment_226774" align="alignnone" width="900"]
Pic by Southern Miss Athletics
[/caption] Revenge is a dangerous motivator; however, the Kentucky Wildcats will be seeking vengeance in Hattiesburg on Saturday. The Golden Eagles and former UK offensive coordinator Shannon Dawson spoiled the Wildcats' opener a year ago by charging back from a 35-10 first half deficit to convincingly beat the Cats 44-35.
OVERVIEW
Spread 
- Kentucky is a 10 ½ point favorite.
Location 
- Carlisle Faulkner Field at M.M. Roberts Stadium has a capacity of 36,000 and is fitted with a matrix artificial turf. USM record at M.M. Roberts Stadium is 132-59.
Head Coach 
- Jay Hopson is beginning his second year at the school and has a 7-6 record at Southern Miss.
Conference 
- Conference USA, West Division.
Game Before/After UK 
- None before, Southern University at home after.
2016 Season Result
: 7-6, beat Louisiana Lafayette 28-21 in the New Orleans Bowl.
Returning Starters 
- Offense 6, Defense 6.
Phil Steele Projection 
- 3
rd
in C-USA West behind Louisiana Tech and UT San Antonio.
Most Outstanding Player 
- RB Ito Smith
Most Important Player
 - Quarterback Kwadra Griggs or Keon Howard.
Most Noteworthy Statistic 
- USM finished the 2016 season ranked 125
th
in the nation with a -17 turnover margin.
LAST MEETING
September 3, 2016. Southern Miss struck first when RB Ito Smith scampered into the end zone from 8-yards out to give the Golden Eagles an early 7-0 lead. Kentucky answered with four consecutive touchdowns to go up 28-7. UK registered 6 first half plays of 30+ yards. A Parker Shaunfield field goal followed before JoJo Kemp ran seven yards for a score. The score was 35-10 late in the second quarter. Then, the game turned interesting; or catastrophic depending on your outlook. Nick Mullens connected with Isaiah Jones for a 71-yard score with just 26 seconds remaining in the first half. It was all Southern Miss in the third and fourth quarters. USM rolled up 27 unanswered second half points and forcefully beat the home-standing Wildcats
44-35.
Game Statistics
| | | |
| --- | --- | --- |
| | Southern Miss | Kentucky |
| Offensive Plays | 96 | 50 |
| First Downs | 32 | 14 |
| Rush Yards | 68 carries, 308 yds | 25 carries, 135 yds |
| Pass | 18/28, 258 yds, 2 TDs, 3 INTs | 16/25, 323 yds, 4 TDs, 1 INT |
Individual Statistical Leaders
Southern Miss
Passing 
- Nick Mullens: 18/28, 258 yards, 3 INTs, 2 TDs
Rushing 
- Ito Smith: 36 carries, 173 yards, 1 TD
Receiving 
- Isaiah Jones: 3 receptions, 93 yards, 1 TD
Tackles 
- Dylan Bradley: 7 tackles (5 solo), 1 QB sack, 2 tackles for loss
Kentucky
Passing 
- Drew Barker: 15/24, 323 yards, 4 TDs, 1 INT
Rushing 
- Stanley Williams: 13 carries, 94 yards
Receiving
- Garrett "Juice" Johnson: 6 catches, 143 yards, 2 TDs
Tackles 
- Jordan Jones: 19 tackles (13 solo), 1 QB sack, 2 tackles for loss [caption id="" align="alignnone" width="1200"]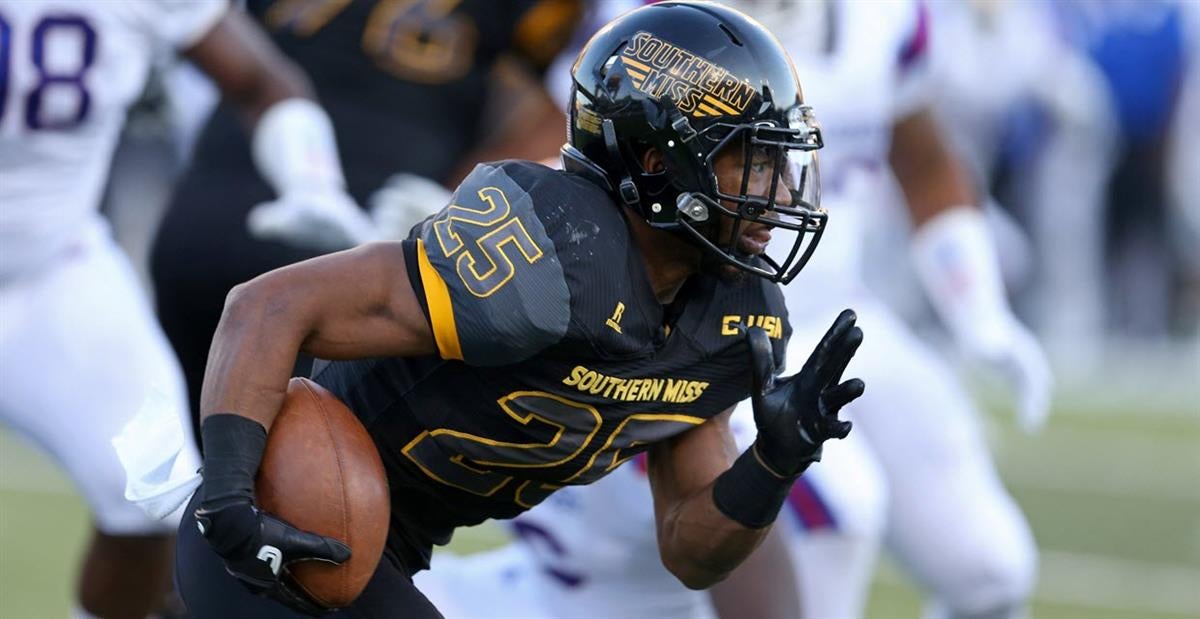 Pic of Ito Smith by 247Sports
[/caption]
OFFENSE
Running back Ito Smith spurned an early NFL Draft entrance to return for his senior season. He rushed for 173-yards against Kentucky a year ago. Smith is the only active FBS player with 3,000 rush and 1,000 receiving yards in a career. Backup RB George Payne also broke the century mark in last season's opener in Lexington but has yet to practice in fall camp due to a hip injury. His participation in Saturday's game is highly unlikely. Running backs Tez Parks and JUCO transfer T'Rod Daniels will spell Smith. Both are capable runners. Daniels' 4.27-40 time presents a scary proposition. One question mark for the Southern Miss offense resides at quarterback. Four-year starter Nick Mullens is now a 49'er. Kwadra Griggs and Keon Howard are competing to replace the record breaking signal caller. Griggs is said to be the leader but sustained a throwing-hand finger injury that resulted in him missing a week of practice. Howard subbed for the injured Mullens a year ago. He lost four fumbles in a start against Old Dominion. Head coach Jay Hopson is in no hurry to announce his starter; gamesmanship at its finest. Much like Mullens, four year starting center Cameron Tom is now playing on Sundays. USM has only two returning offensive line starters in tackle Ty Pollard and guard turned center Devin Farrior. Receiver Allenzae Staggers broke the 1,000-yard mark in 2016 and has a future in the National Football League. He also grabbed 63 passes and scored 7 touchdowns. Staggers is joined by Isaiah Jones and Korey Robertson to form one of the most formidable receiving trios that UK will face this season. However, life without Mullens presents a new challenge for offensive coordinator Shannon Dawson.
Projected Starters
Coordinator-Shannon Dawson, 2
nd
year at USM Left Tackle: 79 Drake Dorbeck 6'6 293 Soph. Left Guard: 63 Arvin Fletcher 6'2 302 Fr.
Center: 78 Devin Farrior 6'4 308 Sr.
Right Guard: 74 Jerry Harris 6'3 302 Sr.
Right Tackle: 76 Ty Pollard 6'3 291 Sr.
Tight End: 11 Julian Allen 6'4 230 Sr.
Receiver: 15 Allenzae Staggers 6'2 170 Sr.
Receiver: 18 Korey Robertson 6'2 215 Jr.
Receiver: 88 Isaiah Jones 6'4 202 Sr.
Running Back: 25 Ito Smith 5'9 193 Sr
. Quarterback-7 Kwadra Griggs 6'4 216 Jr./OR Keon Howard 6'0 226 Soph.
*Bold-Returning Starter
2016 Production
Team
| | |
| --- | --- |
| | Southern Miss |
| Scoring | 32.8 points per game (ppg) |
| Rush | 174.54 yards per game (ypg) |
| Pass | 298.2 ypg |
| Total | 472.8 ypg |
Top Individual Returning Players
Rushing - RB Ito Smith: 265 carries, 1,459 yards, 17 TDs Receiving - WR Allenzae Staggers: 63 receptions, 1,165 yards, 7 TDs Passing - QB Keon Howard: 22/50, 365 yards, 1 TD, 4 INTs
---
[caption id="attachment_226773" align="alignnone" width="975"]
Pic of Xavier Thigpen by the Sun Herald[/caption]
DEFENSE
Gone are USM's top two tacklers from 2016: defensive tackle Dylan Bradley and safety D'Nerius Antoine. Both excelled in the Golden Eagle's 44-35 win in Lexington. Defenders Delmond Landry, Xavier Thigpen, Draper Riley, Darian Yancey, and LaDarius Harris construct a disruptive front. But, depth could be tested by Kentucky's two-deep, physical offensive line. Linebacker Sherrod Ruff accumulated a high number of "Havoc" stats in 2016. The secondary is experienced and fast. It's consists of five seniors that have played a great deal of football as a unit. Three starting defensive backs are from the same high school (Bassfield): cornerbacks Cornell Armstrong and Curtis Mikell along with safety Jomez Applewhite. Nickel Picasso Nelson is the team's leading returning tackler. USM finished 15
th
in the nation's total defensive category a year ago but was not overly successful in manufacturing turnovers. It forced 10 fumbles, recovered 5 and intercepted 10 passes. However, the USM defense did register high in "Havoc" statistics by totaling 34 quarterback sacks and 94 tackles for loss.
Projected Starters
Coordinator: Tony Pecoraro, 2
nd
year at USM
Defensive End-32 La'Darius Harris 6'2 259 Jr.
Defensive Tackle-43 Delmond Landry 6'4 305 Jr.
Defensive Tackle-9 Draper Riley, 6'4 304 Sr.
Wolf-30 Paxton Schrimser 6'3 225 So.
Linebacker-37 Sherrod Ruff, 5'10 216 Sr.
Linebacker-41 Racheem Boothe, 6'0 230 Fr.
Nickel-13 Picasso Nelson, 5'10 195 Sr.
Cornerback-3 Cornell Armstrong, 6'0 185 Sr.
Cornerback-19 Curtis Mikell, 5'9 170 Sr.
Safety-7 Jomez Applewhite, 5'11 181 Sr. Safety-18 Tarvarius Moore 6'1 195 Sr.
2016 Production
Team
| | |
| --- | --- |
| | Southern Miss |
| Scoring | Allowed 29.5 ppg |
| Rush | 149.9 ypg |
| Pass | 174.9 ypg |
| Total | 324.8 ypg |
| QB Sacks | 34 |
| Tackles for Loss | 94 |
Top Individual Returning Players
Tackles - Nickel Picasso Nelson: 48 total tackles, 2 INTs QB Sacks - DE Xavier Thigpen: 5 Tackles for Loss - DE Xavier Thigpen: 12.5
---
SPECIAL TEAMS
Kicker 
- 
Parker Shaunfield Jr: FGs 12/14, long - 49
Punter 
- Zac Everett Fr.
Punt Returner 
- 
Allenzae Staggers: 9.8 yards per return, 1 TD, long - 75-yards
Kickoff Returners 
- 
Tez Parks (19.4 yards per return),
T'Rod Daniels
---
What does all this mean?
If Kentucky is to achieve its lofty 2017 goals it has to win in Hattiesburg. Saturday presents the season's first must win scenario. Southern Miss could struggle to find a consistent replacement for Nick Mullens at quarterback. But, coaches are confident in its disruptive defense and All-Everything RB Ito Smith. Saturday's game could be simply decided by whichever team produces the least number of turnovers. Both struggled with giveaways a year ago. Last season, USM and UK tied for 123
rd
in the nation for lost fumbles. The Cats fumbled 23 times, losing 16. Southern Miss also lost 16 fumbles but coughed up the football on 28 occasions. Both have elite running backs in Ito Smith and Benny Snell. I can foresee both defensive coordinators stacking the box and daring the opponent to pass the football. Contrary to popular opinion and based on recent running game success, the contest's winner may be the team with the most success in the air while making the fewest disastrous mistakes. We'll continue to break down this game in greater detail on the Depth Chart Podcast when the Hattiesburg American's Jason Munz joins us to present the Southern Miss side of the matchup. The podcast will be on this website sometime Thursday. However, this post can act as a quick reference for depth charts and statistical information. Game week.