Spring Review: South Carolina Gamecocks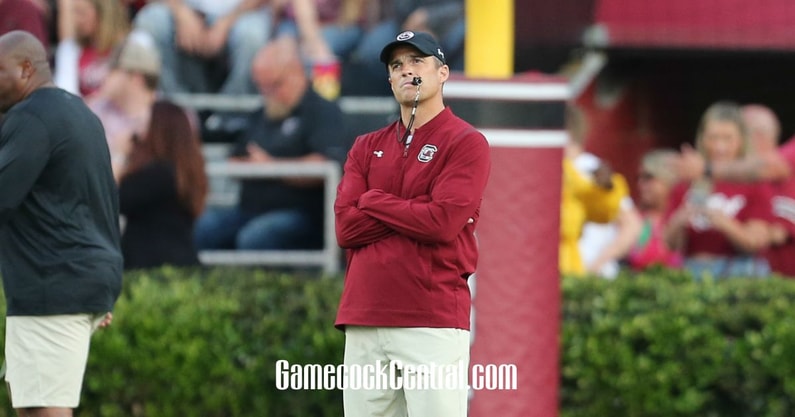 Spring practices have concluded across the Southeastern Conference. You kept a close eye on what was happening with Kentucky football, but how did the Wildcats' opponents fare? KSR has everything you need to know from spring about the guys that will line up on the other side of the line of scrimmage this fall. The South Carolina Gamecocks are the next team up to bat.
Past Spring Reviews: Vanderbilt Commodores, Florida Gators, Georgia Bulldogs, Mississippi State Bulldogs, Missouri Tigers, Alabama Crimson Tide
Shane Beamer: Still a Media Darling, Despite Bizarre Offensive Coordinator Addition
South Carolina head coach Shane Beamer should have been on top of the world entering the offseason. He capped off year two by shocking Tennessee and knocking the Vols out of the playoff picture, then winning at Clemson to snap a 7-game losing streak in the rivalry.
Following the regular season Beamer had to hire an offensive coordinator. There were whispers that he wanted Liam Coen. Instead he got Dowell Loggains. The South Carolina head coach kicked off Loggains' introductory press conference by piping back at a popular, long-time local columnist.
Those initial bruises wore off and Shane Beamer is once again doubling a a podcast host on the side this offseason. He's anywhere and everywhere, most recently receiving a feature-length article from On3's Jesse Simonton.
Even though he's back on the right side of the headlines, that could quickly change if Dowell Loggains is a bust. Beamer was fortunate to get away from the maligned Marcus Satterfield without any drama. Loggains' resume has some big names without much production. The fanbase will not have much patience for a play-caller that needed his boss to come to his defense before even introducing himself to Gamecock fans.
Backup QB is still the Most Popular Player on the Roster
The return of Spencer Rattler was significant for the South Carolina football program. He delayed a decision, putting the Gamecocks in a corner late in the transfer portal window. Upon announcing his return, South Carolina fans let out a sigh of relief. Now they're already talking themselves into his replacement.
LaNorris Sellers is already Tim Tebow 2.0 in Columbia. The 6-foot-4, 220-pound athlete from nearby Florence was the No. 353 player in the 2023 recruiting class and the 20th-ranked quarterback. He's a good athlete. The recruiting rankings aren't propping him up on a high pedestal, but we already have Tim Tebow comps at the end of his first semester on campus. It's amusing and entertaining from afar. I doubt we'll see much of Rattler on the sideline this fall to watch Sellers run QB powers (but you never know with Dowell Loggains).
South Carolina has holes at running back, offensive line
Despite a few impressive performances by MarShawn Lloyd, South Carolina was one of the worst rushing offenses in the SEC in 2022, ranking 12th in the league by tallying 118.8 yards per game. There's little optimism that's going to improve in 2023 under aa new offensive coordinator with glaring holes on the offensive line and at running back.
South Carolina whiffed on multiple transfer portal targets at running back, with Logan Diggs (LSU) and Demie Sumo-Karngbaye (Kentucky) committing to SEC foes on the same day. Those are just two of the multiple misses by the coaching staff at that position. Now they may need to lean on former wide receiver/cornerback Dakereon Joyner to be their primary ball-carrier.
The Gamecocks have actually recruited very well at offensive line for the future, most notably landing Kam Pringle, the No. 1 offensive tackle in the 2024 recruiting class. In the present they're light on experience. South Carolina lost more than 50% of their starts from a season ago. To make matters worse, the fifth-year they were grooming to fill a void at left tackle, Jaylen Nichols, suffered an injury in the spring game that could end up sidelining him for the entire season.
Another Late Departure for South Carolina
Not only did the Gamecocks lose their starting left tackle in the spring game. Shortly after spring practice concluded, defensive line coach Jimmy Lindsey left the school to take the same position at LSU. A few weeks later Shane Beamer hired Tulane's DL coach, Travian Robertson. Despite an exceptional performance in the spring game by the defensive line, the departure is not exactly a ringing endorsement for the future of the group.
This South Carolina offseason has been defined by departures. The loss of Lloyd (USC) and Jaheim Bell (Florida State) took away a couple of the offense's top playmakers. Shane Beamer had to deal with multiple coaching changes. There are still some holdovers and the most significant is Spencer Rattler.
The former Oklahoma quarterback did not light the world on fire as soon as he stepped foot in Columbia. In fact, if you look at his game log there isn't much that pops off the page aside from the two stellar performances against Tennessee and Clemson. Facing a schedule with 10 Power Five opponents, the weight of the Gamecocks' success will fall on Rattler's shoulders. Can he carry it behind an inexperienced offensive line? Beamer Ball is going to need to produce some special teams pop to continue climbing the SEC ladder.