St. Elmo's Thursday Night News and Views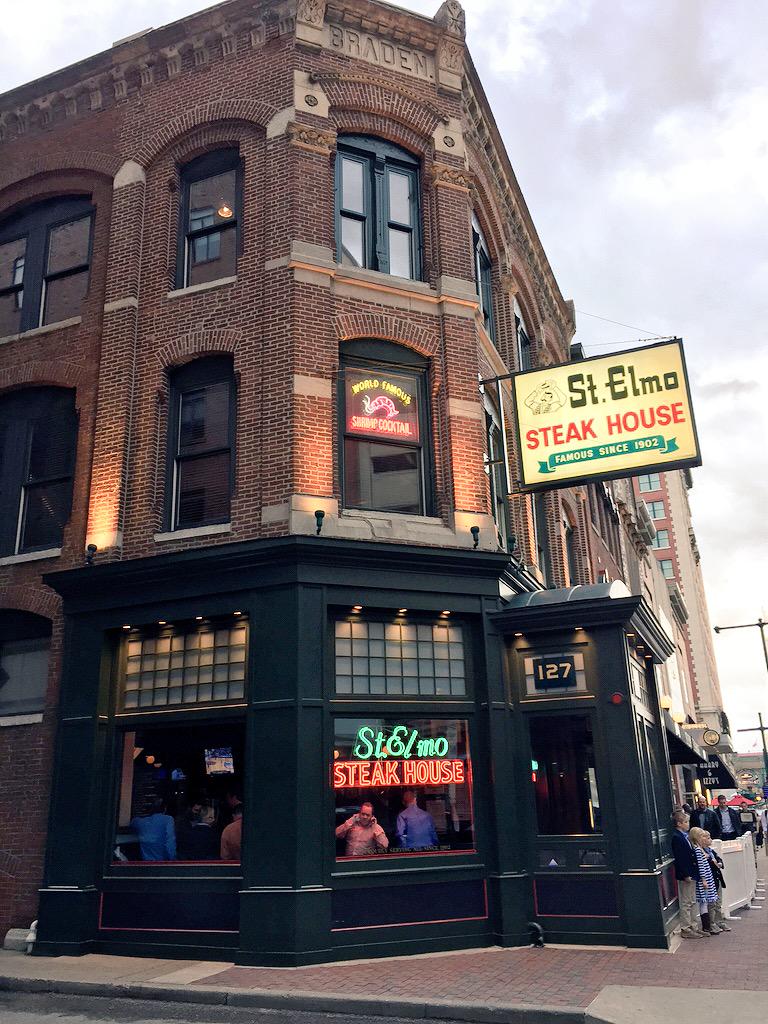 Good evening from gorgeous Indianapolis, where I've somehow managed to dodge all the torrential rain showers this evening. My husband and I arrived in town just in time to make our reservation at St. Elmo's Steakhouse, and if you can arrive in Indy in such style, I really recommend it. I remember trying to fight the crowds at St. Elmo's last year for the regional, and even thought it was a nightmare, a year later, it's totally worth it for the first bite of that shrimp cocktail. Our waiter (who has his own business card because that's how they roll at St. Elmo's) warned us that the first bite would be intense, but whoa. Horseradish, meet nostrils. The sharp sensation was just the first of many in an amazing meal. It's been a while since I've been in a "true" steakhouse, and looking around, you got the feeling--as I have around all of downtown Indianapolis tonight--that a special weekend is on the horizon. Before my meal puts me to sleep on my keyboard, let's go over some news from the day...
John Calipari and Bo Ryan were the best of friends, having so much fun together
Some stiff at the NCAA decided that the Final Four coaches should do their press conferences together in hopes that it would be hella awkward, but today's pairing of Bo Ryan and John Calipari came off as quite delightful. Ryan and Cal played off each other, and this exchange got things off to a great start:
Q. Coach Ryan, with the amount of fun that your team seems to be having this year, how did that personality and chemistry of those guys develop? Are they looser than last year, as well? COACH RYAN: Believe it or not, I know how I'm perceived by some people. I'm actually a pretty funny guy. COACH CALIPARI: No, you're not, you're mean (smiling).
(Smiling) is an understatement. Cal made this face:
Later on, Ryan dissed the NCAA for not paying for players' families to travel to ALL of the Tournament games, not just the Final Four. Cal liked that so much he made this face:
Yeah, I'd say Cal is feeling pretty good right now.
Both Willie and Frank would be Kirby in "Super Smash Bros."
One player from each team represented their school at today's press conference, and because he's Willie, Willie repped the Cats. Because Frank is Frank, he repped the Badgers, and, as you might expect, "Super Smash Brothers" came up quite a bit. Frank said that he already likes Willie because the two discussed SSB on the way up to the podium. Later on, a reporter asked Frank and Willie which characters they play in SSB. Interestingly, both 7-footers say they play with Kirby. "I've been trying Captain Falcon," Kaminsky said. "He's really slow, so I think I'm going to go back to Kirby." "I play with Kirby just because he can change. He can change into anybody he's playing against," Willie said. "And he flies around, so when you get knocked off the little stage, you can just fly back and you don't have to worry about jumping." Who knew asking Marcus Lee at the SEC Tournament how the team unwinds would results in the most entertaining storyline in the tournament. Nintendo, you can send your girl some promotional money at any time.
Sam Malone got the last laugh tonight
Malone spent his Thursday night retweeting his haters:
And that's why Sam always wins. Aaron Harrison agrees: https://twitter.com/AaronICE2/status/583803820678983682
Events like this remind me how short I am
You know what you see a lot of at the Final Four? Tall people. Tall people everywhere, towering over me on the elevator, lumbering down the street...on a normal day, I'm short, but in this forrest of redwoods, I might as well be Tyrion Lannister. Actually, I'm okay with that.
R.I.P. this couch
[caption id="" align="alignnone" width="537"]
@meredithmallory[/caption] If all goes well, you'll be the center of attention on State Street Saturday night.
Bobby Knight is done at ESPN
One underreported story today was ESPN deciding NOT to renew Bobby Knight's contract. Knight called his last game for the Worldwide Leader tonight, and appropriately, it was the NIT Championship. As you might expect, Knight was thrilled abut it:
Yep, that's about right.
Coach Krzy'lwkejr;q said some really nice things about the Cats
So nice that I should really learn to spell his last name. One day.
"John has done an amazing job with his group, and it's been good for college basketball in that you've been talking about a team instead of talking about freshmen or individuals. For a few years we've gotten to be like the pros where it's a matchup of individuals. This year it's a renewal of what college basketball should be: it's about teams. Kentucky's been a great team."
Something tells me that still won't be enough to get the hacks to appreciate the team for what it is, but I'm fine with that. As Cal would say, no one is stealing my joy this weekend.
FOUR hours of KSR tomorrow!
If you love KSR, you're in for a treat tomorrow. (If you don't, go back under your bridge, you troll.) Tomorrow, Matt, Ryan, and Drew will be on the air for FOUR HOURS! The morning show will take place per usual from 10 a.m. to noon courtside at Lucas Oil Stadium, and there will be a special edition of KSR from 3 p.m. to 5 p.m. on WLAP during UK's open practice. Tune in to hear all the behind-the-scenes action as we tumble closer to Saturday's game.
Finally, I found your new wallpaper
Contrast that to Wisconsin's picture: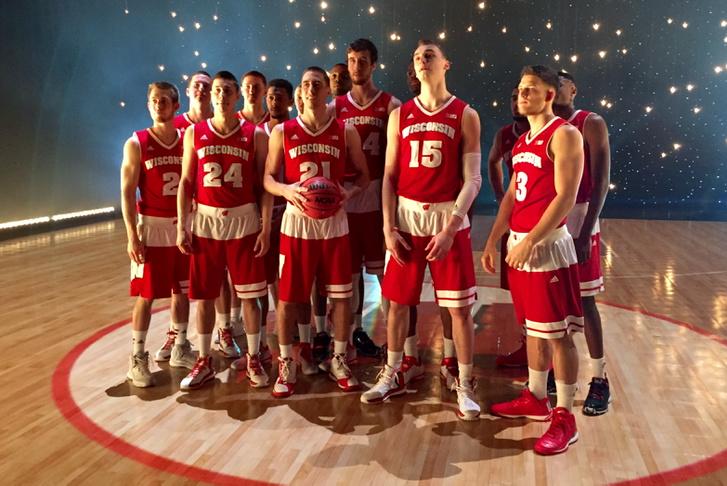 That alone makes me confident for Saturday.