Status of CJ Fredrick, Sahvir Wheeler still unclear heading into Florida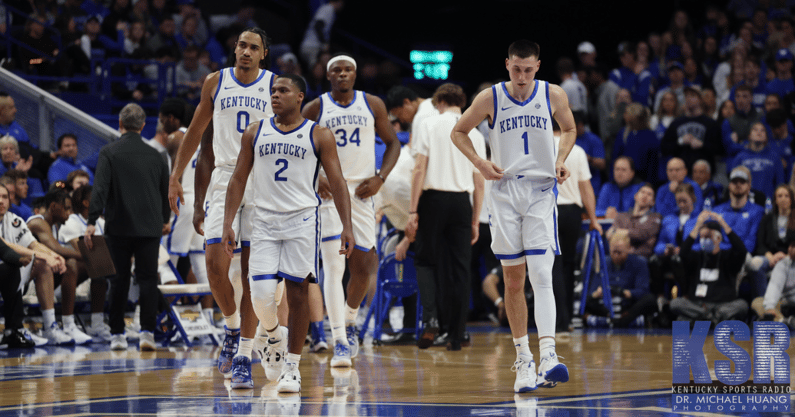 With 24 hours until Wednesday night's tipoff, it's still unclear if two of Kentucky's rotational backcourt figures will be available to play.
Guards CJ Fredrick (rib) and Sahvir Wheeler (ankle) are still considered questionable heading into tomorrow's road matchup against the Florida Gators, according to UK assistant coach KT Turner. Fredrick has sat out the last three games for the Wildcats while Wheeler has sat out four straight.
"We haven't practiced today yet," Turner said Tuesday afternoon. "They're working hard every day to get back. Just worked Sahvir out in an individual workout so we'll see. We don't know yet."
Sources tell KSR that Fredrick should be considered as doubtful against Florida and that he is unlikely to play, but that the redshirt senior will try to give it a go during Kentucky's game on Saturday against Auburn at home.
Kentucky has picked up back-to-back wins despite Fredrick and Wheeler watching from the sidelines, beating Mississippi State (71-68) on the road last week then No. 10 Tennessee (66-54) on Saturday inside Rupp Arena. That being said, those two will be critical pieces to a potential postseason run for the Wildcats, and getting them back sooner rather later is obviously the preferred route.
Through nine SEC games played, Fredrick is averaging 7.1 points per game while shooting 30.2 percent from distance on 4.8 attempts per outing. Meanwhile, Wheeler is also averaging 7.1 points across nine conference games, dishing out 5.0 assists per game in the process. Between them, they account for over 55 minutes per outing for Kentucky.
"If we can just get one of them it'd be great, we get two it'd be even better," Turner added. "Those guys bring so much just with their play and their experience and their basketball IQ, we can definitely use either one of those guys. Would love to have both of them and can't wait to get them back."
Kentucky has still found ways to win without them, but it's brought an even larger (and likely unsustainable) load of minutes for the remaining guards, primarily Cason Wallace and Antonio Reeves. It's also resulted in surprise playing time for freshman Adou Thiero, who has averaged 12.3 minutes per contest over his last three games played as the backup point guard.
While Thiero might not be the guy that the Kentucky coaching staff wants soaking up so many ball handling minutes as we inch closer to the postseason, it's at least given him valuable experience he can use the rest of the year and beyond. To Thiero's credit, he's been more impactful than not whenever he steps on the floor.
"Adou's gonna be a really good player in the future," Turner said. "But he's done a heck of a job helping us out, being able to play the point and play different positions. He attacks the rim really well, he's one of the top guys in the country at getting fouled for the minutes he plays. Defensively he gets a lot of blocks for a guard so he's helped a lot and he's learning and getting better every game just with playing."
Kentucky and Florida will tipoff Wednesday night at 7:00 p.m. EST on ESPN2 at the Stephen O'Connell Center in Gainesville, FL.
Subscribe to the KSR YouTube Channel for press conferences, interviews, original shows, fan features, and exclusive content.