Stevie Johnson Gets Loose - Wins 2010 Vizio Top Performer Award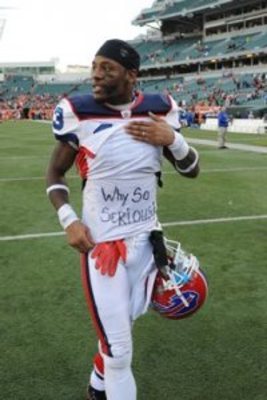 You know, as surprised as you might be, we put in a lot of hard work around these parts.  We bring you news, we bring you views, we bring you Herald Leader pictures – and sometimes we even bring you internet contests where you can massively vote on people with Kentucky connections.  Every so often we reap the reward of our hard work, and today is one of those days.  A few weeks ago we linked to a contest our man Stevie (I refuse to call him Steve) was in for the breakthrough athlete of the year award – or as they put it the top NFL player who played beyond his expectations relative to his contract. 
You went.  You voted.  Stevie Johnson Won.  So a big congratulations to one of our favorite Kentucky WR's on a breakthrough year in the pro's and a big congratulations to BBN for dominating another internet poll – it's what we do.
From their website:
With a national vote that totaled a fivefold increase over last years tally, sports fans have selected Buffalo's Steve Johnson from a star-studded field as the 2010 VIZIO TOP VALUE PERFORMER. Johnson, who earned just $470,000 the season, provided Buffalo with an outstanding season hauling in 82 balls for 1,073 yards and 10 touchdowns, making him one of the most underpaid receivers to reach 1,000 yards receiving this season.