Stoops' 10: No. 5 We're Just Getting Started Bro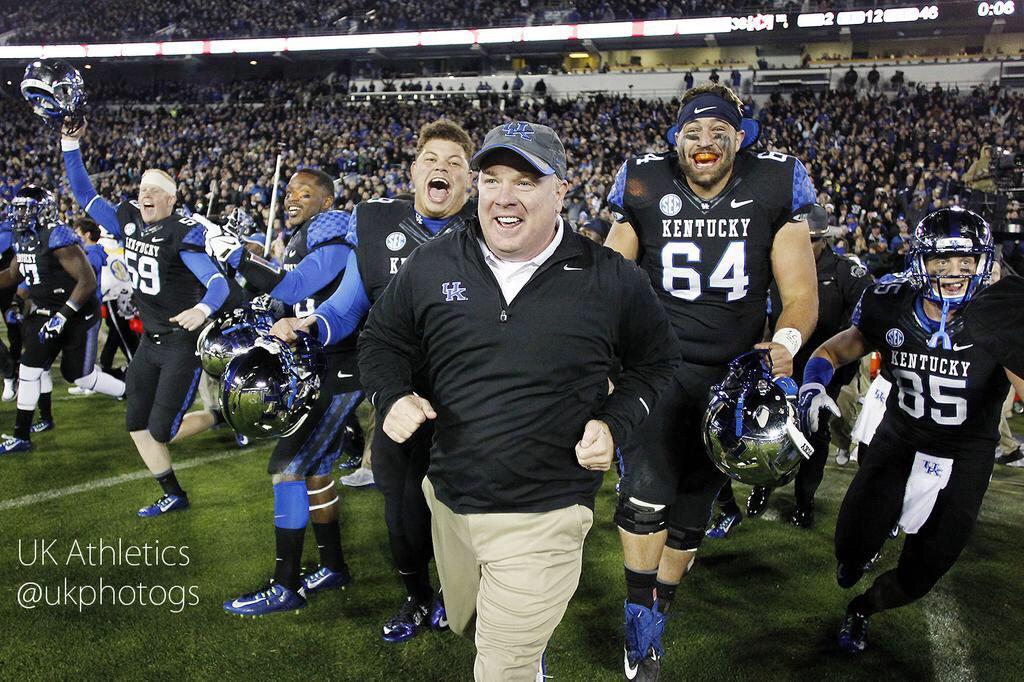 Five days until kickoff, we revisit the first big win of the Mark Stoops era.
Kentucky was a program in shambles, a team that had only won nine games in the last three seasons. Facilities were poor, fan interest was at rock bottom, and the Wildcats couldn't even beat Western. But, there was hope on the horizon: a new coach from a legendary football family that reeled in some five-star recruits and forged a new focus on football in the Bluegrass.
He just needed one signature win to change the game.
No. 5: Kentucky 45, South Carolina 38 – October 4, 2014
When Mark Stoops took on the Gamecocks for the first time in Lexington, Commonwealth Stadium looked very different than the Kroger Field we see today. The Cats still played on actual grass, the stadium was a mess — under construction for the new renovation coming the following year– and the new training facility was just a patch of grass.
The stadium wasn't the only thing that was a mess; the Kentucky football program was also under construction. After winning only two games the year before, Kentucky fans expected to endure one more terrible two-win season under Mark Stoops in year two. But things changed rather quickly.
Fans felt confident that Neal Brown had enough weapons to get it done: a consistently healthy quarterback in Patrick Towles, a couple of studs at running back in Boom Williams and Jojo Kemp, and a steady new crop of wide receivers that included Javess Blue, Dorian Baker, Juice Johnson, and Ryan Timmons. On the defensive side, names like Bud Dupree, Za'Darius Smith, AJ Stamps, and Josh Forrest stood out.
Kentucky got off to a 3-1 start by handily beating UT-Martin and Ohio — something a UK team hadn't done in seemingly forever. The Cats got hosed in overtime in the Swamp, but for the first time since 2007, the BBN tasted the streak coming to an end and it felt like Kentucky could finally hang in with SEC talent. The week before, Kentucky got its first SEC win since 2011 — when Matt Roark beat Tennessee at quarterback — over Vanderbilt.
A 3-1 start and a chance to beat Steve Spurrier's Gamecocks would put the rebuild way ahead of schedule. But, the old Kentucky football reared its head.
Just days before the biggest game of Mark Stoops' young career, four freshmen were suspended for one game due to an Airsoft incident on campus: Drew Barker, Tymere Dubose, Dorian Baker, and Boom Williams. Of course Kentucky would lose its star running back and third-leading receiver just days before playing South Carolina. Surely, there was no way Kentucky could beat South Carolina.
Why Not?
The BBN sold out Commonwealth Stadium dressed in black on Keeneland's opening weekend, an atmosphere for the ages for the first big game of the Mark Stoops era.
But first, a pep talk must be had:
Ugh, Not Again
It would be an understatement to say that Kentucky got off to a slow start. Steve Spurrier made sure to quiet down the electric Commonwealth Stadium early with two methodical drives.
The first drive went on forever: eleven plays and nearly eight minutes capped off by a Mike Davis touchdown. After a short five-play drive on offense, Kentucky punted the ball right back to the Gamecocks and Spurrier once again slowly gashed the Kentucky defense. This time, it took eleven plays and a quarter over five minutes to wear down Mark Stoops' defense. Before you knew it, Kentucky was down two touchdowns at the start of the second quarter.
Ugh, not again. Kentucky had blown another opportunity to seize a big moment, and Steve Spurrier got us again.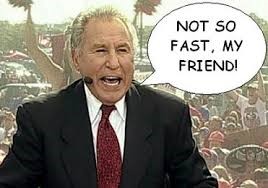 Kentucky was on the ropes and had to put together some kind of drive to keep themselves in it, and in typical Mark Stoops fashion, they found a way, this time, by the appropriately named Wildcat formation.
Jojo Kemp got the Cats on the board with the direct snap touchdown in the second quarter to draw Kentucky within seven. After a South Carolina field goal, it was Braylon Heard's turn out of the Wildcat and he took it 38 yards to the house to draw Kentucky within three. As time expired going into halftime, the steady leg of Austin MacGinnis drew the two teams even at 17 with a 48-yard field goal.
Kentucky had clawed its way back, but just one big play could put them over the edge…
The Ultimate Spark
Receiving the ball to start the second half, Kentucky had its chance to send a statement. After working the ball to midfield, Neal Brown drew up a trick play out of the Wildcat and Commonwealth Stadium exploded.
Patrick Towles hits Ryan Timmons for the flea flicker touchdown (2014) pic.twitter.com/RgJfDuLFpv

— KY Clips (@KY_Clips) November 17, 2018
Kentucky finally seized its first lead of the game at 24-17 and Commonwealth Stadium was rocking. What happened next was legendary.
Grove Street Party was born.
Kentucky football breaks out Grove St. Party vs South Carolina (2014) pic.twitter.com/iegN4mZOL1

— KY Clips (@KY_Clips) June 18, 2018
Jojo Kemp's Legendary Night
There is so much to unpack from this monumental night it's hard to believe we're just now getting to the legendary performance by Jojo Kemp.
Jojo Kemp ran the Wildcat to perfection all night, even to the brink of exhaustion in the fourth quarter. Kemp had three touchdowns on 17 carries for 131 yards that willed Mark Stoops to his first signature victory. He carried Kentucky the entire fourth quarter to keep the Cats in it, even after Kentucky once again got behind by 14 in the second half.
Relive all three of his crucial touchdowns:
As he was carried off the field after his third and final touchdown, "Go Big Blue" chants quickly turned into chants of "Jo-Jo-Kemp." His performance against South Carolina will go down as one of the best in UK history.
Defense Wins Football Games
No defense will ever brag about allowing 38 points to an opponent; however, on this night in 2014, Kentucky's defense made the plays when they had to be made.
Kentucky was down by 14 on two separate occasions and another scoring drive could've been the straw to break the camel's back, but the Bud Dupree-led defense held true. After going down by 14 the first time, the Cats forced the Gamecocks into two straight three-and-outs that allowed Kentucky's offense to get in within three.
When it looked like South Carolina was going to score again before halftime to extend their lead to 10, AJ Stamps picked up an interception and returned it to midfield, setting up MacGinnis' game-tying field goal heading into the half. The next time Kentucky went down 14, the defense didn't allow a single point the rest of the game.
After Jojo Kemp willed Kentucky into a tied game, the Kentucky defense just needed to prevent one last drive. Instead, Mike Douglass tipped a pass.
Bud Dupree game winning pick six. (2014)

(Tom Leach audio) pic.twitter.com/RmZxBZDlrH

— KY Clips (@KY_Clips) September 3, 2018
That touchdown would seal it as Kentucky scratched and clawed its way to Mark Stoops' first signature win, beating South Carolina 45-38.
The Aftermath
In the immediate aftermath of the big victory, Jojo Kemp gave one of the best postgame speeches in UK history:
Jojo Kemp ( @JoKempIII ) post game interview against South Carolina (2014)

Why Not Us? #BBN pic.twitter.com/GTu1QGDsX9

— KY Clips (@KY_Clips) July 9, 2018
Kemp's comments weren't the only ones from that night that would live on in Big Blue lore. After his biggest win thus far, Mark Stoops called into the KSR postgame show to talk to Matt Jones. After basking in the victory for the segment, Stoops ended the phone call with a single phrase:
"We're just getting started, bro."
Stoops was right; they were just getting started. Kentucky didn't reach a bowl for the next two years, but in 2014, beating Spurrier was enough. It was the launching pad to the Kentucky Football we see today.
If Kentucky didn't beat South Carolina in 2014, do they beat them the next four years? Is Mark Stoops still around after going four wins, five wins, and starting 2016 0-2? Who knows, but this win was the first of many more huge wins in the Mark Stoops era.
The program changed that night.
---
Check out our other games in the countdown to kickoff series:
No. 6: Kentucky is For Real (Kentucky 28, No. 14 Mississippi State 7 – September 22, 2018)
No. 7: The Kick Heard 'Round the Commonwealth (Kentucky 40, Mississippi State 38 – October 16, 2016)
No. 8: Stephen Soars over Rocky Top (Kentucky 29, Tennesee 26 – October 28, 2017)
No. 9: Tongues Out in the Sandstorm (Kentucky 23, South Carolina 13 – September 16, 2017)
No. 10: The First Road Victory (Kentucky 26, South Carolina 22 – September 12, 2015)
[mobile_ad]