Stoops, Kentucky are no strangers to close calls against Florida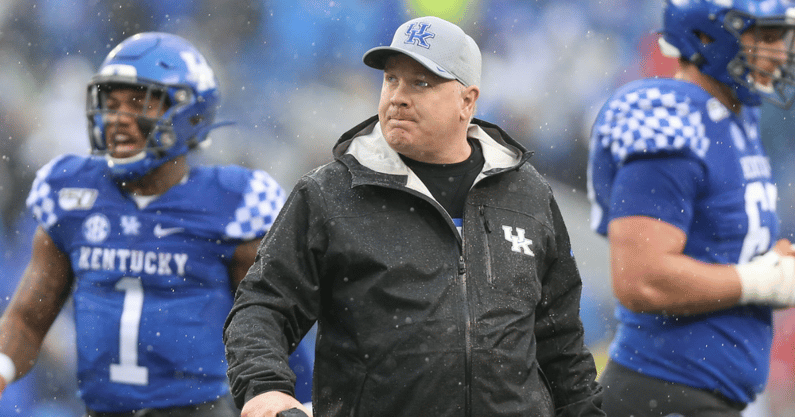 Mark Stoops and the Kentucky Wildcats had to grind out a win on the road at South Carolina. If history is any indication of what's to come, you should expect another close call when Kentucky hosts Florida Saturday night at Kroger Field.
Kentucky's 16-10 victory over South Carolina improved UK's record in one-score games to 18-7, dating back to 2016. Two of those losses were to Florida. In Stoops' eight matchups Florida, half have been decided by one score or less. That does not include Kentucky's win in the Swamp that was stretched to an 11-point victory when Davonte Robinson recorded a scoop and score at the horn.
"We're not into moral victories," Stoops said. "I think our players know that we can play with anybody if we play well, and I think that's the point where we've gotten to as a program. We still have to do that. We have to have a great week, we have to play well, we have to prepare well, we gotta control what we can and execute at the highest level. Then maybe you do need a bounce here or a bounce there. Sometimes you need the ball to bounce your way or get a call at the end of the game."
Withstanding Adversity
There's a key component behind every single one of Stoops' close calls: bad things happen. Everyone remembers C.J. Conrad's walk-off touchdown at Missouri, but they might forget Danny Clark's fumble. While some fans may still recall "the same old Kentucky football" after a ball is put on the turf, Stoops' troops have proven to be resilient.
"We always talk about handling adversity if you're going into an SEC road game, you're almost guaranteed to face some type of adversity and how are you going to respond to it? Obviously, we can win close games. We've shown that we can do that. I'd sure like to win one by not one possession, but it is what it is," Stoops laughed. "We prepare the best we can."
New, but same old Florida
Kentucky's 2020 trip to The Swamp does not fall under the aforementioned category. Even though the Wildcats' lost by 24 to nation's sixth-ranked team, Kentucky actually led 10-7 with a minute left in the second quarter. Kadarius Toney returned a punt for a touchdown just before half, opening the offensive floodgates for the Gators.
This year's Florida team does not resemble the 2020 iteration. Toney, Kyle Trask and Kyle Pitts aren't walking through that door. Mullen has returned to his old style of offensive play, relying on the run game — particularly the quarterback run game — to open up the pass. Anthony Richardson, a powerful 6-foot-5, 235-pound athlete, is the ying to Emory Jones' yang. He will return to the lineup after missing two weeks with a hamstring injury.
"You look at the talent he had last year with the quarterback, tight ends and wideouts and the guys he had, obviously they were a handful. This year they're a handful in a different way," Stoops said Monday.
"This is a lot of the identity with Dan and the teams we faced when he was at Mississippi State with Dak (Prescott) and those kind of guys. They had quarterbacks that could run and throw, very impressive. It's really always been that way. Last year was a little different with the talent he had, but in general it's always started with a physical run game."
Close calls may cause blood pressure to rise across the BBN. It does not matter by how many points, if Kentucky takes down Florida on Saturday there will be celebrations from Pikeville to Paducah.