Stoops on Kentucky's uncomfortably close victory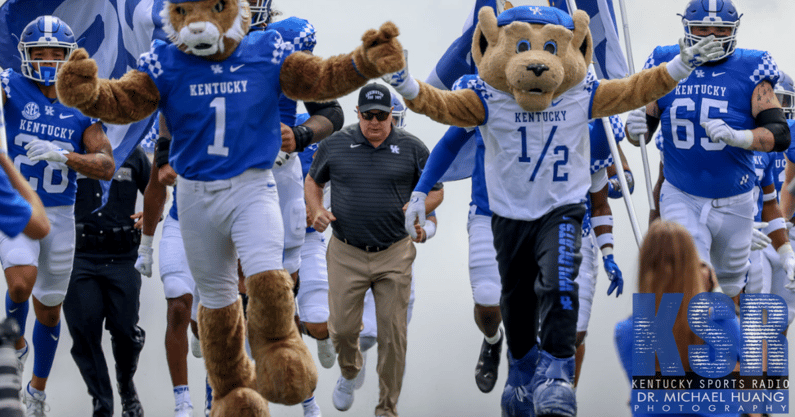 Kentucky's recent win may not have been the most pleasing victory, but it was a victory. On Saturday, the 'Cats squeezed out a 28-23 triumph over the University of Tennessee at Chatanooga. Though fans are calling for the team to wake up, Mark Stoops is letting BBN know his eyes are wide open.
Stoops' thoughts on the tight victory
"Well, like I told them, we're not satisfied by any stretch, but you can't ever apologize for a win. Hold their head up high, tidy up your backyard…. Nobody's going to point any fingers," Stoops said. "Nobody's going to blame anybody."
Stoops isn't the one on the field, but he's certainly the one taking responsibility. For a veteran coach like Stoops, this isn't anything new. Let's not act like it is for veteran Kentucky fans, either.
Using the past as a lesson
Just think of the Missouri game last year; or the Tennessee game the year before that; or maybe the even more painstaking loss to Tennessee the year before that. Painful, I know. The point is — this isn't BBN's first rodeo. The game is in the past now. All that matter is how the 'Cats use it to prepare themselves for the future.
"They have to look at the areas where they need to improve. I do. Our team does. Everybody does," Stoops said. "But hold their head up high, don't apologize for winning the game, but go worry about getting better. Let's go pick it back up, come in the building Monday ready to prepare to get on the road and win a SEC game, and I expect they will do that."
History would certainly seem to prove Stoops right. After the majority of Kentucky's embarassingly close victories or shameful losses, they bounce back in a big way the next game. In fact, the majority of the painful losses I mentioned earlier were followed up by double-digit victories.
Trust in Stoops
'Cats fans demand success and that's why they're one-of-a-kind. However, if there's one thing Kentucky fans love more than the sweet taste of victory, it's the players and staff that deliver it to them.
Being upset about winning isn't going to do you any good. Saturday's tight victory will be a fleeting memory when Kentucky is facing squads such as Florida, LSU and Georgia. As I said before, this isn't Kentucky's first rodeo. So, let's grab the bull by the horns and ride it straight to victory.