Stoops on South Carolina, Spencer Rattler, and MarShawn Lloyd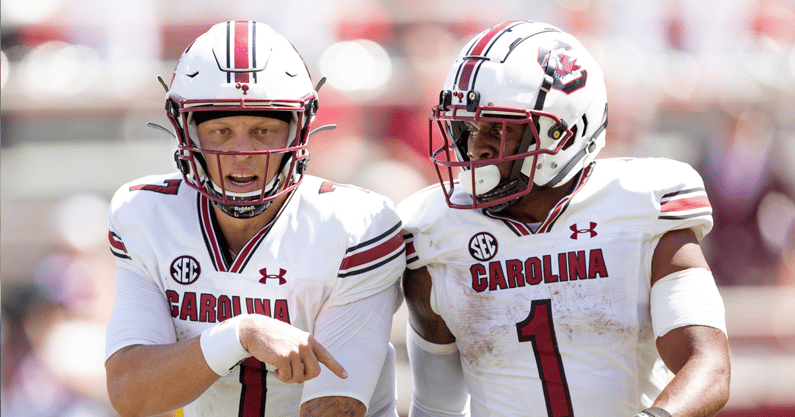 Mark Stoops opened up his Monday press conference with brief comments about Kentucky's shortcomings at Ole Miss before saying his trademark phrase, "get back to work," to, "get ready to play a very good South Carolina team, a team that is much improved."
To Stoops' point, the 3-2 Gamecocks scored a combined 106 points in the last two games, consecutive wins over South Carolina State and Charlotte, to get back above .500 before Kentucky will welcome its SEC East rival into Kroger Field this upcoming weekend. Prior to the back-to-back victories, Carolina lost conference games to No. 16 Arkansas and No. 1 Georgia, allowing 44 or more points in each of those games.
"They've had a tough SEC schedule and I'm sure they're very hungry to come in here and get a victory," Stoops added.
Later in Monday's press conference, Stoops was asked to describe what he sees in Spencer Rattler, South Carolina's new starting QB in 2022. The former Oklahoma Sooner and No. 1 overall quarterback in the 2019 high school recruiting class has thrown only four touchdowns to seven interceptions this year but has shown some big-play ability.
"(He's) a very good player," said Stoops. "I watched Spencer, obviously, for his time at (Oklahoma) and then the time at South Carolina, but a very talented quarterback. I like what they do with him. I like their offense and, you know, creating some time off play-action and a very talented arm, can make all the throws. You know, a very good player."
One more player to watch when South Carolina has the ball is MarShawn Lloyd, another former blue-chip recruit whose six rushing touchdowns lead the Southeastern Conference. The No. 5 running back in the 2020 recruiting class, Lloyd scored his six TDs on only 53 attempts.
It helps to be able to do things like this:
Of Lloyd and the growth of the ground game, Stoops said, "I really think a lot of Marshawn as well. I think he's a really good player and I think they're doing a good job of creating some movement up front and really laying on some doubles, getting some movement, getting him started because he's such a talented back and he really just runs hard. He's just a very good player, a complete player (and) good in the pass game as well."
Lloyd has 13 catches and two receiving touchdowns to go along with his SEC-best rushing scores. In total, his eight touchdowns are sixth-best in the country through five weeks.
"They're doing a lot of things," Stoops added. "They're getting in some empty; they still do some 11, some 12 personnel; they do a nice job with their play passes on first, second down to give them some time to get the ball down the field and create some space, taking some vertical shots. Like everybody, they're gonna put pressure on you."
For more from Mark Stoops' Monday press conference, watch the entire conversation here.