Stoops says Davonte Robinson, Jordan Wright are in "good shape" to play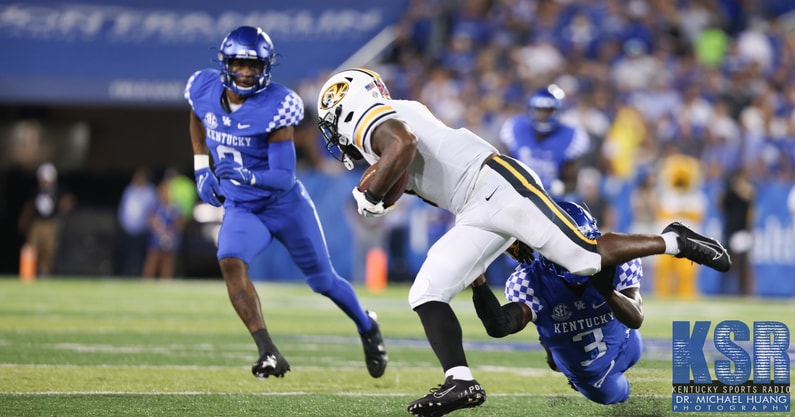 After brief injury scares with two key defenders on Saturday, the Kentucky football program received good news to open the week.
Starting safety Davonte Robinson and starting outside linebacker Jordan Wright both suffered injuries against Missouri, with the latter's situation more uncertain going into the week.
"We'll see how it goes," Stoops said during his Monday press conference. "Davonte should be good. Jordan is day to day."
Robinson gave it a go in practice and looked "fine," a positive sign that he'll be ready to play Saturday. As for Wright, the team received a "good report" on the standout pass-rusher to close out the day.
Now, it appears UK will have both players when they take the field on Saturday.
"We got good news, we got good news," Stoops said during his call-in radio show Monday evening. "Davonte was fine, he was out there in practice today. (Wright), it was a good report. We'll be in good shape."
Speaking of injuries, JJ Weaver continues to ramp up his reps coming back from the torn ACL he suffered late last season. Through two games, the sophomore linebacker is not only back to full strength, but looks the part, as well.
"He did, he played more than we anticipated," Stoops said of Weaver. "It was probably good for him to get his legs up underneath him. He's still a really good player, by the way. He really is."
Great news for the Wildcats as the team gears up for Chattanooga.