Takeaways from Kentucky's dominant showing on the diamond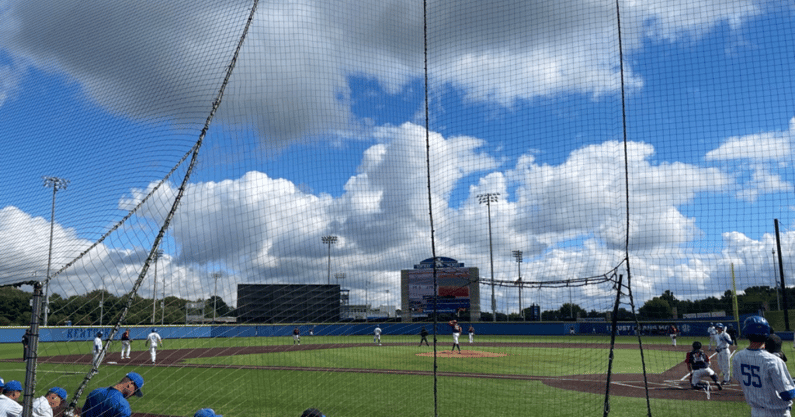 At least for now, it looked like Kentucky was an SEC team playing an A10 team.
Kentucky was in utter control throughout a 14-3 thrashing of Dayton on Saturday in their first of two exhibition games during the Fall season. Nick Mingione saw his seat start to heat up right after the end of the 2021 season when there was a mass exodus out of Lexington with double digit players leaving the program. Take it with a grain of salt, it's one game against Dayton in the middle of September, but the new strategy of poaching the transfer market might just work out for the 'Bat Cats.
New look lineup impresses
It's their first test against outside competition, but the new lineup Mingione threw out on Saturday could have some serious potential. The first major change is that Ryan Ritter looks to be a leadoff hitter now. Which is surprising given that he was shoehorned into the bottom of the lineup for the entirety of last season. A year of SEC competition and a summer out on the Cape might've been just what he needed to get used to seeing elite pitching.
Call me crazy, but this Kentucky lineup looked nothing like it did a few months ago. I'm not just talking about the names. The 'Bat Cats are now filled with high average/low strikeout batters throughout the lineup. They had the reigning American East player of the year batting 7th on Saturday.
Even when the team was playing well last year, you could tell that they could falter at any moment. John Rhodes was arguably their best player, but he had issues sometimes at the plate. T.J. Collett and Oraj Anu had unreal strength, but were naturally prone to striking out more than they should've. Austin Schultz was really the only guy on the team last year you could be confident that he wouldn't look at a ball down the middle. From first glance, that looks to be changing.
Hunter Jump launched a home run in his second at bat for the 'Cats after jettisoning from the party capital of the world, Arizona State. John Thrasher, the 2021 AE POY from Hartford, showed some great discipline and was also 2-2 on the base path when trying to steal. Adam Fogel, the man who willingly decided to leave Hawaii, also looked competent at the plate in his first action. It wasn't just the new outfielders though, some returning 'Cats looked good in their return to KPP.
Joining Jump in the home run party was Chase Estep and Jake Plastiak, two returners that should look to be playing nearly all the time come Spring. If Mingione can finagle a lineup that balances out high average guys with some real bombers, the new look lineup has a chance to shock some people. Kirk Liebert might've been the story of the off-season for the 'Bat Cats. The catcher was arguably the best hitter in the Northwoods league this summer, and he continued that into the first fall game. Liebert ripped a triple off the right-center wall in his first at-bat to give the 'Cats the lead.
And oh yeah, Kentucky has a home run chain now. I'm not saying it's now the coolest celebration in college baseball. I'm not not saying that either.
Pitching looks to be a strength for Kentucky
Despite all the chaos and uncertainty that followed the baseball program at the end of last season, pitching was never thought of as an issue for Kentucky. Before the transfer window opened, they were set to have Cole Stupp, Zack Lee, Ryan Hagenow and Mason Hazelwood, who is coming off of surgery, competing for the starting spots. It was a respectable group before, but the team still went out and added more.
Maybe the most notable being Magdiel Cotto, who was poached from South Carolina. The stuff was never the question with Cotto, which he showed today with a 12 mph difference between his fastball and off-speed pitches. His bugaboo was always his control, which looked great today. The sophomore went two innings of scoreless ball without giving up a walk.
Stupp started the game with two decent innings. I can't say he looked perfect, but he sure wasn't bad. He did allow a run, but oh boy was it not his fault at all. Wyatt Hudepohl, Seth Logue and Austin Strickland all threw scoreless innings in their return to KPP. As for the new guys, Tyler Bosma and Tyler Guilfoil got some run. Bosma went scoreless in his inning. Guilfoil did not, but we'll blame that on nerves that come from being back in his hometown.
Defense may still be an issue
It's hard to say that defense will be an issue when Kentucky has the best defensive shortstop in the country. Ritter decided to show off again on Saturday with a diving stop into the hole and still throwing out the runner at first. It was pure comedy to watch. But beside him, there's some key positions that are going to need some work before the season.
I don't want to overreact because it's a Fall game. The point of these are to experiment with what you have and see what works. However, we've seen in the past that throwing Oraj Anu out in left field is not the move. I think it's appropriate to say that he's a natural DH. But because they needed to get Liebert's bat into the lineup today, they put him out there again. He didn't make any errors, but there was one specific ball that fell in front of him that really should've been caught by a good left fielder.
Jake Plastiak is also trying to make it as the team's first basemen this year, which he rarely has done in his college career. This problem exposed itself way too early. Plastiak fielded a ground ball in the first inning but wildly overthrew Stupp on his way to first base leading to Dayton's first run. He also struggled with gathering some pickoff attempts. I'm not trying to sound the alarms yet, there's more than enough time before the season to correct some issues. I don't want to ignore them either though.
All-in-all, Saturday's game was just what Kentucky and Mingione needed. They looked great against lower competition. The lineup looks like it could be dangerous. The pitching staff is full of veterans who have had previous success. Don't give up on the 2022 'Bat Cats before they can even start.