Takeaways from Kentucky's Game 1 in the Bahamas vs. Dominican Republic Select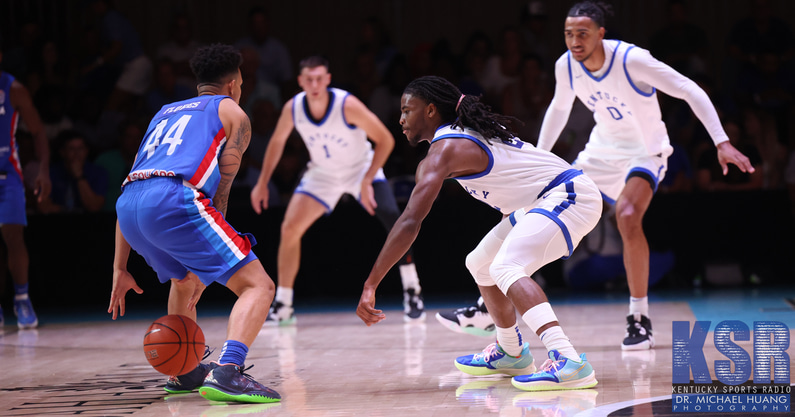 Your University of Kentucky Wildcats put a 100-piece on the scoreboard in their first of four preseason exhibition games at Baha Mar Resort in the Bahamas, opening up against a team from the Dominican Republic that never stood a chance from the jump. The D.R. did hold one lead in the game with a 3-pointer to go up 3-2 very early into the action, but that was as good as it got for Kentucky's first victim on its summer foreign tour.
In the end, Kentucky cruised to a very convincing victory, 108-56, with a well-rounded performance that at times resembled a dunk contest once things had gotten far out of reach in the second half. Let's talk about some of the most exciting things that happened between the early 3-2 deficit and the 52-point victory, and then we'll sleep it off and do it all again tomorrow.
Sound fun? Of course it does. Now, those takeaways that are littered with overreactions because that's what these games are for…
A starting five no one predicted
For Kentucky, John Calipari began with a starting lineup that few saw coming. Of course, Sahvir Wheeler and Oscar Tshiebwe retained their spots from a year ago at the point and inside, but Illinois State transfer Antonio Reeves earned the nod over Cason Wallace or CJ Fredrick at the two while Jacob Toppin played on the wing instead of his presumed spot in the hole left open by Keion Brooks' departure for Washington. Daimion Collins filled Brooks' old starting role in a bigger lineup than expected:
G – Sahvir Wheeler (2)
G – Antonio Reeves (12)
F – Jacob Toppin (0)
F – Daimion Collins (4)
F/C – Oscar Tshiebwe (34)
Not too much of a surprise, Calipari hinted earlier in the week that he planned to roll with an experienced lineup to begin play in the Bahamas, and the group that started Game 1 is as experienced as any five we've seen under Calipari with zero freshmen and only one sophomore in the starting lineup.
However, it is not an indication of what's to come for the season, only the first of many experiments in the Bahamas.
And the experiment worked. It worked really well.
Hey, you're not Under 22
As for the other guys, the Dominican team originally scheduled to play Kentucky was the Under 22 National Team, but when they arrived on the property, it was the Dominican National Select Team full of 22 to 25 year olds. Tom Leach tweeted beforehand, "Tonight may be toughest of games here–older DR team than KY was originally expected to face."
If that was the toughest team, it's going to be a fun week…. if the other three teams still show up after scouting Kentucky in the Wildcats' first game.
MVP: Everyone?
It's not an overreaction to say everyone in those sharp, checkerboard-less Kentucky uniforms played well. From the veterans we know to the brand new guys in blue and white for the first time, it was a great debut for the beginning of Kentucky's 2022-23 season, even if this one won't matter beyond added experience (definitely a plus) and pumping the fan base up with excitement following a disappointing end to last season.
Here are some of the surprise stars who played beyond anything we've seen out of them before:
Daimion Collins has everyone talking
If we must pick an MVP, the award goes to sophomore forward Daimion Collins who was runner-up on the team in scoring with 15 points, five rebounds, five assists, two blocks and two homicides in a starting role. KSR photographer Dr. Mike snapped a great photo of Collins' first homicide.
Even better, here is the video before it's sent into evidence.
He caught another body later in the game.
Not just a dunker, Collins looked so much better than the freshman version of himself, who at times seemed lost and confused when thrown into action a year ago. The Daimion Collins we saw tonight will be tough to keep off the floor in Year 2, especially if the jumper he showed off against the Dominicans makes the trip through customs and back home to the Southeastern Conference for the real thing.
Collins could take Kentucky from really good to great and may God have mercy on anyone who dares meet him at the rim.
Adou Thiero also made a statement
Who had Adou Theiro as a standout? Not me, not after Calipari announced the unranked prospect who wasn't offered until March of this year, would play limited minutes with his growing pains. But Thiero made the absolute most of his limited minutes, all 10 of them, with seven points, a made 3-pointer, three assists, three blocks, and two steals–a real stat-stuffer in his brief appearances off the bench.
When Calipari recruited Thiero, he told him he saw him as an eventual Defensive Player of the Year. Now one meaningless preseason game into Thiero's career, we see it too. He's a stopper in the making with no rush to go anywhere, an early surprise on the new roster and still growing.
Antonio Reeves is a real threat from outside
A week ago, Antonio Reeves stole the show at Kentucky's open practice for the Kentucky Flood Relief Telethon. We told ourselves not to react then, but he did it again tonight by draining four of his five 3-point tries and again looking comfortable with the ball in his hands. Any concerns about the jump from the Missouri Valley to the SEC are evaporating and now we wonder just how he'll fit in the rotation with excitement around fellow guards Cason Wallace, who matched Daimion Collins' 15 points off the bench tonight, and CJ Fredrick.
Whatever happens with that equation, it's a good problem to have and Reeves' first two dress rehearsals should ease some concerns around shooting beyond Fredrick.
CJ Fredrick played it cautious
As expected, Fredrick did not push himself too hard in his first basketball since March of 2021 when he was an Iowa Hawkeye. He played 12 minutes and didn't score (only one shot attempt), but was a facililator out of halftime with four assists to match Sahvir Wheeler and freshman Chris Livingston in that column.
For Fredrick, it's all about getting back in the flow of live basketball and tonight it was just good to see him participate. With his lights-out jumper, he'll play a big role when he's at full speed this fall.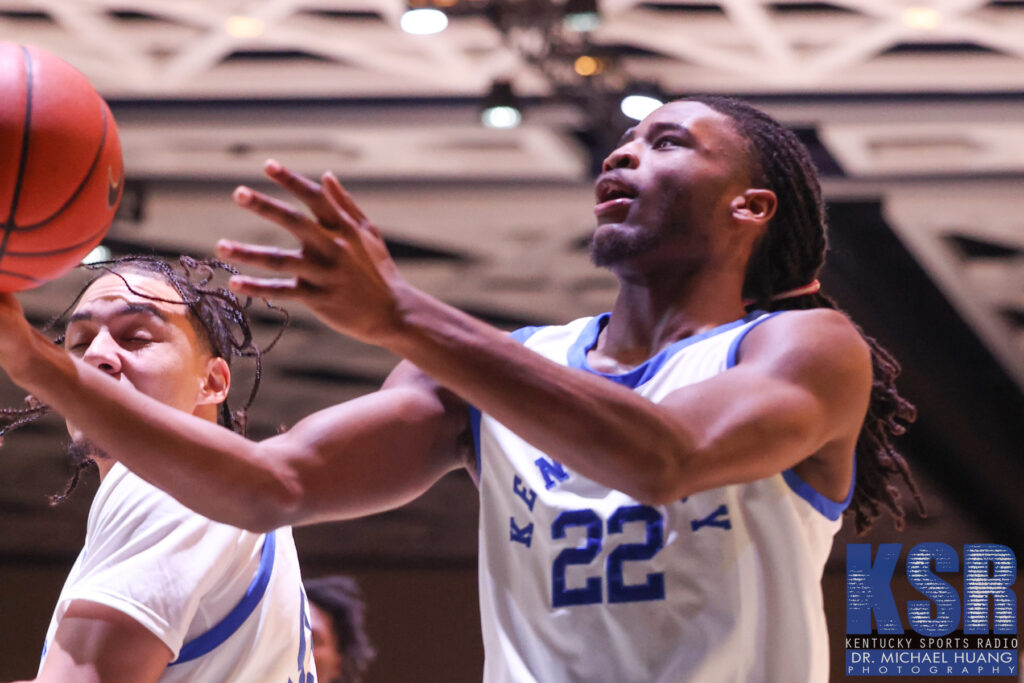 The two All-American freshmen were as good as advertised
Cason Wallace and Chris Livingston are the two Burger Boys in Kentucky's freshman class and they were everything anyone could want in their first preseason game two months after they arrived on campus. The one with the most NBA potential, currently, is Wallace and he gave fans a taste of that excellent defense we've heard so much about while showing he can run point guard when needed. Wallace will likely play opposite Wheeler in the regular season, but it will be an ongoing competition there and he may even push Wheeler for some of his PG minutes. Wallace has the playmaking ability with the rock.
Livingston is a little more of a mystery as to how he will fit in, but his versatility will make plugging him in a little easier. Tonight, the combo-forward showed he can make shots from outside with a 3-of-4 clip from beyond the arc, plus a team-high eight rebounds inside, all in only 19 minutes played off the bench.
You read that? Oscar Tshiebwe did not lead the team in rebounding. No double-double either. Only 17 points and six boards in his 17 minutes. I say only sarcastically.
The full box score: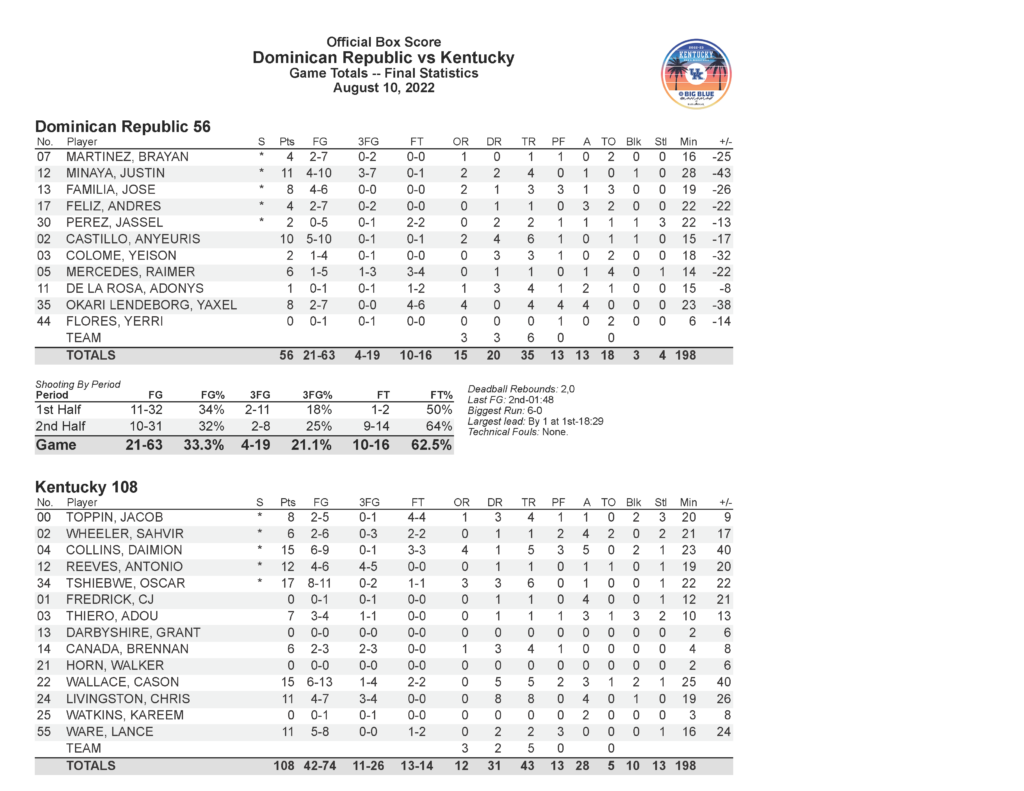 Two shooting stats to point out from the box score:
Kentucky 3-pointers… 11-26 (42.3%)
Kentucky free throws… 13-14 (92.9%)
Conversely, Kentucky's defense held Dominican Select to 4-of-19 shooting from outside. A couple of those misses can be credited to those insanely long, double-armed closeouts by Collins. Guys were shooting moon balls over his outstretched arms.
Cal's friend Jerry was a popular side show at the game
Beyond the basketball, we the internet took a strong interest in Calipari's neighbor in the crowd at the game, his close friend Jerry Haffey. BBN's Twitter presence was very curious about the mystery man beside Calipari and assistant coach Bruiser Flint, especially when Haffey changed from an adidas t-shirt to a Nike shirt mid-game, likely at the request of someone tired of seeing his adidas logo on TV.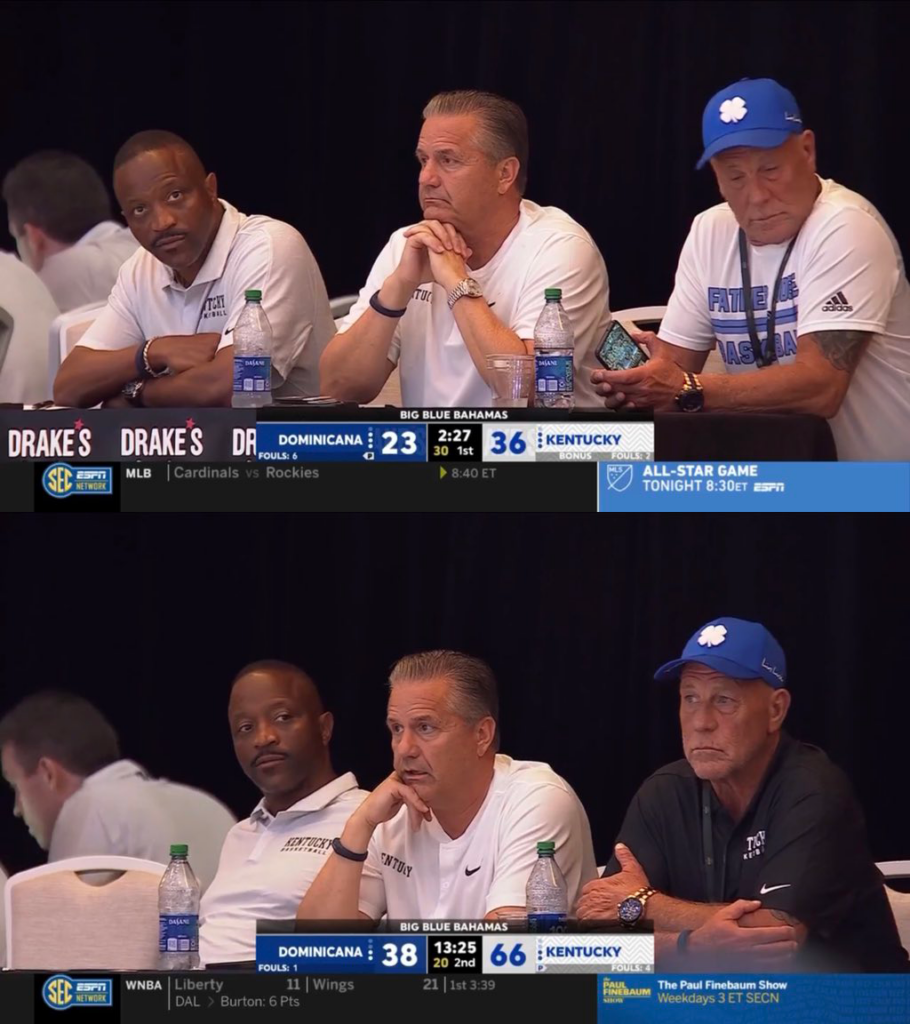 The tribute to Mike Pratt was a nice touch
The TV broadcast honored the late Mike Pratt during the game and on site there was a moment of silence before tip-off.
On the radio broadcast, Jack Givens had big shoes to fill in his first game beside Tom Leach. In the little I heard on my drive in the second half, Goose did a great job in a difficult spot replacing a fan favorite and talent like Mike.
It ain't no fun unless the walk-ons get some
Kentucky's four walk-ons played a couple minutes late in the game and nobody took better advantage of garbage time than Brennan Canada. The senior from Mt. Sterling hit both of his 3-point tries to put six points on the board from the victory cigars.
I'll leave you with Jacob Toppin's 360
Between Toppin and Collins, the Top 10 Plays from the Bahamas may be hard to select come Sunday.
Rumor has it we're in for another fun one Thursday night when Kentucky runs it back against Mexico's Tec De Monterrey.