Takeaways from Kentucky's Game 2 in the Bahamas vs. Tec De Monterrey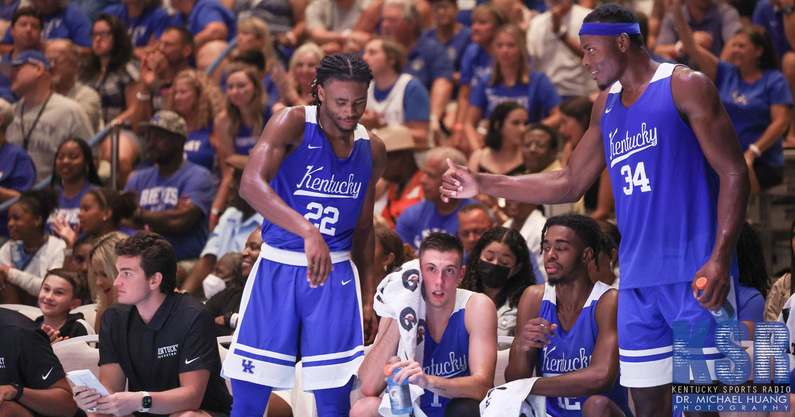 Sometimes two teams don't belong on the same basketball floor together and, respectfully, that was the case Thursday night when the University of Kentucky hosted Tec De Monterrey of Monterrey, Mexico, in a friendly preseason competition on the lovely island of New Providence in the Bahamas.
For Kentucky, it was the second exhibition game in two nights after a well-rounded Wednesday debut, and the new crop of Wildcats again looked unstoppable in Game 2 with a near flawless victory, 102-40, that has furthered the fan base's overreactions. Big Blue Nation doesn't intend to overreact or set unreasonable expectations based off these summer exhibitions, but when the most passionate fan base in college basketball sees Kentucky pummel two teams by a combined score of 210-96, it's hard to temper excitement for what's ahead in 2022-23, even if they're playing a team that resembles your local YMCA league.
So let's unapologetically overreeact and talk our smack with more takeaways from what we've seen out of the team in the Bahamas to date. Sure, the competition hasn't exactly been Gonzaga or Kansas (although, it may be slightly better than Louisville), but fans and the players themselves can still enjoy the extra basketball and dream big dreams.
A new starting five with a surprise newcomer
In the first exhibition game versus the Dominican National Select Team, John Calipari opened the game with a veteran lineup of Sahvir Wheeler, Antonio Reeves, Jacob Toppin, Daimion Collins, and Oscar Tshiebwe. Against Tec De Monterrey, he mixed up the order just a bit by sliding newcomer Adou Thiero in for Collins with the other four from last night.
G – Sahvir Wheeler
G – Antonio Reeves
G – Adou Thiero
F – Jacob Toppin
F/C – Oscar Tshiebwe
It's all part of Calipari's plan to play a different lineup in each half of the four Bahamas games, and Adou Thiero celebrated his first start by getting a 3-pointer off on the first possession. The heat check didn't drop, but he still showed out from there with 22 minutes played and a 5-of-7 shooting clip from the field for 13 points with six boards.
Take some time to read up on how Calipari described his unranked freshman find Thursday before the game. Their history goes way back.
Lance Ware did not play
One more roster note: Lance Ware did not play due to a minor shoulder injury.
I know of at least one person who was bummed.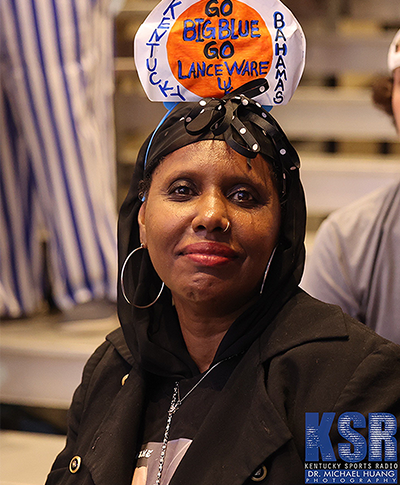 Oscar Tshiebwe, Sahvir Wheeler did their thing
After Game 1 last night, we didn't put much emphasis on the play of Kentucky's two returning starters, Oscar Tshiebwe and Sahvir Wheeler, because the fan base is much more interested in learning more about the new guys. We know we're getting rebounds from Tshiebwe and assists from Wheeler, and so far they've both picked up where they left off while sharing floor time with the rest of the team.
Tonight, Tshiebwe and Wheeler were in peak form with 14 rebounds for Big Oscar and a 14-point, 10-assist effort from Wheeler. Not to take away from those numbers, but during the broadcast Tom Hart said it looked like Tshiebwe was playing against sixth graders.
To Tom's point, here's a funny visual: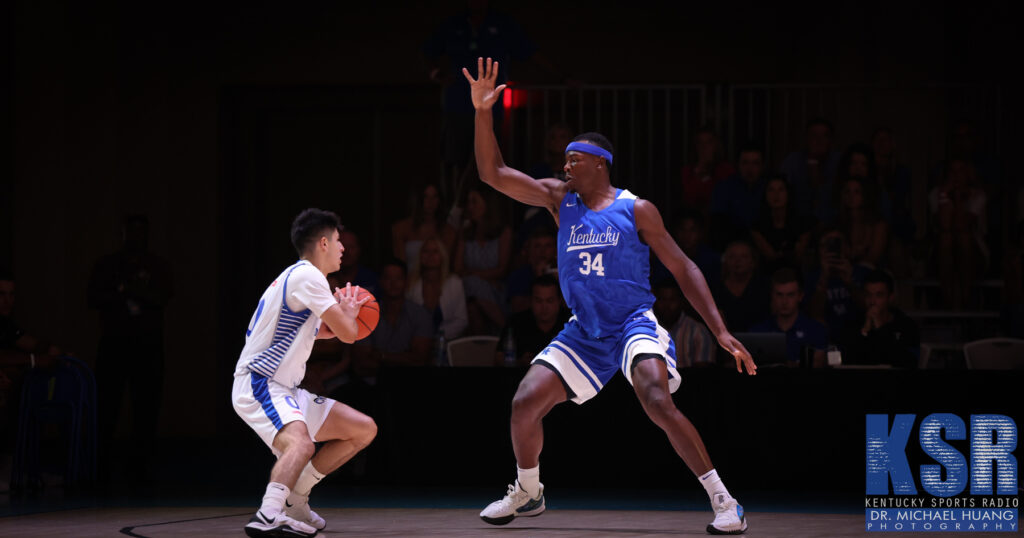 More Daimion Collins love
Still on the run from the Royal Bahamas Police Force for his double-homicide against the Dominican team, Daimion Collins again showed out for Big Blue Nation with 10 points in the first half in a reserve role off the bench.
My favorite part of Collins' new game, aside from cramming on people's foreheads, is his closeouts on 3-point shooters with both hands extended. I wrote about this last night and tonight his outstretched arms swatted an opposing outside shot.
Who does this?
We have a favorite for Bahamas MVP.
Final box score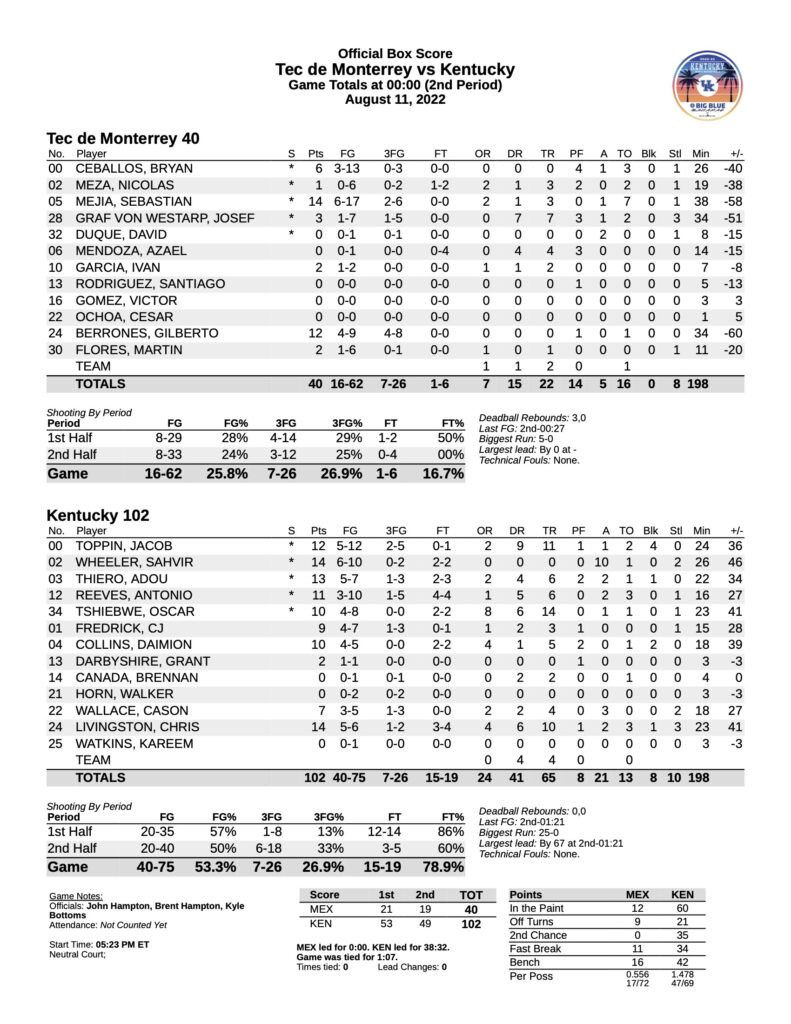 Chris Livingston making an immediate impact
One of the two freshman All-Americans on the team, Chris Livingston isn't settling for a spot behind Kentucky's experienced forwards. The combo-forward from Akron had another big night with 14 points on 5-of-6 shooting from the field and 10 boards, a double-double after leading the team in rebounding and hitting three 3-pointers 24 hours earlier.
With Livingston's inside-out versatility, he could be a utility knife off the bench for Kentucky, or he may just be one of the better players on the team.
The elephant in the room
Now's not the time to go in depth on this, but I'll note the excitement around the basketball players was spoiled earlier in the day when the conversation took a hard turn toward Basketball vs. Football. Whatever you think of Calipari's comments, there's no denying it upset his colleagues across campus and stole the attention from a basketball team that's brought a lot of joy to the fans with this Bahamas trip.
On today's KSR radio show, we spent two hours talking excitedly about all that happened in the Dominican Republic game. Now tomorrow's show will be about the unneccessary drama when we should be talking about Bahamas beatdowns and basketball excitement. It's silly, but you can't put the toothpaste back in the tube. We're already getting dunked on by rivals. I was at a crowded bar full of Cats fans for the game and all they wanted to talk about was Calipari's interview. It didn't have to be this way.
Kentucky is a women's track school anyway.
Tom Hart and Dane Bradshaw went all 606
Behind the microphones calling the game, Tom Hart and Dane Bradshaw wore #606 shirts to draw attention to the flood relief efforts in Eastern Kentucky, a real nice gesture from our pal Tom and one of the only Vols we like.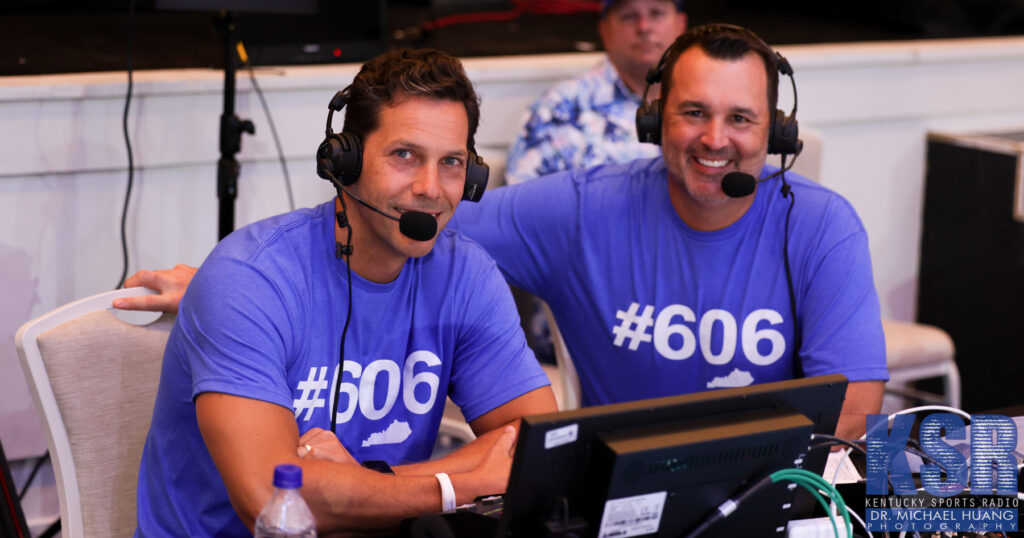 Up next: Rest up for the weekend
Now with a 2-0 record through two exhibitions, Kentucky Basketball will take tomorrow off to rest their legs and see the sites, plus some charitable work in the local community through Samaritan's Feet. On Saturday, they're back in the Baha Mar ballroom to play Carleton University, a Canadian team that has had some recent success against the SEC. From 2017-18, Carleton beat Ole Miss, Alabama, and Vanderbilt twice. However, this current Carleton team has lost both of its games against NCAA competition this summer; first to Northeastern, 91-104, then to Cam'Ron Fletcher's Florida State, 64-98.
On Sunday, Kentucky will complete its four-game run in the Bahamas against the Bahamas National Team before an evening flight home to Lexington.
For now, go get some sleep with sweet dreams of No. 9.