Takeaways from the Bat 'Cats final Fall exhibition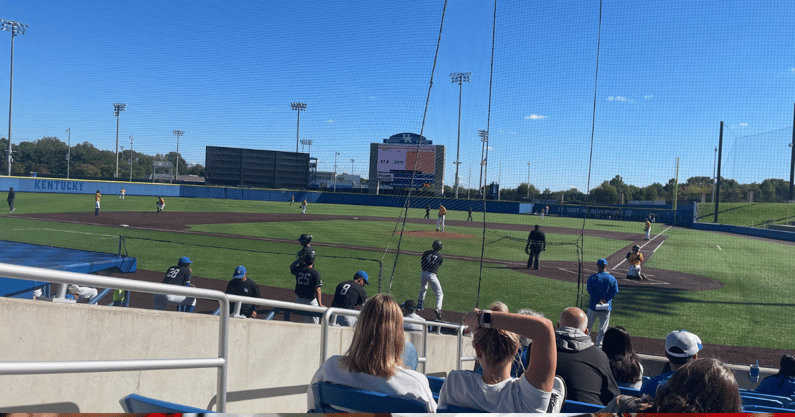 At least one Kentucky team picked up a fake victory over the past weekend. The 'Bat Cats were back in action Saturday afternoon at Kentucky Proud park to play their second of two exhibitions during the Fall season.
Once again, the 'Cats impressed with a 14-4 win over Lipscomb. Giving the fans some sense of optimism before we see them hit the field again in February. So, let's take a look at some of the notable takeaways before Nick Mingione and his squad head towards 2022.
Kentucky has a superstar on their hands
I don't know how you can have any concerns with Ryan Ritter at this point. When he came to Lexington last year, he was already touted as potentially the best defensive shortstop in the country before taking a ground ball in one of the litany of Kentucky jerseys. He did nothing but confirm that notion on the defensive end, consistently making gold-glove level plays look way too easy.
I held back on fully jumping on the Ritter bandwagon simply because his offense was near brutal for a large amount of last season. He was stuck at the bottom end of the batting lineup and it looked like he really struggled facing elite-level pitching. He then went and ranked fourth among qualified hitters on the Cape this summer, posting a .330 average. There were still some red flags there because Ritter went on an absolute tear the last few weeks of the season to raise his batting average over 100 points which masked an average rest of his campaign.
Coming into the Fall, however, I may be ready to start eating my words. Who would've thought that someone could improve over time? Wild take to have…
After impressing a few weeks ago, Ritter batted leadoff once again and didn't miss a beat. The Chicago native roped a ball to the right-center wall leading to a triple to start the contest. He later added a single to bolster his day. In all honesty, though, Ritter looks like a completely different person at the plate now. The confidence is just evident to see, and I get that these two contests have come against Dayton and Lipscomb.
If Ritter goes into 2022 looking like this at the plate. Kentucky could argue that they have the best shortstop in the conference, maybe even the country.
Lineup Adjustments for the 'Bat Cats
Nick Mingione tweaked some of his lineup decisions for this contest, which is totally normal to see during Fall exhibitions. From the looks of it too, I think this may be what Mingione hopefully rolls out once the season gets going.
For the game against Dayton a few weeks back, Mingione showed that he still wants Oraj Anu to be an outfielder. He threw the slugger out there in order to get both catchers into the lineup. Alonzo Rubalcaba's defense has been talked about for as long as he's been on campus, and Mingione has made it clear over and over again that he wants to get great defense from his catcher. That changed, at least for today.
The 'Bat Cats are better when Anu focuses on hitting, which is exactly what he was doing today. Anu was slotted as the DH and Kirk Liebert got the start behind the plate. Liebert's bat still continues to impress–he needs to be in this lineup. The outfield was filled with Hunter Jump, John Thrasher and Adam Fogel, and all three look like impactful players. Daniel Harris got the start at second base across from Ritter. Chase Estep and Jake Plastiak, along with both ripping home runs, started in their usual spots on Saturday. So far, this looked to be Kentucky's best overall lineup for the upcoming season.
Pitching struggles early
One of the few negatives to come out of Saturday was the play of Zack Lee. Lee is coming into his third year here at Kentucky, his second as a slotted weekend starter. Again, I don't want to make final judgments based on a few innings in October, but Lee did not look great. Along with topping out at 92 MPH consistently, Lee couldn't even make it three innings before getting pulled. He was giving up hard contact throughout his performance, ultimately allowing an RBI triple and a home run over the left-field bullpen. He was taken out with men on base in the third, only to see Tyler Guilfoil give up a home run moments later.
Once again, I reserve no judgments of Guilfoil even though he's struggled in both Fall appearances. It's just an odd set of circumstances where nerves could have a major impact on the level of play. He's a Lexington native who pitched at home for the first time a few weeks ago. This time he was facing the school he literally just transferred from last year. I'm sure we all can understand the nerves and emotions that come along with that. Now that he's got his first taste and seems to be getting comfortable, we can start to critically judge his ability once the season starts.
To finish the rest of the game, Mingione threw out a grab bag of random arms who have never seen the field before, mixed in with a veteran or two. Nobody let up a run, so I guess you could consider it a success.
What we really looking for from the 'Bat Cats this fall, we got for the most part. There's a new look lineup full of versatile players who have impressed in their first auditions in front of a limited BBN. Ryan Ritter may be taking leaps that absolutely nobody expected. The pitching staff was as reliable as you would hope for games where the mound looks like a turnstile. It's a wrap on 2021. The next time Kentucky plays baseball, it'll matter once again.