Takeaways From Kentucky Basketball's Open Practice And Flood Relief Telethon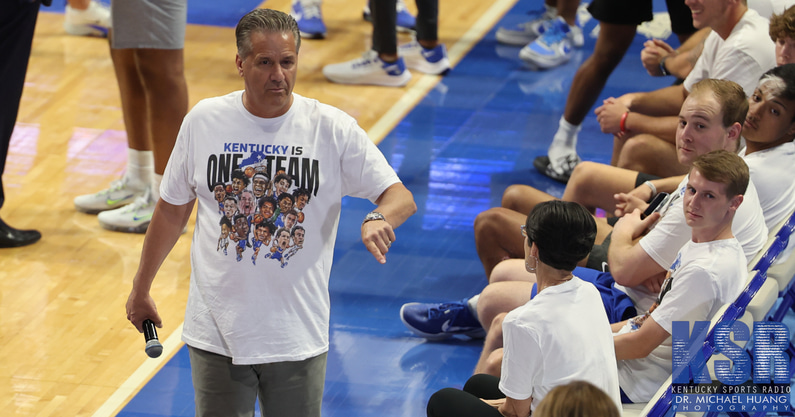 Tuesday night in Lexington, Kentucky Basketball hosted its Kentucky Flood Relief Telethon with the Red Cross to raise money for relief efforts throughout flood-ravaged Eastern Kentucky. Rupp Arena played host to the telethon fundraiser and the night included a rare August glimpse behind the scenes into Kentucky Basketball, a player-driven open practice to increase awareness and raise donations for the fund.
Only Lance Ware was unavailable due to an undisclosed injury, but other than Ware, every member of the new Kentucky Basketball team was on display for a brief run in front of a live Rupp Arena audience. If you were unable to attend or didn't follow along via LEX-18's broadcast (which apparently had way too much talking), catch up on these takeaways from the night from KSR's boots on the ground in Lexington.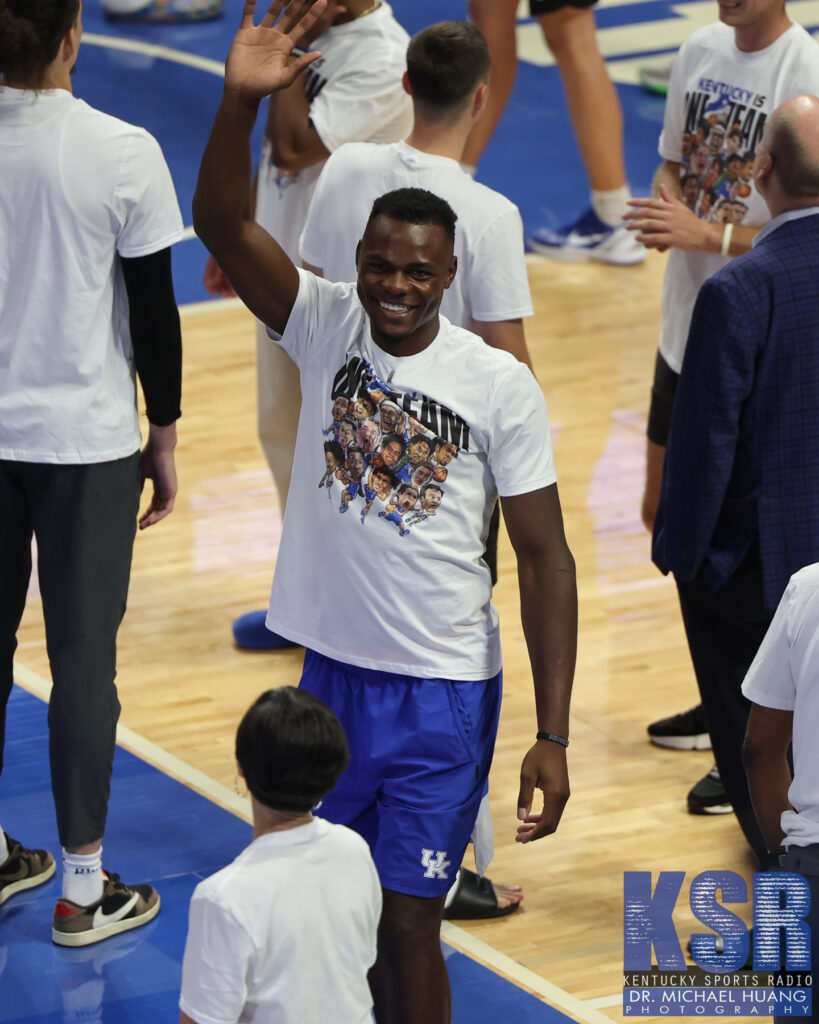 Big Blue Nation loves Oscar Tshiebwe
DREW: To no surprise, Oscar Tshiebwe got the loudest pop of the night when he was introduced last to the crowd when the team took the court for the open practice. Afterward, Tshiebwe was five rows into the chairbacks taking selfies on fans' phones when everyone else had already cleared the floor and said goodbye for the night. Fifteen minutes and still counting, Tshiebwe is still taking pictures and autographs with no end in sight.
You can imagine the roar when he hit a corner 3-pointer, too.
Antonio Reeves was the scrimmage MVP
JACK: Making the jump from Illinois State to Kentucky, there were questions regarding just how quickly he would adjust to the size, length and speed of SEC basketball. He was a 1,000-point scorer with the Redbirds, but would his scoring translate as a Wildcat?
Those questions were quickly answered in Kentucky's open practice on Tuesday, where Reeves emerged as the clear scrimmage MVP. Breaking down defenders and creating shots at will, the 6-foot-6 guard found ways to score at all three levels with flair and efficiency. He comfortably initiated for himself as a primary ball handler, with defenders unable to stay in front of the shifty native of Chicago as he attacked the basket and set up clean looks from the mid-range. His 3-point jumper also fell in various shooting drills, a good sign after shooting 39.0 percent from deep in 2021-22.
Kentucky lost spark-plug scorers in TyTy Washington, Kellan Grady and Davion Mintz this offseason, with Reeves being leaned on to carry some of that scoring load in 2022-23. In his first public appearance as a Wildcat, he proved he's more than capable.
John Calipari joined the t-shirt toss
DREW: Not one to sit on the sidelines, Calipari joined the cheerleaders in a t-shirt toss during a break in the telethon action. He was clearly enjoying the excitement in Rupp Arena as his new team hosts its first big event in the public eye, circumstances aside.
Jacob Toppin is a completely different player
JACK: Playing behind Keion Brooks Jr. this past season in Lexington, Jacob Toppin was limited to just 17.7 minutes per contest. We saw flashes of brilliance, but rarely was he able to put together consistent stretches of standout play. With Brooks transferring out of the program, though, Toppin is expected to step in as the starting four, hoping to turn his potential into production.
Taking the floor in tonight's scrimmage, the 6-foot-10 forward was a brand new player. He was confident as a shooter, regularly knocking down 3-point attempts and showing touch from the mid-range. He also attacked the basket with determination, throwing down some highlight dunks and converting on some crafty finishes. Above all else, he played with freedom, a necessary development considering his anticipated role this season.
The hype surrounding Toppin's growth this offseason was very real.
Virgie's own Cassidy Rowe described the damage to her hometown
DREW: Cassidy Rowe is a freshman guard on the Kentucky Women's Basketball team, but tonight there was an emphasis on Rowe's hometown of Virgie, Kentucky, a mountain community impacted by the flooding. Rowe spoke about her experience visiting Virgie after comments from her fellow Eastern Kentuckian teammates, Blair Green and Emma King.
The Blue-White Game moving to Eastern Kentucky is awesome
DREW: One of the big surprises of the night was an announcement from Sahvir Wheeler early in the program, who broke the news to the crowd that this year's Blue-White scrimmage will take place outside of Lexington for the first time… ever? I'll fact-check that one later.
Wheeler announced Kentucky Basketball will play its annual preseason exhibition at an undisclosed location in Eastern Kentucky to help bring joy to that area of the state later this year. He mentioned Pikeville as a likely host but did not reveal any specific details, only that the Blue-White game is headed east this October.
CJ Fredrick unloads the clip
JACK: Returning to the Rupp Arena floor for the first time since his season-ending hamstring injury in 2021-22, CJ Fredrick was ready to get his shots off from deep. On just about every catch from the perimeter, the redshirt senior looked to shoot and never hesitated to fire. And more often than not, he hit.
Coming in as a career 46.6 percent 3-point shooter, we know Fredrick can knock down shots. He made plenty of them over the course of the scrimmage and in shooting drills. The most impressive part, though, was just how well the Cincinnati native moved and ran the floor. He was comfortable coming off screens, running the baseline and making quick stops. For the first time since he's been in Lexington, he looked to be back to 100 percent.
Fredrick says he plans to play in the Bahamas, and by the looks of things Tuesday evening, he's ready.
The surprise of that night? Calipari and Mark Few announcing a home-and-home
The Cats will travel to Spokane on Sunday, November 20 of this season with a return trip to Lexington next year.
Enjoy photos from the scene in KSR's gallery
Be sure to check the KSR YouTube channel for more reactions and highlights, too.
Go Cats.