Tastes sweet: Kentucky VB sweeps WKU to move on in NCAA Tournament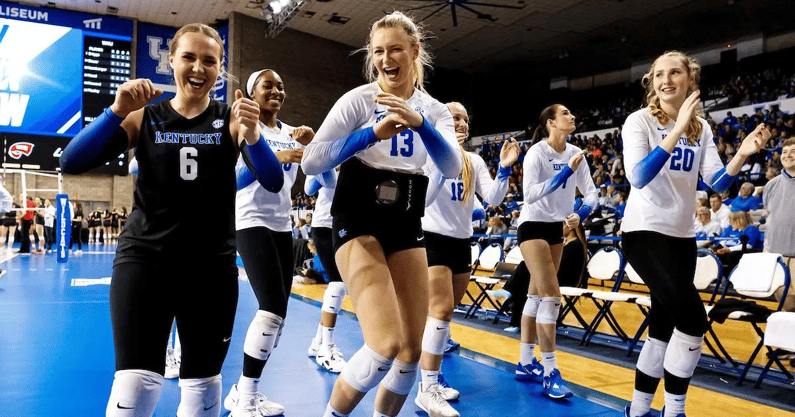 There's something about NCAA Tournament matches in Lexington, and that something has to do with sweeping. For the second night in a row No. 12 Kentucky volleyball has beaten its opposition 3-0. This time Western Kentucky was the victim following the Hilltoppers' first-round win against Bowling Green on Thursday night.
Kentucky dismantled Loyola Chicago on Thursday, but made sure to save some for WKU. From start to finish, the energy was high and the 'Cats were flying. BBN didn't disappoint either providing a loud atmosphere from the get-go. The crowd's influence didn't go unnoticed, but head coach Craig Skinner has high aspirations for the Wildcat faithful.
"My dreams are bigger, and want that thing sold out one time here in the NCAA Tournament, but it's growing. I love hearing from new people all the time. Getting emails, text messages, people wanting tickets. There's a lot of more people into it now than there was even three, four, or five years ago, so it's cool to see," said Skinner post-match.
Effort of one million
Azhani Tealer sent the crowd at Memorial Coliseum into a frenzy early on with a kill that put Kentucky up 8-5. From there, the energy would continue to grow because of phenomenal individual efforts. Eleanor Beavin was all over the place in the first set. She was chasing down balls and completely sacrificing her body on digs. An outstanding example of this was her dig that led to a Tealer kill with the Wildcats up 10-6.
Adanna Rollins got to work later in the set as she picked up her fourth kill to make it 16-12 Kentucky. A couple of aces from Emma Grome and Rollins increased UK's lead comfortably, and before you knew it, Tealer smashed home a kill that would end the set.
Kentucky won the opening frame 25-17 thanks to Tealer's five kills and Grome's 14 assists.
Let's get out of here
This Kentucky team has a sense of urgency that is paralleled to none. It's almost like they all have flights to catch after matches, the way they continuously sweep their opponents like it's nobody's business. The second and third sets were strictly business as well for the Wildcats.
Bella Bell got going midway through the second with her fourth kill of the night which put Kentucky up 16-10. The Hilltoppers didn't have an answer in the second set, but they really didn't have an answer for Erin Lamb. Here back-to-back kills put UK on the doorstep, leading 22-12. After the 'Cats closed out the set, Lamb and Tealer were tied with seven kills apiece, the most of any Wildcat.
WKU opened the final set on a 7-2 run which forced Coach Skinner into a timeout, but there wasn't any panic.
"We've been down a lot this season, so I think we're pretty comfortable in that situation. We're also confident in our abilities and we knew that. We just had a few rough plays within that timeout and everyone was super calm. It didn't really feel like we were down by that much and luckily we were able to come back pretty quickly," Beavin said on how the team felt trailing in the third.
Kentucky did come back quickly through Tealer's kill that made it 11-11. After that, the Wildcats took off. Freshman Audrey Whitworth added her second ace to make it 21-17. A few moments later, Lamb sent the Hilltoppers packing with her sweep-clinching kill. WKU was pure class after the match, seeing the positives in their conference-championship season.
"We always call ourselves a band of sisters and that's truly what it is. I'm just grateful that I got the opportunity to be coached by Travis Hudson," said fifth-year senior, Lauren Matthews, after the match. A phenomenal shoutout to her head coach who has coached her during her entire tenure as a Hilltoppers.
California Dreamin'
The Wild Wild West awaits Kentucky. The Wildcats are in the Palo Alto region of the bracket, and while the opponents are to be determined, quality teams await Kentucky. The winner of San Diego against Washington State will have a date with the 'Cats next week.
Stanford is the No. 1 seed in Kentucky's region and if the Wildcats were to progress to the Elite Eight, a massive battle with the Cardinal could be what stands in the way of a trip to Omaha. For now, it's Sweet 16 time. That doesn't sound too bad.
As the Notorious B.I.G. once said, "I'm going going, back back, to Cali Cali".