Tax Day's Monday Morning Wakeup
The only way to make Monday worse? Also make it Tax Day. That's right, folks, today is Tax Day, and if you're just figuring that out, you better get with it, or just file an extension like the rest of us procrastinators. It's not all bad though. To help you cope, several stores and restaurants are offering Tax Day deals, such as...
McDonald's: BOGO Big Macs and breakfast deals (at participating locations)
Great American Cookie: Free cookie
Bruegger's Bagels: Get a bakers dozen plus two tubs of cream cheese for $10.40 on April 18
Boston Market: Chicken meal w/2 sides and cornbread, plus a regular beverage and cookie for $10.40
Arby's: Get two Arby's Gyros for $6
Sonic: Half price single cheeseburgers
Staples: Will shred up to 5 pounds of your paper documents
Outback Steakhouse: 15% off your entire check, not valid in California. Use this coupon
Planet Fitness:  Free hydro massage at one of Planet Fitness' 1,000+ locations
Scholtzky's: Free "The Original Sandwich" with the purchase of a 32 oz. drink and a bag of chips on April 18
Chili's: Presidente Margaritas are $5
Royal Caribbean is even offering a BOGO 50% off deal on cruises purchased today. The best deal? Amazon is offering a free 30-day trial of Amazon Video if you're not already an Amazon Prime subscriber. (If you aren't, why? It's probably one of the best decisions I've ever made.) Do that and watch Catastrophe. Season 2 is great so far. We're also getting into the Tax Day spirit by giving you free KSR all week, both on the site and the radio. Enjoy!
What will happen with Marques Bolden today?
Honestly, I'm getting a little tired of asking that question, but here we are. The last week has been full of "will he/won't he" with Bolden, who was rumored to be announcing Friday, then Saturday, then Sunday, until his dad kept saying he wasn't. Bolden wanted to announce by his birthday, which was yesterday, but according to his dad, he now wants to make the announcement at his school, day to be determined. Regardless, UK's 2016 signees are still on the case, with Bam Adebayo making sure the BBN wished Bolden a happy birthday yesterday: https://twitter.com/IAmBam13_/status/721814824917856257
John Calipari was a busy man this weekend
[caption id="" align="alignnone" width="600"]
Calipari hanging with Devin Booker in Brooklyn on Saturday (Photo @NikeEYBL)[/caption] The spring evaluation period began this weekend, which meant John Calipari was a busy man. Cal went to New York for the Under Armour and Nike events, spending Saturday watching Michael Porter Jr. and Trae Young, AAU teammates who have discussed being a package deal at the next level. This is the second time in the past three weeks Cal has seen Young, the only point guard in the 2017 class Kentucky's offered, and with Calipari in the stands, the Norman, Oklahoma native responded, averaging 24.7 points, 5.3 assists and 2.7 steals over three games. This week, Calipari will be following up on several prospects he saw over the weekend. Today, Calipari will head to Florida to visit Kevin Knox, a five-star small forward with offers from North Carolina, Duke, and Florida State. Knox put in a big performance at the EYBL event on Saturday, so I expect Calipari will extend an offer today. According to Jeff Borzello, Cal is also expected to have an in-home visit with Alabama Mr. Basketball John Petty later this week. Petty didn't have the greatest of showings during the EYBL event, but is still considered one of the premiere targets in the 2017 class. Early Saturday morning, Calipari did some cruitin' of a different kind, spreading the Big Blue gospel on "Fox and Friends": Gotta love Calipari rushing to get in every second of BBN propaganda he can at the end.
A reminder that even NBA players are still kids sometimes
The Wolves are still kids - Andrew Wiggins put a cup on Zach LaVine's chair, Gorgui & KAT laugh when he sits on it pic.twitter.com/015rVgmAQY – The Cauldron (ICYMI) (@CauldronICYMI) April 14, 2016
I missed this when it happened last week, but this video of Andrew Wiggins putting a cup on Zach LaVine's chair and Gorgui Dieng and Karl Towns cracking up when he sits on it is still funny. What a good, old fashioned, harmless prank. Oh, Karl.
Want to catch Tyler Ulis this week? Here's where he'll be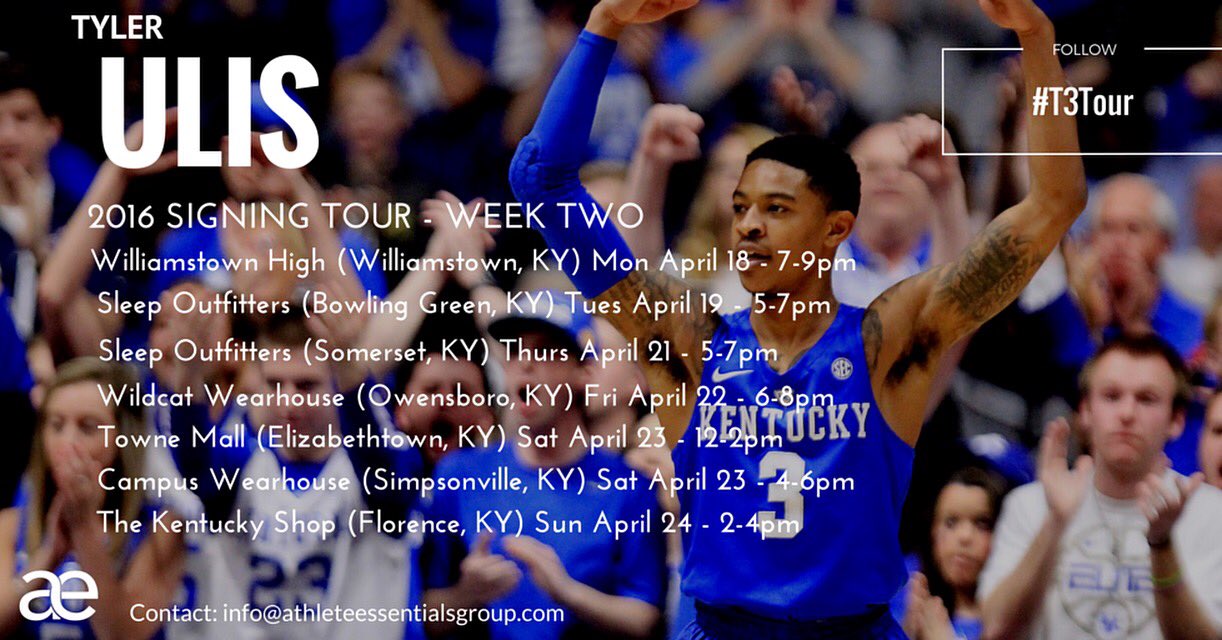 Ulis was already going down as one of the most beloved Wildcats in Kentucky basketball history, but he further cemented his legacy when
he called out Dan Dakich on Twitter Friday
. That was just the start of a big weekend for Ulis, who reunited with his BFF Devin Booker in New York on Saturday: https://www.instagram.com/p/BESUI44wEdL/
KSR in an hour
Get some work -- or your taxes -- done now so you can slack off later.