Tayvion Robinson on Dane Key: "He's gonna be special."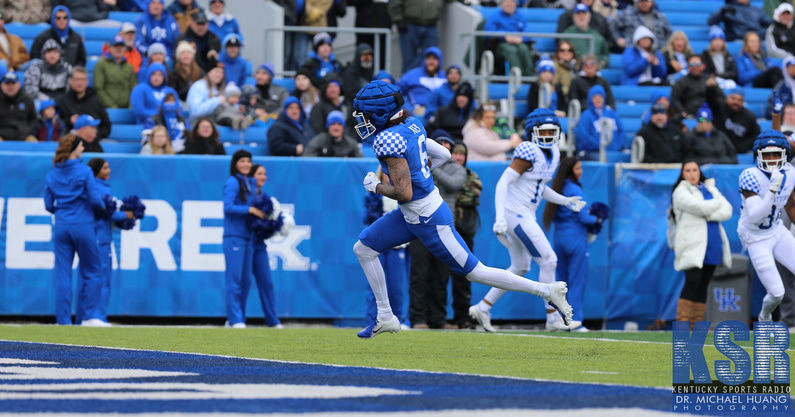 It didn't take long for Kentucky freshman wide receiver Dane Key to separate himself as a clear instant-impact player for the Wildcats. Coming in as an early enrollee, coaches raved about the four-star signee throughout the spring, capped off by a 43-yard, two-catch, one-touchdown performance in the program's annual Blue-White Spring Game.
There's typically a steep learning curve for true freshmen. Key, though, isn't like most true freshmen.
"He's a bad dude, man," associate head coach Vince Marrow told KSR in May. "I'm telling you this. I knew Dane was good; I did not know he can be that good. He has the potential to be really good. He's tough and he's a student of the game. He's up here every day. Dane is a sponge, man. When Rich [Scangarello] looked at all our receivers, he said, 'This kid will play for us and he will be invaluable.'"
"(Key) is the guy I've been blown away by, who I think will be a big-time player in the NFL someday," offensive coordinator Rich Scangarello told The Athletic. "He is special. For an 18-year-old kid, he's picked it up faster than just about anybody in the NFL as a rookie. Honestly, since I walked in the door, he's impressed me as much as anybody in our building. I just feel like he's going to be a freakin' really good wideout."
Key, ranked No. 261 overall in the 2022 On3 Consensus, signed with Kentucky over Michigan, Oregon and South Carolina, among others, out of high school. Standing 6-foot-3, 195 pounds, he racked up 959 receiving yards and nine touchdowns as a senior at Frederick Douglass High School, earning Paul Hornung Award honors as the Kentucky Player of the Year.
After joining the program in January, the four-star receiver made his presence known early. Now going into fall camp, it's no secret around the Joe Craft Football Training Facility that Key has emerged as a likely starter in year one.
"Dane, ever since the third or fourth spring practice, it was kind of apparent that this kid was going to be a competitor for the starting job," Kentucky star quarterback Will Levis told KSR on Tuesday. "He left the spring starting."
Has that reality set in for Key yet? Not quite, Levis says, adding that the standout freshman actually surprised himself with just how good he was from the start. He expected to contribute early, sure, but maybe not as a day-one starter with expectations of serious production right away.
"I talked to him the other day. I was like, 'Hey, did you like picture yourself in this situation when you first got here? Like, pretty crazy, isn't it? You don't have to hide it anymore, you're gonna be starting for us,'" Levis said. "He was like, 'I just tried to come in here and work as hard as I can, but to be honest, I didn't expect all of this. I was like, 'Did you know how good you were?' He was like, 'Honestly no.'
"Honestly, I think he surprised himself with how good he actually was when he was able to get to a place like Kentucky, get taught by these level of coaches and be pushed by the players."
Don't believe Levis? Ask Key's pass-catching partner, Tayvion Robinson — a 1,555-yard career receiver in his own right.
"He's been doing great," Robinson told KSR on Tuesday. "He was an early enrollee in January and the second he got here, he was nothing short of what people thought of him, the expectations people had."
Watching him play, you'd have no idea Key was a true freshman just starting to find his footing as a Kentucky football player. He's already earning reps as a starter and showing off major long-term potential.
His ceiling? A "special" football player in Lexington.
"He came in and just started making plays," Robinson added. "He didn't look like a freshman when he was on the field till you asked him what class he was in. He's getting starting reps, a guy who knows his information (on) guys X, Y, Z. He's special, he's gonna be special."