Teddy Bridgewater's Wednesday Morning Wakeup
It's not every day that we praise a former Louisville player, but some things are bigger than rivalries. Yesterday, former UofL and current Minnesota Vikings quarterback
Teddy Bridgewater suffered a dislocated knee and a torn ACL
when he went down during a non-contact drill at practice. The injury was apparently so gruesome that Bridgewater's teammates became sick after seeing it and dropped to their knees in prayer, but fortunately, there appears to be no nerve or arterial damage. Bridgewater will miss the 2016 season, but is expected to make a full recovery. I'm sure the Louisville trolls in the comments will roll their eyes at this, but Teddy is one of the few Louisville players I couldn't help but like because he genuinely seems like a nice guy and a class act. I think former UK lineman Matt Smith put it best on Twitter last night: https://twitter.com/Matt_Smith69/status/770784091625127936 Teddy, you may have been a rival on the field, but know that the entire Commonwealth -- Cats and Cards alike -- are rooting for you in your recovery. As the kids say, minor setback for a major comeback. We are one day closer to kickoff, so lots to talk about. Let's go over today's agenda, shall we?
Dorian Baker's being held out of practice
One slightly alarming news note from yesterday's practice: according to Eddie Gran, star wide receiver Dorian Baker has been held out of practice for the past ten days for a hamstring injury. We've known about the injury for a while, but Gran's comments last night sparked some doubts that Baker will be ready to roll for Saturday's opener vs. Southern Miss. "Well, I haven't seen him in the last 10 days, so up until then — I guess it hasn't been 10 days,"
Gran said, via the Courier-Journal
. "I can't even remember now. I don't know what day it is. Up until he was out for a few days? He was as good as we got." Both Baker and redshirt freshmen Tavin Richardson were listed as starters at one of the wide receiver slots on Monday's depth chart, and Baker insists the staff is just holding him out of practice for precautionary measures. I sure hope so. This evening, DJ Eliot and the defense will address reporters after practice, so check back tonight for news, notes, and quotes.
Mark Stoops will be on the SEC Coaches Teleconference this afternoon
Around 2 p.m., Mark Stoops will take his turn on the first SEC Coaches Teleconference of the season. I'll be on the call to bring you his remarks, as well as to hear which reporters forget to turn their phone on mute. Someone always does.
The stage is set up for Saturday's pregame concert
[caption id="" align="alignnone" width="1200"]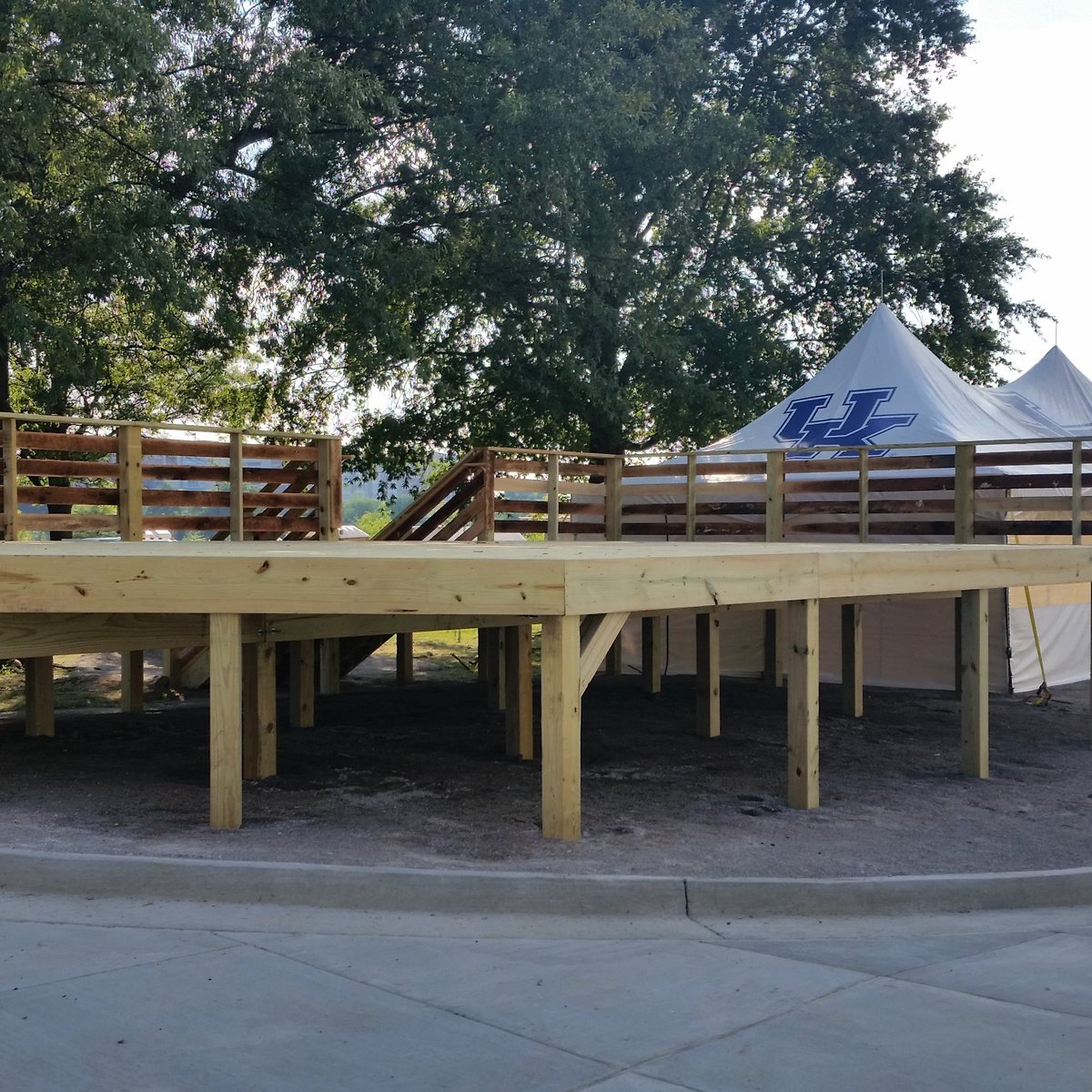 @VaughtsViews
[/caption] Larry Vaught took this picture of the new stage set up in the plaza between the football training center and Gate 12 of the stadium, which is where this season's pregame concerts will take place. The Jordan English Band kicks things off this week, and will go on after the first Cat Walk and play until 30 minutes before kickoff (so, roughly 7 p.m.). That means they'll be playing during the second Cat Walk, when the players leave the training center to head into the stadium about 75 minutes before kickoff. Personally, I think that second Cat Walk has potential to be even cooler than the first, so before you head into the stadium, go to the plaza between the training center and stadium to see the players go in wearing all their gear.
Bret Bielema's dogs are just like yours!
Mark Stoops often makes fun of his friend Arkansas head coach Bret Bielema for his two small Yorkies, and last night, Stoops got more fodder when Bielema posted this picture of a big mess the pups made that anyone who's ever owned a dog can relate to: https://twitter.com/BretBielema/status/770786496718659585?ref_src=twsrc%5Etfw But they look so innocent!
A new episode of The OTT Podcast drops
Last night, Funkhouser's CM Tomlin and KSR favorite Fake Barney joined me to break down the best football movies heading into the first weekend of the season. There were some hysterical matchups --
Draft Day
vs.
Rudy
?! -- but I think you'll be pleased with the winner. Look for the podcast at some point this afternoon.
The winner of the KSR Tailgate Challenge is...WINGS!
It was a long, hard road, but wings beat out BBQ chicken, brats, pulled pork, queso, and fried chicken for the title of Best Tailgate Food. In fact, the championship wasn't even close, with wings beating out fried chicken 69% to 31%. As someone who was behind wings all the way, I full support the people's decision. Also, I now want wings for breakfast. That's not normal, is it?
It's optimist day on KSR
Yesterday, Matt, Ryan, and Shannon outlined all the reasons for concern with this year's football team, but today, they'll highlight all the reasons you should be positive about this season. This show has John Short written all over it. Meet you back here in an hour.